In an interview with actress Laverne Cox for Interview Magazine, Planned Parenthood President and CEO Cecile Richards called for increased efforts to "humanize" abortion as she said ABC's "Scandal" did.
In an episode of "Scandal" titled, "Baby, It's Cold Outside," which aired last fall, the show's main character Olivia Pope had an abortion as the Christmas hymn "Silent Night" played in the background.
"It really has to do with bodily autonomy when it comes down to it," Richards said. "I do think that was such a powerful episode. I think Kerry Washington is brave. I think Shonda Rhimes is heroic."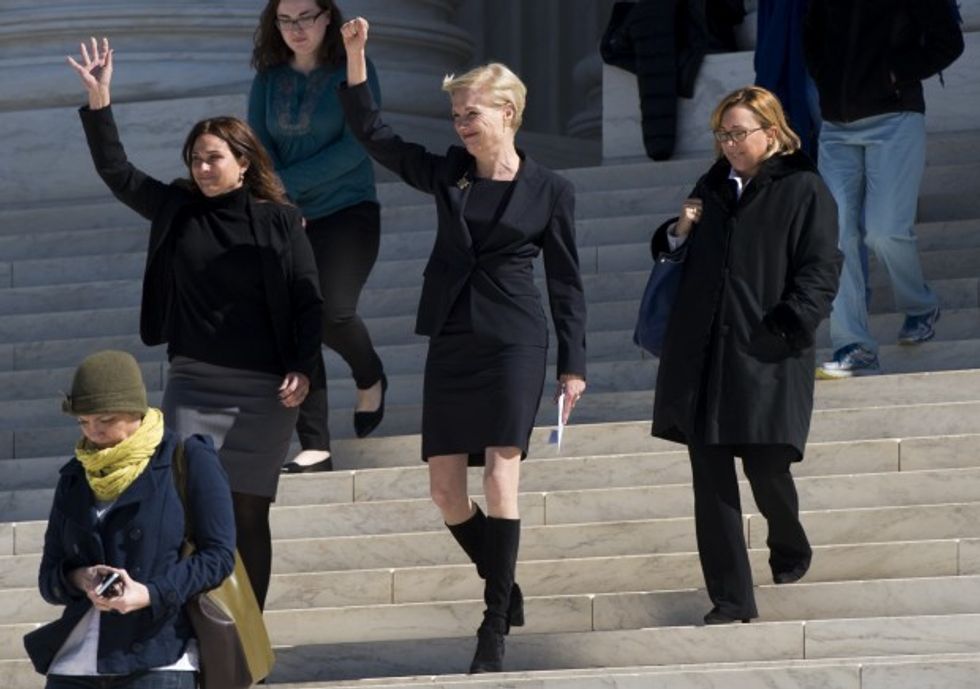 Cecile Richards, center, president of Planned Parenthood, leaves the Supreme Court in Washington, D.C., March 2 following oral arguments in the case of Whole Woman's Health v. Hellerstedt, which deals with access to abortion. (Saul Loeb/AFP/Getty Images)
"Every family, everybody, deals with these issues one way or another," Richards said. "I think to really humanize it and say, 'This is the most personal decision that many people will make in their lifetime,' and the thought that anyone other than that person would make that decision, and that you would put that in the hands of government, is just unthinkable."
The episode was praised by some viewers for showcasing abortion, while some called it disturbing.
Richards also briefly discussed Whole Woman's Health v. Hellerstedt, a Supreme Court case regarding a Texas law that requires doctors performing abortions to have admitting privileges at a hospital within 30 miles of the clinic.
Richards called the restriction "outrageous" and said, "Right now, if you live in rural Texas, where millions of people do, you have to drive to a big city to get access to a safe and legal abortion."
Advocates of the law contend that it is in the interest of the health and safety of women in the event that there is a complication during the procedure.