Attorneys representing "Jackie," the former University of Virginia student who claimed in a now-debunked Rolling Stone story that she was a victim of sexual assault, have requested that her upcoming deposition in a lawsuit against the publication be cancelled because revisiting the events would "re-traumatize" her, according to the Washington Post.
In the 9,000-word article published in Rolling Stone in 2014, Jackie claimed to be the victim of a horrific sexual assault by seven men in a fraternity house. She also alleged that she struggled to find help from UVA staff in the aftermath of the assault.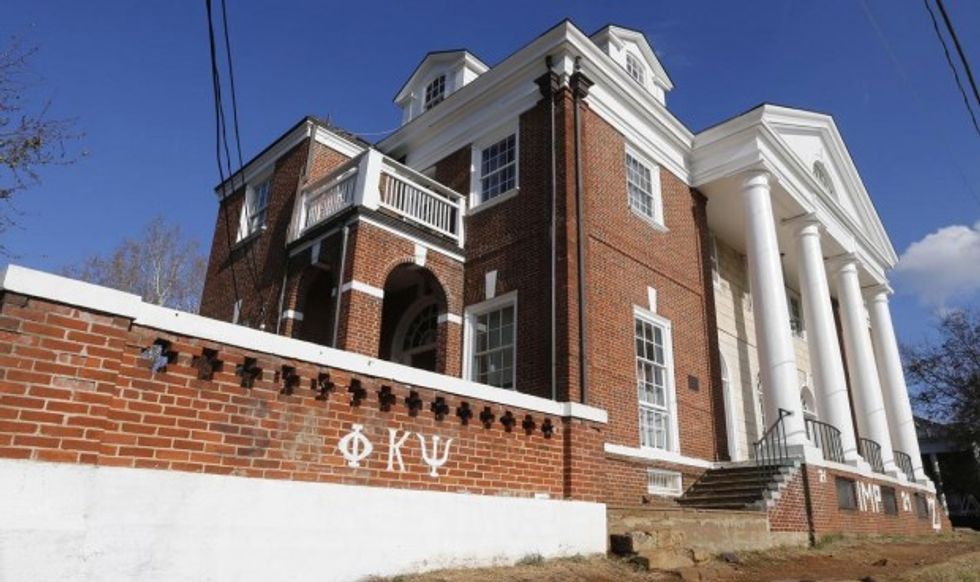 The Phi Kappa Psi fraternity at the University of Virginia was at the center of a controversial Rolling Stone article describing a culture of sexual violence at the school. The fraternity was reinstated after city police could not confirm an allegation that rape occurred at the fraternity's house. (AP/Steve Helber, File)
Investigations by the Washington Post and the Charlottesville Police Department — and later an additional investigation by the Columbia University School of Journalism — found that the article was factually inaccurate, and Rolling Stone retracted the story.
Nicole Eramo, UVA's associate dean, was named in the article and was portrayed as indifferent to Jackie after her claim. She has since filed a defamation lawsuit against Rolling Stone for their "false" portrayal of her actions. She is seeking $7.5 million.
In court documents, Jackie's attorneys wrote that she should be spared from a deposition because it could cause "significant and undeniable psychological harm" to her and have "shattering and potentially irreparable consequences."
"Forcing her to revisit her sexual assault, and then the re-victimization that took place after the Rolling Stone article came out, will inevitably lead to a worsening of her symptoms and current mental health," the attorneys wrote.
Eramo's attorneys argued that Jackie is a "serial liar" who fabricated the assault.
"There is no evidence whatsoever that the story that Jackie told her friends, or the very different story she told Rolling Stone, actually transpired," Eramo's attorneys wrote. "Instead, it appears that Jackie fabricated her perpetrator and the details of the alleged assault."
Jackie never reported an assault to the police, despite encouragement from friends and UVA officials.
In an interview with the Post in 2014, at the height of the controversy, Jackie said, "I didn't want a trial."
"I can't imagine getting up on a defense stand having them tear me apart."