Republican presidential candidate Ted Cruz's crack against "New York values" may have catapulted him in the south, but it will crush him in the Empire State, according to former Massachusetts Sen. Scott Brown (R).
"This 'New York Values' comment is absolutely going to crush Ted Cruz," Brown, a supporter of rival Donald Trump, said Wednesday on Fox Business Network.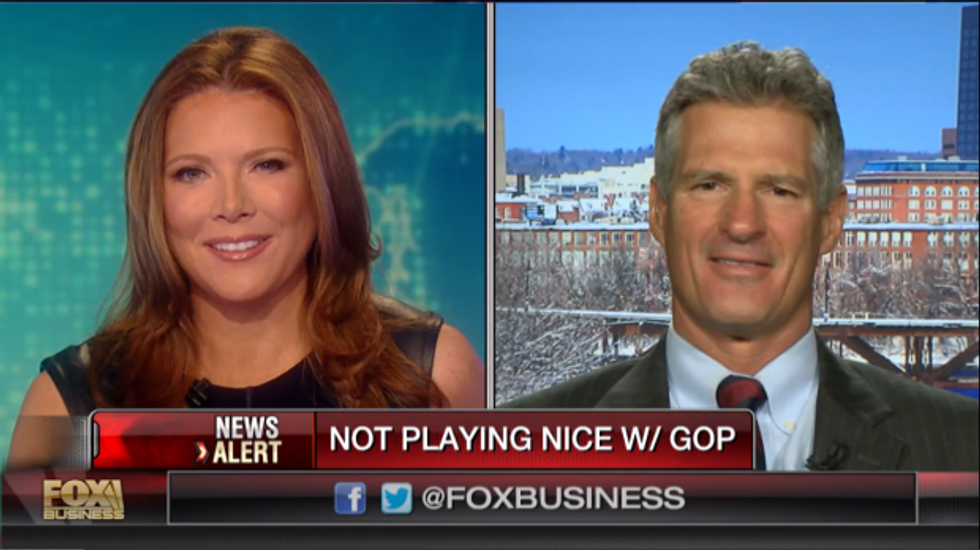 Former Massachusetts Sen. Scott Brown (R) discusses the 2016 election with Fox Business host Trish Regan. (Image: screen grab)
"I know New Yorkers as you know New Yorkers and they're very, very proud," he told Fox host Trish Regan, "especially after 9/11, how they so heroically came together."
Brown went on to say he felt Trump was "at his best" during the January debate when he "scolded" Cruz for his comments about New Yorkers, adding that he thinks the billionaire businessman will "win big" in his home state.
Though Cruz has continually slammed Trump for his "New York values," which he believes are too liberal for the Republican Party, Brown says Trump was one of the "only people" creating jobs in New York during the recession, and that will help him.
"When New York was down [and] they had the recession, the only people going there building was Donald Trump and a handful of others," Brown told Regan. "He's actually put people to work in New York. They know him and his name recognition is off the charts."
If Trump wins New York's April 19 primary with a big margin, Brown says, he will solidify his position as the GOP's leader.
"Doing what Ted did yesterday in Wisconsin, Donald doing that in New York when there's twice as many delegates I think would go towards establishing that, absolutely," Brown said of Trump achieving the Republican nomination.
The latest poll out of New York shows Trump with 52 percent of the vote, followed by Ohio Gov. John Kasich with 25 percent and Cruz with 17 percent.
—
Follow the author of this story on Twitter: