Fox News anchor Megyn Kelly opened up Wednesday about her past interaction with 2016 candidate Donald Trump, telling Yahoo News Live host Katie Couric that their relationship didn't used to be so turbulent.
In fact, prior to launching his presidential bid, according to Kelly, the New York real estate mogul would frequently call her to compliment her show, "Kelly File," and send her clippings of stories about herself along with his autograph.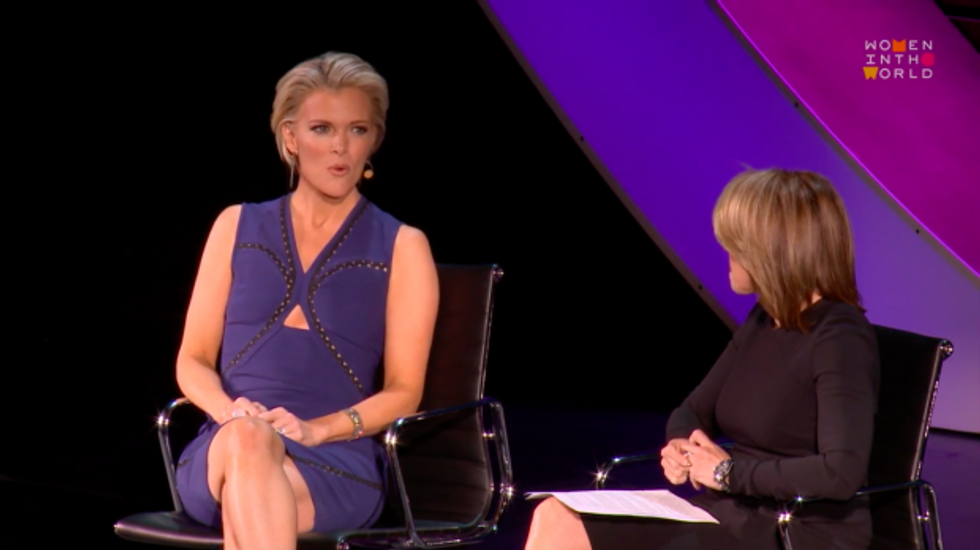 Fox News anchor Megyn Kelly discusses Donald Trump with Yahoo News Live host Katie Couric during Women in the World interview Thursday, April 6. (Image: YouTube/Women in the World)
"He'd call me after a segment that he enjoyed and say how great it was," the Fox host said during an interview in New York City. "He would send me clippings about myself — like, news clippings — that he would sign, 'Donald Trump.' It was nice."
Though Kelly said she "appreciated" the gestures, she "understands them better" now that Trump is running for the Republican nomination for president.
"There were some other gestures that he made that, in retrospect, I understand them better," she said. "I think he was trying to curry favor because he understood that he was gonna be running for president."
Kelly has since discovered that Trump was offering similar gestures to "many journalists," but the strategy didn't seem to work on her.
"I knew that I was never gonna love him and I was never gonna hate him," she told Couric. "It was no comment on Donald Trump, it was just, you have to keep these relationships at arms-length, especially when they're going to run for president."
The Fox star said she saw there was "nothing to be gained" from either befriending Trump or alienating him. However, when she first pressed Trump on his apparent problem with women in a 2015 Fox News debate, she says, the GOP front-runner "felt betrayed."
Ever since that moment, Trump has made many public statements expressing his strong disdain for Kelly.
"My own belief is that when he heard that question from me, he felt betrayed," Kelly said. "As he said, 'I've been very nice to you,' but, it was, I didn't ask him to call me, or send me — I appreciated it, it was a nice gesture, but it's not gonna stop me from asking tough questions."
—
Follow the author of this story on Twitter: