PARIS (TheBlaze/AP) – Russian President Vladimir Putin has denied having any links to offshore accounts and is describing the Panama Papers document leaks scandal as part of Western efforts to weaken Russia.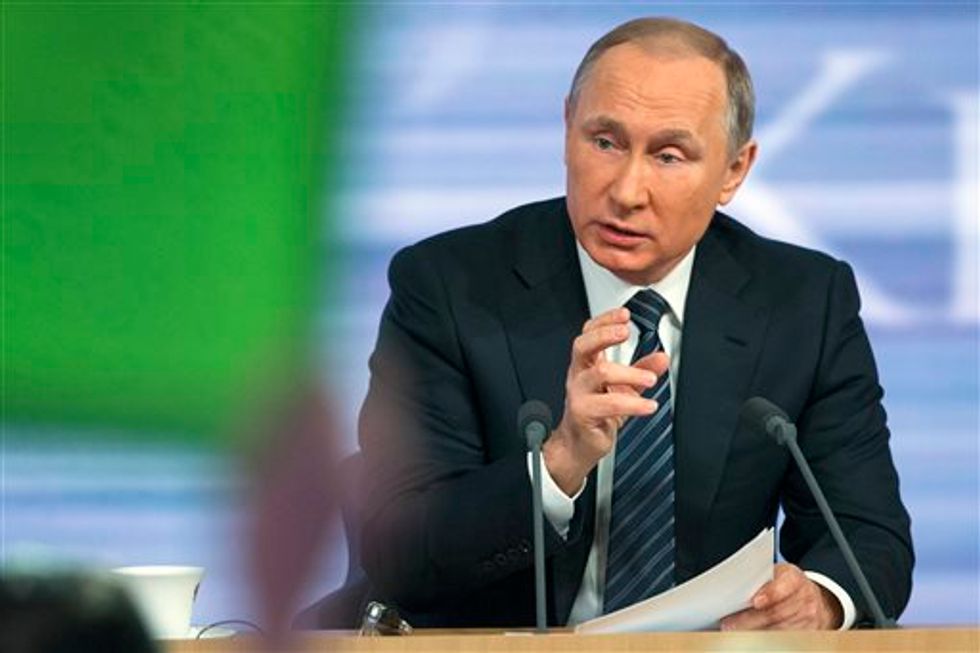 Russian President Vladimir Putin speaks during his annual news conference, December 17, 2015. (AP Photo/Alexander Zemlianichenko)
Putin, speaking Thursday at a media forum in St. Petersburg, says even though his name didn't figure in any of the documents leaked from a Panamanian law firm, Western media pushed the claims of his involvement in offshore businesses.
Putin described the allegations as part of the U.S.-led disinformation campaign waged against Russia in order to weaken its government. Putin spokesman Dmitry Peskov had said from the outset of the Panama Papers report that Putin was "obviously the main target." Putin later followed up on that theory, blaming the West's "Putinophobia."
"This Putinophobia abroad has reached such a point that it is in fact taboo to say something good about Russia, or about any actions by Russia or any Russian achievements," the Russian president said, according to the Independent.
Putin said his longtime friend, cellist Sergei Roldugin, who figured in the Panama Papers as the owner of $2 billion in offshore assets, has done nothing wrong. He said he was proud of Roldugin, adding that the musician spent his personal money to advance cultural projects in Russia.
The leak prompted Iceland's prime minister, Sigmundur David Gunnlaugsson, to offer his resignation on Tuesday following the revelation that he sold off ownership of a company to his wife for just $1 in 2009, one day before a law took effect that would have made his ownership a conflict of interest.
Gunnlaugsson was a member of that country's parliament at the time.
The Washington-based International Consortium of Investigative Journalists was the first to report the Panama Papers bombshell on Sunday, which included a record of about 11.5 million assets and services belonging to politicians, businesses and celebrities around the world.
–