Former Secretary of State Hillary Clinton said that there is "not even the remotest chance" she will be arrested over her use of a private email server, and said that it's only a "fantasy" for Republicans.
Clinton talked about the email dustup during an interview with Matt Lauer which aired Friday morning on NBC's Today. The interview was held at a Bronx diner, where Clinton is campaigning in the New York Democratic presidential primary.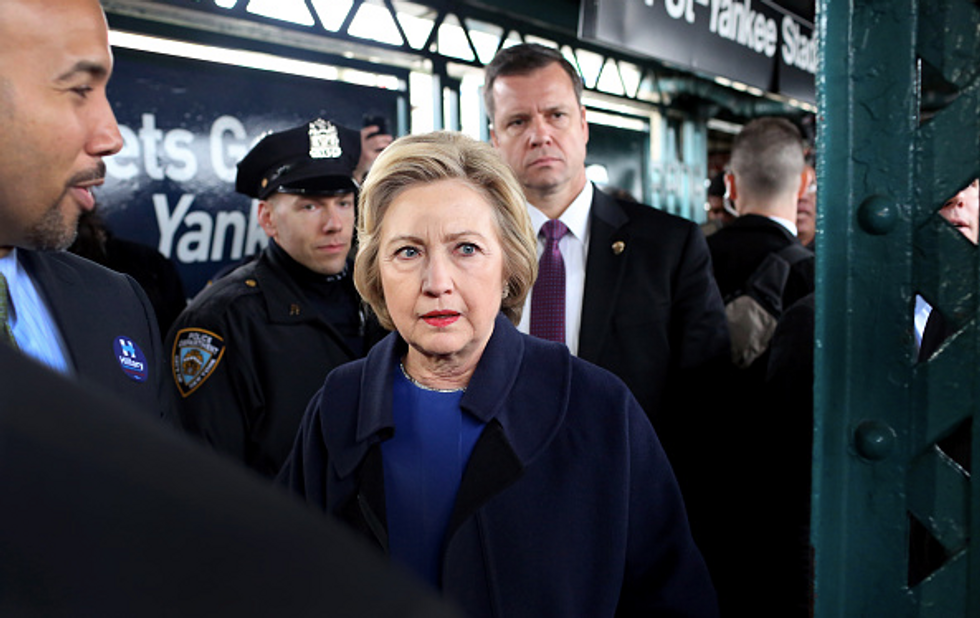 Presidential candidate Hillary Clinton (D-NY) and Bronx borough President Ruben Diaz Jr. wait for the train at the 161st Street subway station in the Bronx, NY, on April 07, 2016. (Yana Paskova/For The Washington Post via Getty Images)
Lauer said that some Republicans he spoke with said they believe "they will see Hillary Clinton in handcuffs, that there will be some sort of political perp walk based on your private emails."
The FBI is investigating the potential mishandling of classified information on Clinton's private email server. Clinton responded to Lauer's question with a boisterous laugh.
"They live in that world of fantasy and hope because they've got a mess on their hands on the Republican side," Clinton said. "That is not going to happen. There is not even the remotest chance that is going to happen."
Lauer followed up by asking Clinton to predict how the FBI investigation ends.
"We're certainly going to carry on. It's a security review. It's a security review," Clinton said. "There are lots of those that are conducted for government all the time and you never hear about most of them. You hear about this one because, you know, it does involve me. So that's why it gets so much attention."
Though Clinton has repeatedly tried to dismiss the matter as a security review, FBI officials told Fox News the matter is a criminal investigation because the FBI doesn't do routine security reviews.
"I will tell you sitting here in the Bronx, we are moving forward," Clinton said. "The Republicans' fondest wishes will not be fulfilled."