San Francisco natives Andrea and Keston Ott-Dahl, who have been partners for six years, had no plans to raise another child of their own. But when they were approached by family friends who couldn't conceive, Andrea agreed to be a surrogate.
"Andrea looked at me and said, 'I'm going to offer to surrogate for them,' and, at first, I was apprehensive — because I had already started over with her, with new children," Keston, 50, told TheBlaze. "But I saw that she thought she was doing something really good, and she wanted to be the hero, and I have to support her on that."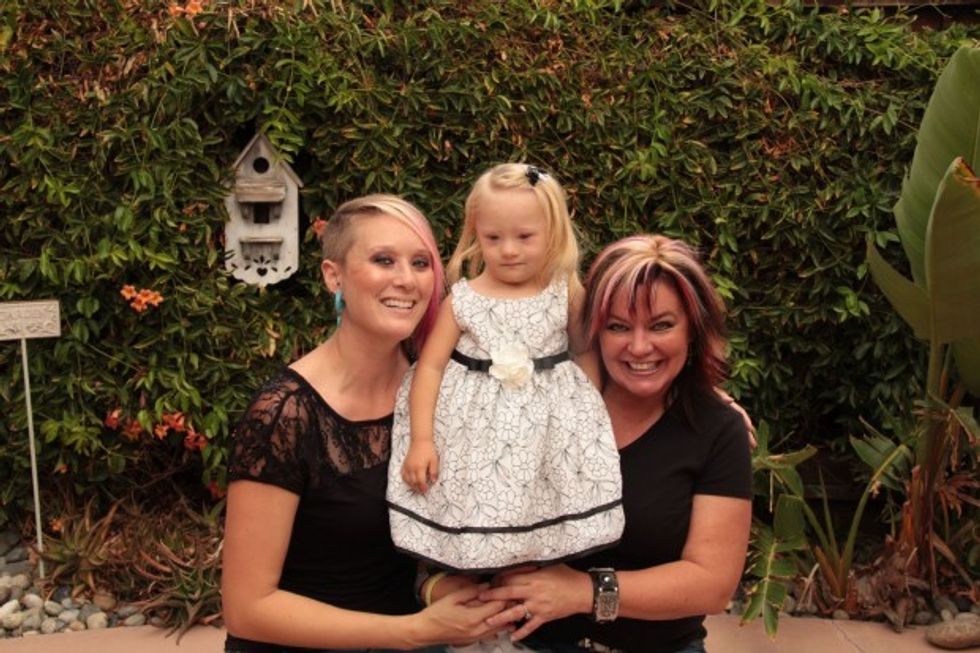 Andrea and Keston Ott-Dahl with Delaney. (Image: The Ott-Dahl family)
That big step soon became the couple's most trying — and, ultimately, rewarding — decision of their lives.
Two months into Andrea's pregnancy, she learned that the baby, nicknamed "Peanut," was showing signs of Down syndrome in addition to other health complications — a development that Andrea, 34, said left her "devastated."
But it was what happened next that left the California couple even more devastated. The intended mothers, also a lesbian couple, along with Andrea's doctor, wanted to abort the baby. And they felt it was their right to decide to terminate the child, who biologically belongs to the Ott-Dahls.
Keston and Andrea disagreed. However, Keston said she was "afraid" of people with Down syndrome.
"I was afraid of people [with Down syndrome] — deathly afraid of them," Keston said. "If I walked in a room, and there were people with Down syndrome there, I would leave. ... And this is the diagnosis we get, after all we've been through?"
But, as the pregnancy marched on, and the intended mothers briefly threatened a lawsuit against the Ott-Dahls, Keston had a change of heart.
"One of the moms said, 'Well, you need to understand, this is our decision and our decision alone,' I'm just sitting here looking at my beautiful wife, who is just in such anguish about having to terminate a child, and I was like, 'Well, no dear, it's not your decision,'" Keston said.
And seven months later, baby Delaney, who is now 2 years old, was born. The previous plan with the intended mothers was voided, and Keston and Andrea became the newborn's parents.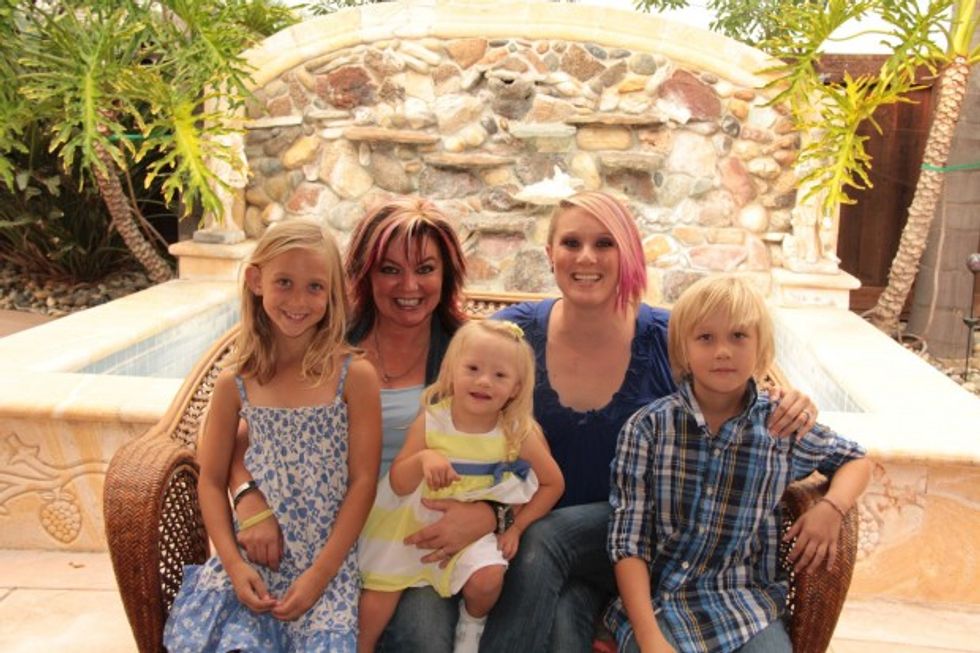 Keston and Andrea with their children, Juliana, Delaney and Jared. (Image: The Ott-Dahl family)
Prior to having Delaney, Keston said she was "staunchly" pro-choice, but her opinion on the issue has since changed. Today, she says she is "pro-educate."
"Doctors shouldn't just say you should terminate because the baby has Down syndrome," she said. "They should give you fair and balanced education — not just everything that could go wrong goes wrong."
According to Keston, it is "very common" for doctors to "encourage termination" and she and her wife are hoping to see legislation pass that would require doctors to offer "fair and balanced" information to their patients and "not just scare the parents into terminating."
Though she "sits on the fence" about being fully pro-life, Keston said she has a "different thought process" now that they have a child with Down syndrome because during the entire discussion about abortion, no one seemed to think about Delaney.
"It just dawned on me, 'What about the baby?'" Keston said. "We all just sat there and we watched her on an ultrasound monitor right before the doctor came in. ... We saw a perfect profile — and she was only 12 weeks along. She was spinning around and kicking her legs and we made jokes about her being a basketball player. I mean, we cried with joy at how beautiful she was, and then the doctor comes in and tells us we should terminate."
At that moment, she said their baby was no longer "hypothetical." And with all the technology we have today, Keston says abortion "should no longer be an issue."
"We have so many forms of pregnancy control, why would we have this?" she told TheBlaze. "We need to educate and we need to prevent pregnancy from happening in the first place. We need to be respectful. People are downright violent about it, and I just don't think that's the right approach."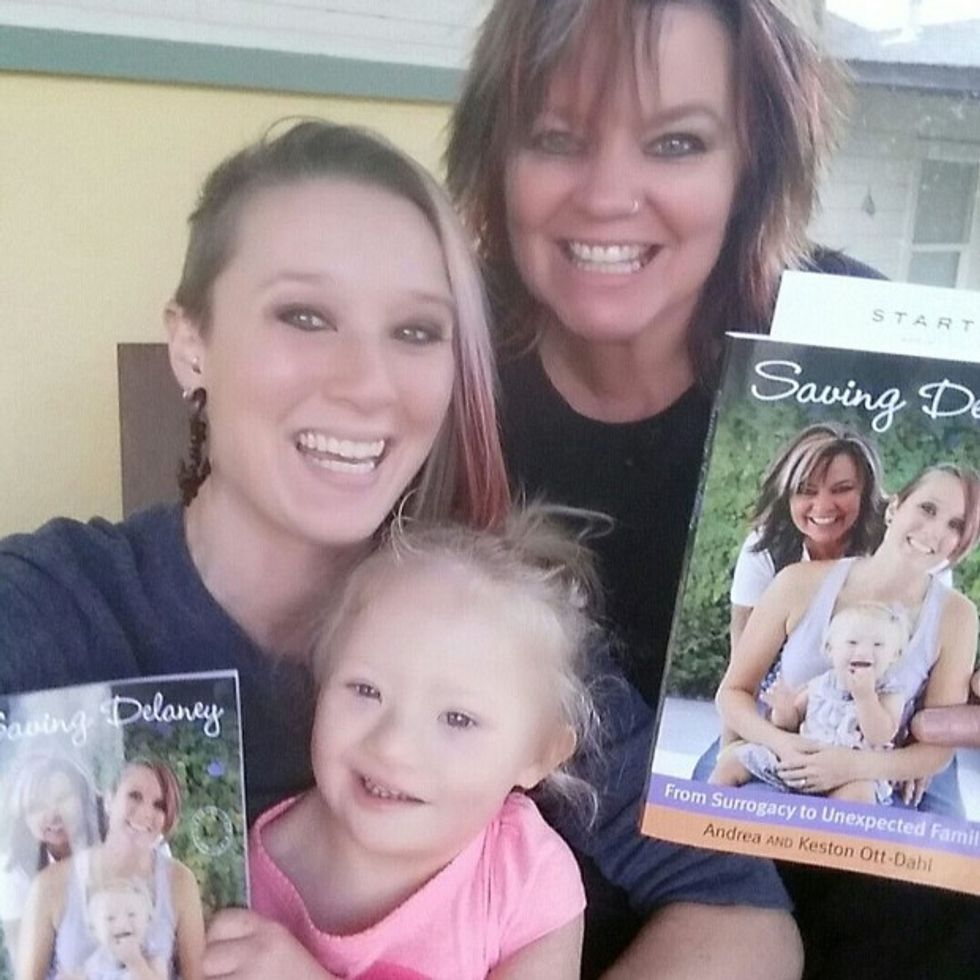 Andrea and Keston with Delaney when they received the first copies of their new book. (Image: The Ott-Dahl family)
And, as it turns out, this was not the couple's first run in with abortion. According to Keston, one of the reasons Andrea was so determined to keep baby Delaney was because earlier in her life she chose to have an abortion that she later "regretted."
Today, both Andrea and Keston say they have "never looked back" and they are "full-steam ahead" for their new child, who Keston describes as "just amazing."
"The other day, we were in our car, and I looked over at [Andrea], and she just started crying," Keston said. "I go, 'What's wrong?' and she said, 'You know, I remember thinking that God was punishing me [but] God wasn't punishing me, he was giving me a gift."
Now, the couple is hoping to share what they have learned in their new book, "Saving Delaney: From Surrogacy to Family," by raising awareness about the discrimination people with Down syndrome face, a reality Keston says is "quiet and subtle" but there nonetheless.
"Delaney was my beautiful little teacher, and if we can share her story — it's not an LGBT story, it's not a Down syndrome story. Her story is a human interest story," Keston said. "Delaney taught me I can be a better person."
Little Delaney, healthy and happy, now lives with her two mothers and her brother and sister in their home in San Francisco.
—
Follow the author of this story on Twitter: