WASHINGTON (TheBlaze/AP) — Vermont Sen. Bernie Sanders' wife interrupted his remarks at a campaign rally in New York with news of his latest victory: Wyoming.
Sanders quickly relayed the word to the crowd of several hundred people, and after a standing ovation, he joked that there are probably more people at his event than live in Wyoming.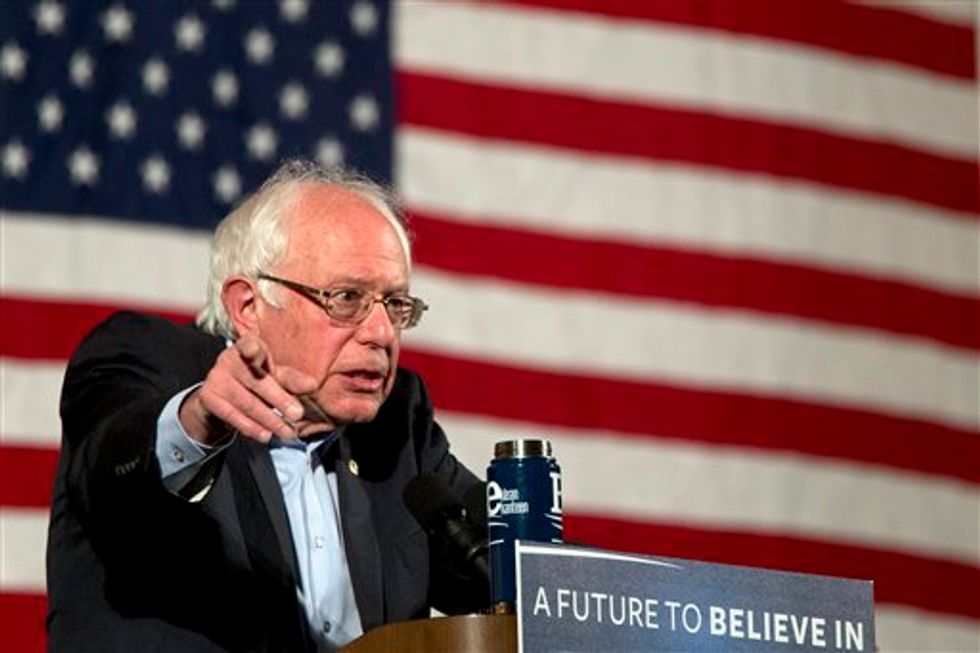 Democratic presidential candidate Sen. Bernie Sanders, I-Vt., speaks during a campaign event, Saturday, April 9, 2016, in the Washington Heights neighborhood of New York. (AP Photo/Mary Altaffer)
He picked up at least seven of the state's 14 delegates to Hillary Clinton's six. One delegate remains to be assigned, pending a final vote tally.
The victory on Saturday means Sanders has now won 16 states, compared to Clinton's 18. But it will do little to change the overall delegate count, which Clinton leads by a large margin.
To date, Clinton has 1,286 delegates based on primaries and caucuses to Sanders' 1,037.
Republican National Committee (RNC) Chairman Reince Priebus released a statement following Clinton's loss to Sanders in the Wyoming Democrat caucus, which read, "Once the inevitable frontrunner, Hillary Clinton has now lost her seventh straight contest. This embarrassing string of defeats to a 74-year old socialist from Vermont is another reminder of what a desperately flawed candidate she is, and how beatable she will be in November if she becomes the nominee."
"We just won Wyoming!" announces @BernieSanders after his wife Jane tells him. Long Island City crowd goes nuts. https://t.co/fRsuLIHoSz

— Danny Freeman (@Danny Freeman) 1460234736.0
—
Follow Kathryn Blackhurst (@kablackhurst) on Twitter