NEW YORK — As he battles for any ground possible in the Empire State, Ohio Gov. John Kasich gathered supporters Tuesday and rattled off a list of his Republican presidential rivals' transgressions, including an impending "path to darkness."
With a thinly veiled attack on businessman Donald Trump and Texas Sen. Ted Cruz, Kasich warned of his opponents who "feed off the fears and the anger that is felt by some of us" and who "exploit" those emotions in order to "feed their own insatiable desires for fame and attention."
"That could drive America down into a ditch and not make us great again. Just as disturbing are the solutions they offer," Kasich told a roomful of supporters at the Women's National Republican Club before embarking on a lengthy list of his opponents' policies without actually using their names.
"We've heard proposals to create a religious test for immigration, to target neighborhoods for surveillance, to deport 11.5 million people, to impose draconian tariffs which would crush trade and destroy American jobs," Kasich said. "We heard proposals to drop out of NATO, abandon Europe to Russia, possibly use nuclear weapons in Europe and end our defense partnerships in Asia and tell our Middle East allies that they have to go it alone. We've been offered hollow promises to impose a value-added tax, balance budgets through simple and whimsical cuts."
Kasich also ominously warned that "as an all-consuming fear of America in decline ends in visions of America's destruction, a political strategy based on exploiting Americans instead of lifting them up inevitably leads to divisions, paranoia, isolation and promises that can never, ever be fulfilled."
"I say to you that this path to darkness is the antithesis of all that America has been for 240 years," he continued. 
Kasich added that he's "watched in amazement as candidates wallowed in the mud, viciously attacked one another, called each other liars and disparaged each others' character."
"Those that continuously push that type of behavior are not worthy of the office they are seeking," he said. "I will not take the low road to the highest office in the land."
Kasich is in second place behind Trump, a native New Yorker, ahead of the state's April 19 primary.
After his speech in Manhattan Tuesday, Kasich headed to Brooklyn to visit a matzo bakery and school.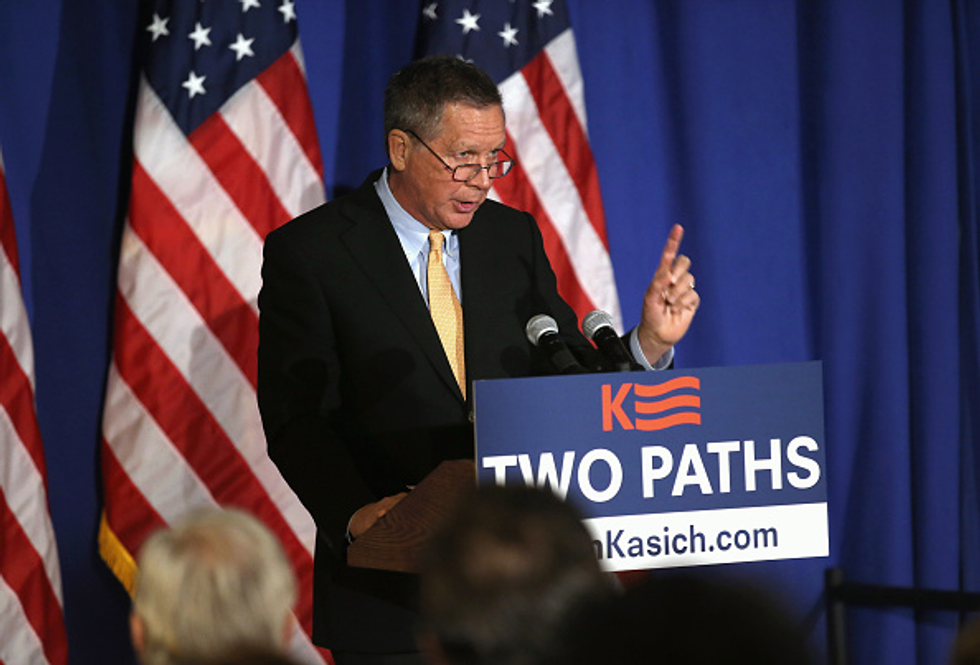 Republican presidential candidate Ohio Gov. John Kasich speaks at the Women's National Republican Club Tuesday in New York City. (Getty Images/John Moore)
—
Follow Kaitlyn Schallhorn (@K_Schallhorn) on Twitter