The man who alarmed his fellow fliers with a very public outburst on a JetBlue flight from Long Beach Friday offered a televised apology earlier this week after footage from the outburst circulated throughout social media and earned him multiple threats.
David Brackett, 28, became infamous last week after a fellow passenger captured a video of Brackett arguing with another flier before air marshals escorted him from the airplane just before takeoff, according to KCBS-TV. During the tense confrontation, other passengers and flight attendants cringed as Brackett engaged in verbal sparring with the people around him.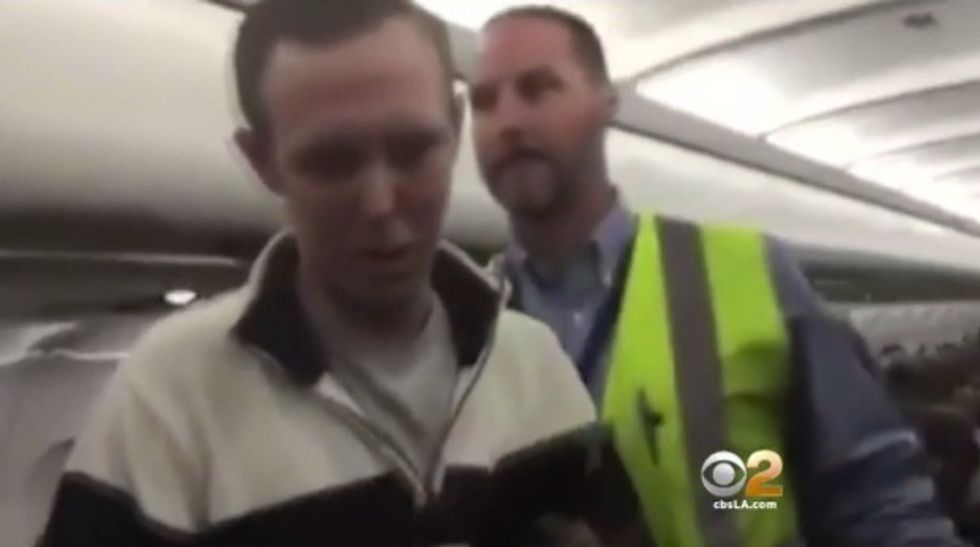 Image source: KCBS-TV
"I'm 28. I make $4 million a year. What do you do?" Brackett had shouted at the other passengers. "You're right. I'm a loser. I own six houses. ... You're a f***ing idiot. I have a 176 IQ."
Brackett also made fun of another passenger for being bald, calling him, "Mr. Bald-Can't-Grow-a-Set-of-Hair!"
Both Brackett and the bald man were removed from the flight prior to takeoff and taken to the Long Beach Police Department where they both tested below the legal blood-alcohol limit, according to KCBS. Both men were released soon afterwards.
But Brackett decided to offer a public apology after the footage of the incident swept through social media and news stations over the following days.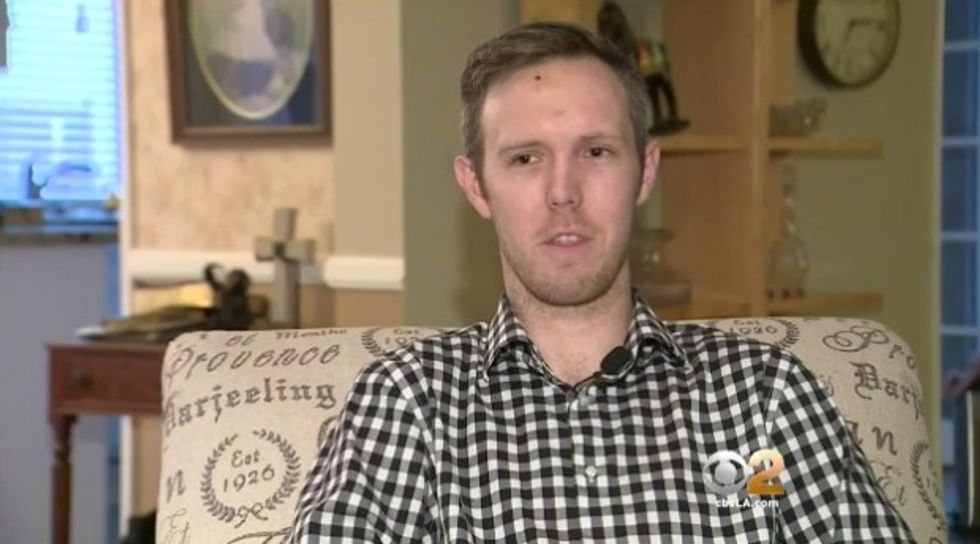 Image source: KCBS-TV
"I'm standing up for my mistakes. I'm not blaming anybody but myself for the actions that I did," Brackett told KCBS before adding that he views the incident as a result of his post-traumatic stress disorder suffered after he was involved in a motorcycle crash that broke almost every bone in his body.
"The PTSD thing that I do have, it's the first time where I've had to do something that I regret," Brackett said.
Brackett also said that his outburst occurred after the bald passenger told him that one of the flight attendants was of Middle Eastern descent and had a bomb on him, KCBS reported.
"I lost it. I heard 'bomb' in my head and did what I did," Brackett said, adding that he doesn't "feel safe anymore" after receiving numerous personal threats and hate messages via email and social media.
Brackett also admitted that he didn't even make a "fraction" of the $4 million that he claimed he made during the incident.
—
Follow Kathryn Blackhurst (@kablackhurst) on Twitter