A congressman is calling the removal of a Bible from a dining hall display at Wright-Patterson Air Force Base near Dayton, Ohio, "simply unacceptable," voicing his concern that religious freedom is under attack.
Rep. Mike Turner (R-Ohio) sent an April 13 letter to Gen. Ellen Pawlikowski, commander of Air Force Materiel Command on the base, detailing his worries over the removal of the Bible.
"It is simply unacceptable that Wright-Patterson personnel removed the Bible from the display," Turner wrote. "And I am concerned that similar efforts to restrict religious freedom may be made at other military installations."
The congressman's letter comes after a complaint from the Military Religious Freedom Foundation led staff members for Wright-Patterson Air Force Base to remove a Bible that was included in a dining hall display meant to honor service members who are missing in action or who are prisoners of war, the Army Times reported.
After some staffers at the base reportedly complained over the presence of the Bible, Mikey Weinstein, president of the Military Religious Freedom Foundation, demanded that it either: be removed, be displayed with books of other faiths including an atheist book or that a random prop book be used that was not affiliated with any specific religion. In the end, Wright-Patterson opted for removal.
"This is not persecution or victimization of Christianity," Weinstein told the Army Times. "This is simply an example where the Air Force should have a policy that makes it absolutely clear that nobody's religious affiliation is on [exclusive] display."
Weinstein's initial April 5 letter to base personnel read that "numerous soldiers and airmen" had complained about the presence of the Bible, charging that, "Health care clinics are for healing, not proselytizing."
A spokesperson for the base told the outlet that officials "thoroughly assessed" the decision before removing the Bible.
"Mutual respect is an essential part of the Air Force culture and we must ensure we create an environment in which people can realize their highest potential, regardless of one's personal religious or other beliefs," spokeswoman Marie Vanover said.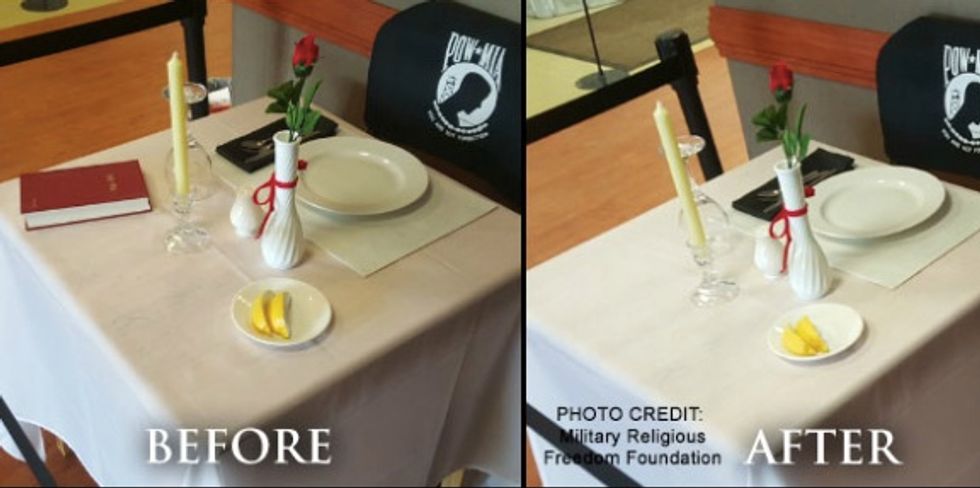 The display at the Wright-Patterson Air Force Base (Military Religious Freedom Foundation)
Turner, though, said that he's looking for answers about what led to the decision to pull the Bible. He wants to know the process, why the decision was made and how it could impact "religious expression and symbols" on the base.
"It's a very dangerous precedent to have a group that has an issue campaign to effect policy on a government installation merely by complaining," Turner said, according to the Dayton Daily News. "Their voice should not be any greater than anyone else's."
He continued, "This is an issue of national policy, not an issue of individual affront or concern, and it needs to be handled in that manner."
Weinstein told TheBlaze on Thursday that he believes that Turner's concerns are unfounded, taking specific aim at the congressman's letter.
"I think it's the letter is ridiculous and absurd," he said. "It's an attempt to, I think, pander to his constituents in an election year."
(H/T: Dayton Daily News)
--
Follow the author of this story on Twitter and Facebook: