A panel of conservative commentators joined George Stephanopoulos Sunday on "This Week" to discuss the challenges facing the divided Republican Party this election season.
Stephanopoulos asked guest Mary Matalin if she thinks the GOP will "blow up" if Republican presidential front-runner Donald Trump does not win the 1,237 delegates needed to become the party nominee and is subsequently denied the nomination at the 2016 Republican National Convention in Cleveland.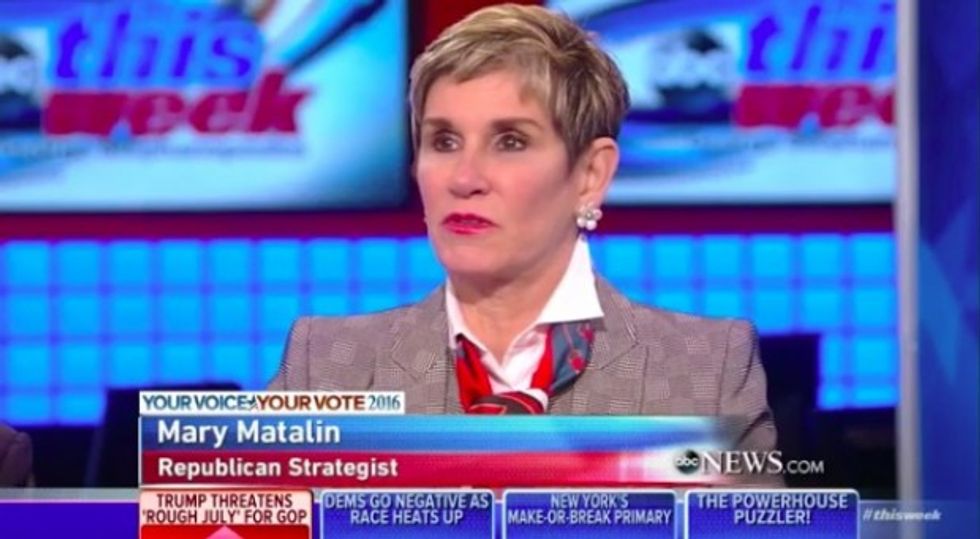 Image via Twitter / "This Week"
"The party's 'gonna blow up' anyway," the political strategist stated firmly. "And it's been blowing up for a long time because it ... has not been representing conservatives."
Matalin added that "all the conservatives are angry," but "not all of the angry people are conservatives."
Watch:
Mary Matalin tells the #ThisWeek Powerhouse Roundtable: The GOP is "going to blow up" whether Trump wins or not https://t.co/OIGxv6NPkB

— This Week (@ThisWeekABC) April 17, 2016