A poll released hours before New York State voters head to the polls to cast their ballots in the presidential primaries shows Donald Trump maintaining a massive lead over Ted Cruz and John Kasich, while Bernie Sanders continues to close much of the gap that previously existed between him and Hillary Clinton.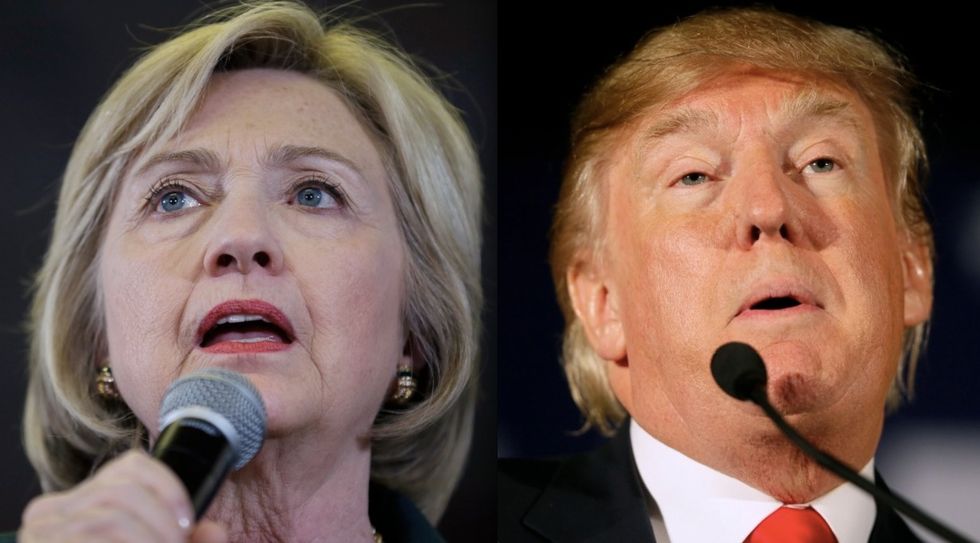 From left, Democratic presidential candidate Hillary Clinton and Republican presidential candidate Donald Trump (AP Photos/Charlie Neibergall)
The One America News Network/Gravis Marketing poll surveyed 481 likely New York Republican primary voters and 635 likely Democratic primary voters on April 13. It found that 57 percent of Republican participants supported Trump, compared with Kasich's 22 percent support in the state and Cruz's 20 percent. The margin of error was 4.5 percent.
Among the likely Democratic voters surveyed, 53 percent went for Clinton but 47 percent supported Sanders. The margin of error was 3.9 percent.
Clinton's lead has dramatically narrowed since the two candidates began heavily campaigning in New York two weeks ago. One Emerson poll released in mid-March had the former New York senator up by as many as 48 points over the Brooklyn-born Vermont senator.
The new numbers are similar to that of a Quinnipiac poll conducted in March, which had Trump leading by 36 points over Cruz (56 to 20) and 19 points over Kasich (56 to 19).
A whopping 95 Republican delegates are at stake in New York's Republican primary, while 247 Democratic delegates are up for grabs in the Empire State.
As of Monday, Trump had 744 delegates to Cruz's 559 delegates. Kasich had 144.
If a single Republican candidate wins a majority in each of New York's 27 congressional districts, then that candidate will likely receive all of the state's available delegates. Should Trump win all 95, he would be fewer than 400 delegates away from clinching the Republican nomination.
On the Democratic side, Clinton had won 1,758 delegates and super delegates as of Monday to Sanders' 1,076 delegates and super delegates. A strong showing for Clinton in her adopted home state on Tuesday could also put her within 400 delegates of becoming her party's presumptive nominee.
–
Follow the author of this story on Twitter and Facebook: