Embattled Donald Trump campaign manager Corey Lewandowski has reportedly been demoted amid a shakeup in the GOP front-runner's team.
According to CBS News, Lewandowski's role within the campaign has been relegated to that of a "body man" and scheduler. Replacing him is Paul Manafort, who the campaign brought on last week to help coordinate their convention plans and delegate strategy.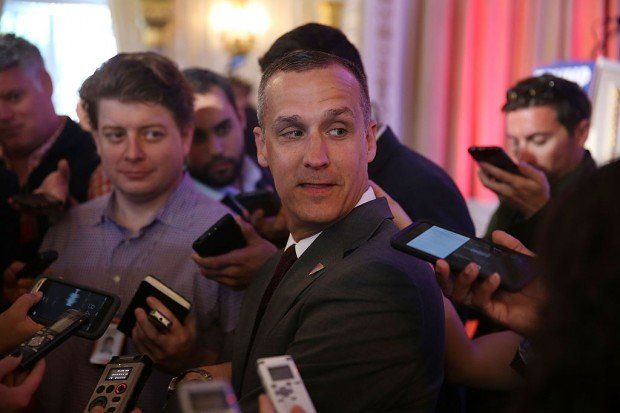 Corey Lewandowski (Joe Raedle/Getty Images)
Trump's national field director, Stuart Jolly, also tendered his resignation Monday, after he was informed he would have to report to newly hired national political director Rick Wiley, according to the Washington Examiner. Wiley was previously campaign manger for Wisconsin Gov. Scott Walker (R).
More from CBS News:
Jolly, the sources said, was almost universally disliked by Trump state operatives who found him amateurish, arrogant and substandard. But he had been hired by Lewandowski, whom he's been close to for many years, and his departure in a row with Wiley further highlights the shifting power structure within Trump's senior campaign management.
Trump acknowledged the shakeup Tuesday during an interview on Fox News' "Fox and Friends" but did not comment on specifics.
"When you bring other people in, I could see other people getting hurt," Trump said of the shakeup. "But frankly, we're in position where we'd like to see if we could close it out."
"When you bring in new people...some... feelings get a little bit hurt." @realDonaldTrump on campaign staff shakeuphttps://t.co/lU7hMqJQXC

— FOX & Friends (@foxandfriends) April 19, 2016
Lewandowski came under fire last month after he allegedly assaulted former Breitbart reporter Michelle Fields. Florida authorities initially filed battery charges against Lewandowski but later dismissed them.
A spokesperson for the Trump campaign did not immediately return a request for comment from TheBlaze. However, a Trump campaign spokesperson told Mediate earlier Tuesday that Lewandowski was still chief of the Trump campaign.
—
Follow the author of this story on Twitter and Facebook:
[facebook //www.facebook.com/plugins/like.php?href=