Corey Lewandowski, the campaign manager for 2016 front-runner Donald Trump, has been charged with simple battery in the Florida incident with a former Breitbart reporter.
The Jupiter Police Department's report showed that Lewandowski was arrested this morning at 8:10 a.m. on suspicion of "simple battery," a misdemeanor, in the March 8 incident with Breitbart reporter Michelle Fields. Fields left the publication due to its response to the incident.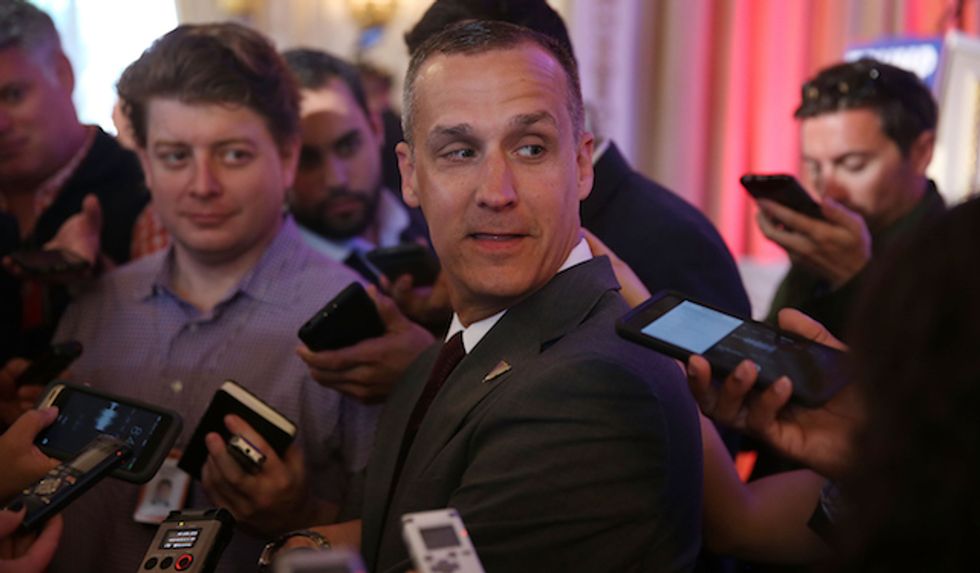 Trump campaign manager Corey Lewandowski speaks with the media. (Joe Raedle/Getty Images)
The location of the incident is listed as 115 Eagle Tree Terrace in Jupiter, Florida, at the Trump National Golf Club where the presidential candidate was holding a press conference following the primaries in Michigan, Mississippi and Idaho as well as the Hawaii caucuses.
BREAKING: Arrest report issued for @realDonaldTrump campaign manager Cory Lewandowski https://t.co/lmg4wp0wII

— Emily C. Singer (@Emily C. Singer) 1459263800.0
The Jupiter Police Department also released apparent surveillance video of the alleged incident today. See the video here:
The Trump campaign responded quickly, saying that Lewandowski is "absolutely innocent" of the charge.
"Mr. Lewandowski was issued a notice to appear and was given a court date," spokeswoman Hope Hicks told TheBlaze. "He was not arrested. Mr. Lewandowski is absolutely innocent of this charge. He will enter a plea of not guilty and looks forward to his day in court. He is completely confident that he will be exonerated."
Trump himself responded by tweet today, saying that the surveillance tapes back up Lewandowski's side of the story.
Wow, Corey Lewandowski, my campaign manager and a very decent man, was just charged with assaulting a reporter. Look at tapes-nothing there!

— Donald J. Trump (@Donald J. Trump) 1459269693.0
But Fields pushed back:
Because my story never changed. Seriously, just stop lying. https://t.co/1fz9cBHOuT

— Michelle Fields (@Michelle Fields) 1459270219.0
A strategist for Ohio Gov. John Kasich, the other remaining GOP hopeful, said on Twitter that Trump is responsible for the values of his campaign staff. Lewandowski would have been fired from the Kasich campaign, John Weaver said.
Campaigns reflect the values of the candidate. I know ours does. If this bully worked for John Kasich, he would have been fired long ago.

— John Weaver (@John Weaver) 1459268196.0
Alice Stewart, the communications director for rival Republican candidate Texas Sen. Ted Cruz, said that Lewandowski's actions were inappropriate.
"Unfortunately, this abusive behavior seems to be part of the culture of the Trump campaign," Stewart said in a statement. "Personal attacks, verbal attacks, and now physical attacks have no place in politics or anywhere else in our society."
So far, neither the Cruz campaign nor the Kasich campaign has called for Lewandowski to be fired.
—
Follow the author of this story on Twitter and Facebook:
[facebook //www.facebook.com/plugins/like.php?href=