Wisconsin Gov. Scott Walker (R) has finally said that he will back Republican presidential front-runner Donald Trump should the Manhattan mogul become the GOP nominee.
"I will support the Republican running against Hillary Clinton in the fall — whoever that is," Walker, a former candidate for the nomination himself, told reporters in Wisconsin Wednesday, according to the Milwaukee Journal Sentinel.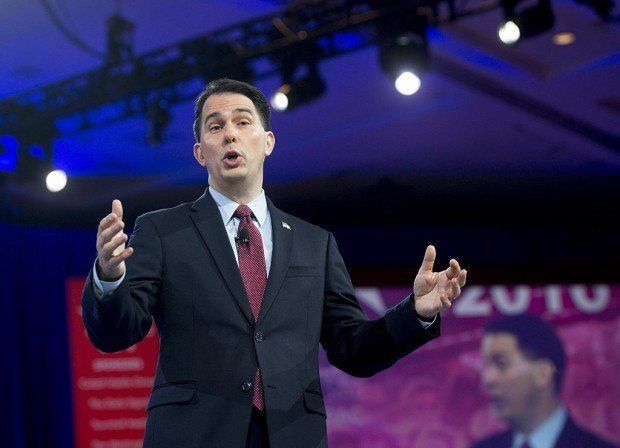 Wisconsin Republican Gov. Scott Walker (Saul Loeb/AFP/Getty Images)
Though he didn't specifically say Trump's name, when asked if he would support Trump, Walker answered in the affirmative.
"To me, I think it's preferable to have a Republican nominee over Hillary Clinton," he said. "I think there's a lot of distress not only amongst Republicans and independents, but I think part of Bernie Sanders' support is because a lot of young voters, in particular, don't trust her."
When he was a Republican presidential contender, Walker signed the party's loyalty pledge, which bound him to support the eventual GOP nominee. But questions arose last month over whether or not the Wisconsin governor would support Trump should the billionaire secure the GOP's nomination.
The speculation continued after Walker endorsed Texas Sen. Ted Cruz ahead of Wisconsin's April 5 primary, which Cruz went on to win by double digits.
However, Walker said Wednesday that he doubts either Trump or Cruz will secure enough delegates prior to July to thwart a contested convention. Walker went on to tell reporters that he believes Cruz will win the nomination on either the convention's second or third ballot.
—
Follow the author of this story on Twitter and Facebook:
[facebook //www.facebook.com/plugins/like.php?href=