WASHINGTON TOWNSHIP, N.J. (AP) — A Philadelphia nun and schoolteacher was convicted Wednesday of drunken driving charges despite her assertion that she had taken a sedative and doesn't remember crashing her car into a New Jersey building.
Washington Township Municipal Court Judge Martin Whitcraft suspended Sister Kimberly Miller's license for 90 days and fined her $257 plus fees.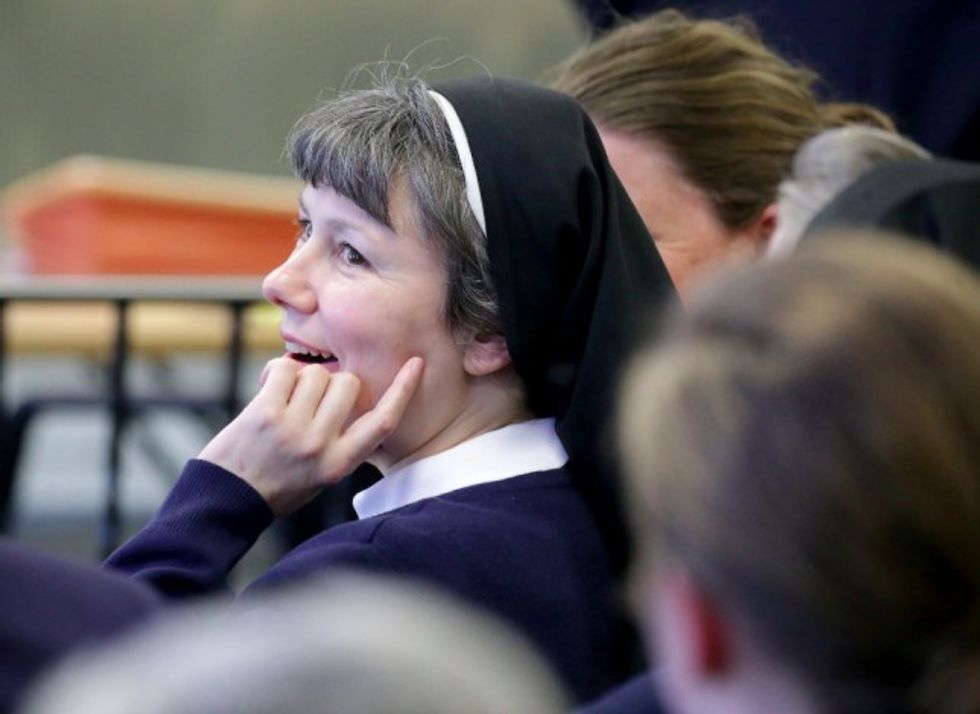 Kimberly Miller, a Philadelphia nun and teacher at Little Flower High School for Girls in the city, looks on before appearing in Washington Township Municipal Court, in Washington Township, N.J., Wednesday, April 13, 2016. Miller has been charged with driving under the influence and related charges. (Image source: Tim Hawk/NJ.com via AP, Pool)
Miller, 41, is a librarian and theology teacher at Little Flower Catholic School in Philadelphia. She was arrested in November 2015 after she drove her car into an auto repair shop.
Miller testified that she had a glass of wine and an Ambien before bed but woke up in handcuffs and didn't remember anything. She also said she sleepwalks and has a dissociative disorder.
Police say she had a blood-alcohol level twice the legal limit to drive. The judge tossed the blood-alcohol test from evidence because the officer did not directly observe the nun for 20 minutes before administering the test, as required.
Police also say she had slurred speech and bloodshot eyes and staggered after leaving her car. At the time of the accident, Miller was wearing her blue habit and black veil.
Miller has been on administrative leave since the charges were filed.
"With the conclusion of court proceedings today, leadership from the Office of Catholic Education and Sister Kimberly's religious congregation will review the matter further. No change has yet been made to her status," Archdiocese of Philadelphia spokesman Kenneth Gavin said Wednesday.