A member of the 9/11 Commission is calling on the government to declassify the 28 pages that could shed potential light on involvement by Saudi Arabia in the 2001 terror attacks that killed 3,000 Americans.
Tim Roehmer, a former congressman and ambassador who served on the commission in 2004, said Thursday on MSNBC's "Morning Joe" that the commission "did not discover" any role by "senior, high level" Saudi government officials. However, he added that it's possible that Saudi Arabian sources financed Al Qaeda.
The 28 pages are expected to shed light on potential funding sources for the 9/11 terrorists.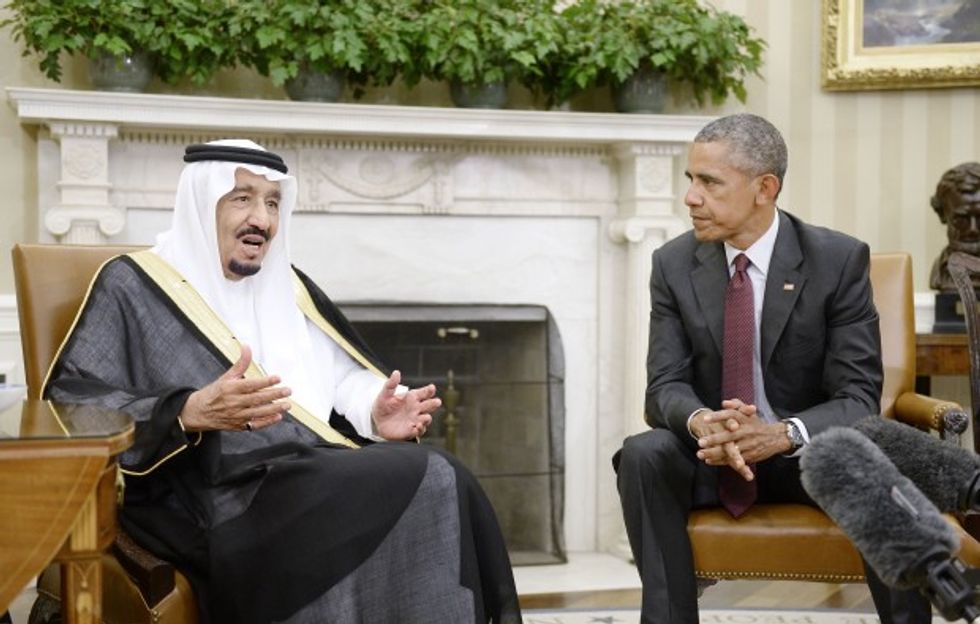 (Olivier Douliery-Pool/Getty Images)
The controversy over the 28 pages from the 9/11 Commission report has ensued while President Barack Obama is visiting Saudi Arabia for the Gulf Cooperation Council summit.
Obama's deputy national security adviser Ben Rhodes told reporters both world leaders "agreed that it was good to have this opportunity to clear the air."
Several British media outlets reported that recently unveiled court documents tie an Al Qaeda bomb maker tied to the 9/11 attacks were discovered inside an envelope from the Saudi embassy in Washington. The bomb maker, Ghassan al-Sharbi, took flying lessons with other 9/11 hijackers. He didn't participate in the attack and is currently held at Guantanamo Bay prison. His flight school certificate was tucked inside the government envelope.
Obama's trip to Saudi Arabia also occurs amid bipartisan support for the "Justice Against Sponsors of Terrorism Act," which was passed the Senate Judiciary Committee. The bill would take away sovereign immunity from foreign governments in cases "arising from a terrorist attack that kills an American on American soil."
The Obama administration, as well as Republican leaders such as House Speaker Paul Ryan (R-Wis.), fear that such a law allowing lawsuits against Saudi Arabia would put United States soldiers, diplomats and international aid workers at risk of litigation.
(H/T: Associated Press)