A fight broke out at a Los Angeles high school when a group gathered to protest the school's recently installed "all-gender" restroom Tuesday afternoon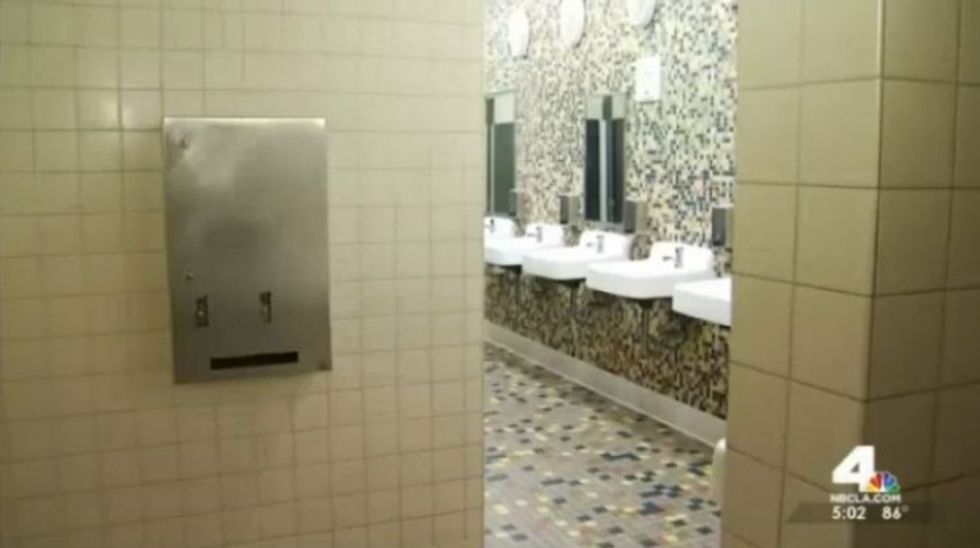 Image source: KNBC-TV
The new, multi-stall restroom, which purports to be a gender-neutral facility, was installed Friday at the Santee Education Complex in response to the Santee High School Gay-Straight Alliance's concerns over LGBT and transgender issues, according to KNBC-TV. Although many students and local residents expressed their support for the new measure, many others felt differently.
On Tuesday, the Los Angeles School Police Depart said that it responded to a brawl at the Santee Education Complex in response to the "all-gender" restroom that involved adult protesters and student supporters. Before the fray, protesters stood across the street carrying signs and a bullhorn, according to KABC-TV. But after the school's classes were dismissed and the students emerged, several of the students crossed to the other side of the street to confront the adults.
Some of the students began to throw objects at the protesters as others shouted before the fight broke out, KABC reported. The protesters reportedly told the students repeatedly to "burn in hell."
Jose Robles, a 14-year-old student at the school, captured a part of the fight on his cellphone camera.
"One of the students just tackled the guy that was going against the gays and a whole load of students jumped in," Jose said, according to KNBC. "The bathroom's there for a reason, so they just wanted to come make a conflict."
One student was escorted from the school for safety reasons, and no one was seriously injured during the brawl, officials stated. No one was charged following the incident. During the aftermath of the fight, officers increased their patrol presence in the event of further protests.
This protest comes in the wake of North Carolina's controversial bathroom bill that requires individuals to use the bathroom that corresponds with their biological sex.
—
Follow Kathryn Blackhurst (@kablackhurst) on Twitter