North Carolina is "paying a big price" for its controversial bathroom bill, according to GOP presidential front-runner Donald Trump.
The billionaire businessman advocated that transgender people should be able to "use the bathroom that they feel is appropriate" as he slammed North Carolina's contentious law, which requires people to use the public restroom that corresponds with their sex and not necessarily their gender identity, during an interview Thursday morning with NBC's "Today."
"North Carolina did something that was very strong, and they're paying a big price, and there's a lot of problems," Trump said as he pointed out that several businesses have left the state in the legislation's wake.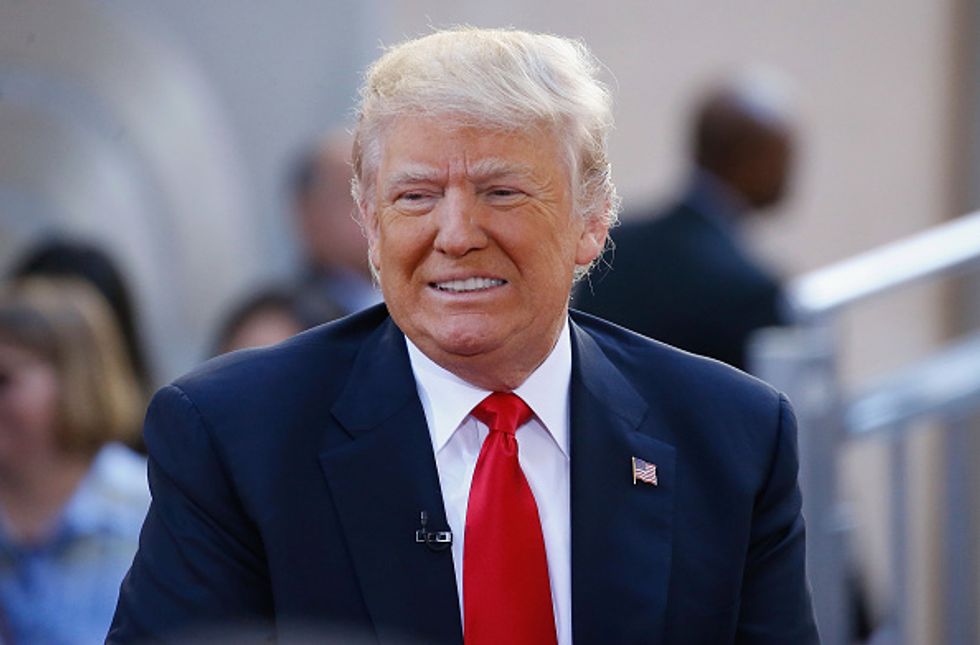 Donald Trump attends NBC's "Today" Trump Town Hall at Rockefeller Plaza in New York City Thursday. (Getty Images/John Lamparski)
"There have been very few complaints the way it is. People go, they use the bathroom that they feel is appropriate," he continued. "There has been so little trouble, and the problem with what happened in North Carolina is the strife and the economic punishment that they're taking."
Trump also criticized proposals to create restrooms only for transgender people as "discriminatory" as well as "unbelievably expensive for businesses and for the country."
"Leave it the way it is," he argued.
Trump affirmed that, if Caitlyn Jenner visited the Trump Tower, the reality star would be permitted to use any bathroom.
In a statement Thursday morning, the campaign spokesman for North Carolina Gov. Pat McCrory, who is running for reelection, defended the legislation as "common sense."
"Governor McCrory has always said that North Carolina was getting along fine before the Charlotte city council passed its unneeded and overreaching ordinance," Ricky Diaz said in a statement provided to TheBlaze, adding that businesses such as Target are still free to adopt their own policies.
"Where the governor disagrees with Mr. Trump is that bathroom and shower facilities in our schools should be kept separate and special accommodations made when needed," he continued. "It's just common sense."
The Republican front-runner's stance on the bathroom legislation differs from that of presidential rival Sen. Ted Cruz's.
During a MSNBC town hall last week, Cruz argued that the legislation is in place as "men should not be going to the bathroom with little girls."
Trump's remarks on the bathroom bill begin at the 18:41 mark.
This story has been updated. 
—
Follow Kaitlyn Schallhorn (@K_Schallhorn) on Twitter