The FBI is in its final stages of their investigation into former Secretary of State Hillary Clinton and her use of a private email server during her tenure at the State Department, according to Fox News judicial analyst Judge Andrew Napolitano.
Speaking with Fox's Bill O'Reilly Thursday, Napolitano said that the FBI has more than enough evidence to not only indict the Democratic front-runner, but to convict her as well.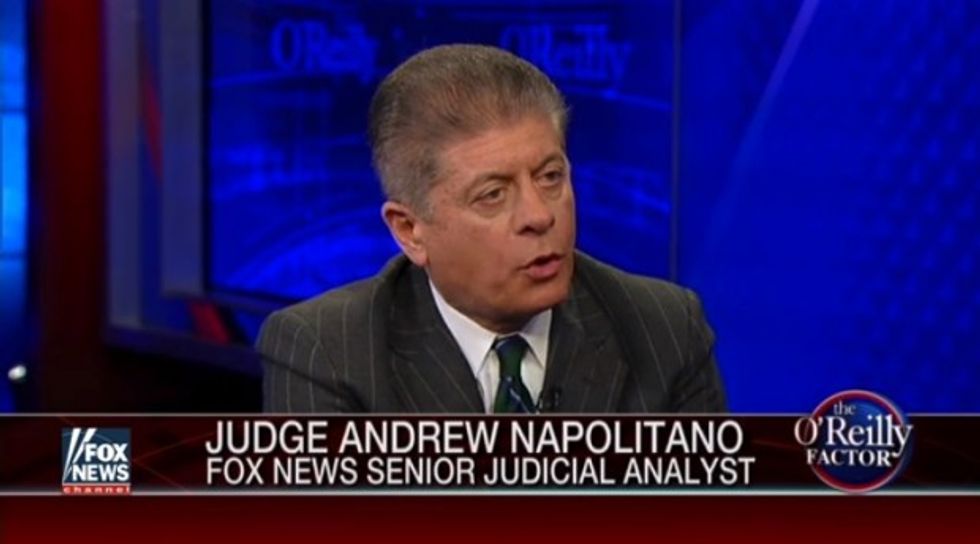 Image source: Fox News
"The evidence of her guilt is overwhelming," Napolitano said. "And the FBI knows a lot more about it than I do."
If the evidence against Clinton is indeed overwhelming, then the FBI would most likely be more than inclined to recommend to the Justice Department that Clinton face criminal charges.
However, according to Napolitano, whether or not the Justice Department will actually indict Clinton — despite the evidence — is a completely different question, given the current political landscape.
FBI Director James Comey said Thursday that despite the mounting evidence in the FBI's investigation, there is no current timetable as to when, or if, anyone in the probe will face criminal charges. Comey said that he'd prefer conducting the investigation properly, rather than merely opt for attempting to conclude the investigation prior to the Democratic national convention this July.
"We aspire to do all our investigations in two ways: well and promptly," Comey said, according to the Washington Free Beacon. "I get that people care about this investigation, and so we're working very hard to ensure it's done well and promptly. If we had to choose between the two choices, we'd do it well."
Watch Napolitano on "The O'Reilly Factor":
—
Follow the author of this story on Twitter and Facebook:
[facebook //www.facebook.com/plugins/like.php?href=