Atheists are taking aim at a large, white cross that is stationed inside of a public park in Santa Clara, California, calling it a "blatant religious symbol" that violates the separate of church and state as well as California law.
The Freedom From Religion Foundation has joined local resident Andrew Defaria in suing over the granite cross, which was placed in Memorial Cross Park to mark the form presence of an 18th center Spanish Catholic mission that once operated there from 1777 to 1784, the Mercury News reported.
"The 14-foot granite Latin cross at Memorial Cross Park that FFRF and DeFaria are suing about officially commemorates a 1777 Spanish Catholic mission," reads a press release from the Freedom From Religion Foundation. "The prominent Christian edifice was donated by the Santa Clara Lions Club in 1953, with the city maintaining the cross and the park ever since."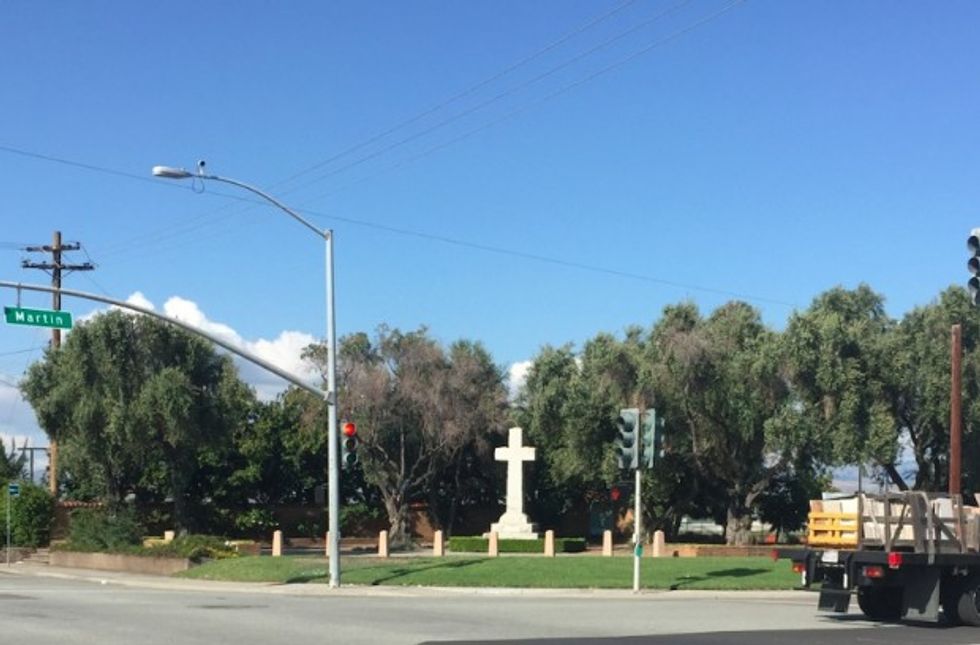 The cross at the center of dispute between atheists and the city of Santa Clara (Freedom From Religion Foundation)
Defaria believes that the cross has no place in the park, with the Freedom From Religion Foundation first complaining over the marker in 2012. Four years later, Annie Laurie Gaylor, co-president of the atheist group, said that repeated demands for its removal have gone unanswered.
"It should not be necessary to sue over such an obvious and blatant establishment of religion," she said of the complaint being waged against the city of Santa Clara as well as the mayor and council members. "We waited four years for the city to act in good faith."
Sharing his own views on the matter, Defaria added, "As a lifelong atheist and member of FFRF, and also a member of the San Jose Atheists, I believe firmly in the separation of church and state."
Both Defaria and the Freedom From Religion Foundation argue that the decision to accept and display the cross and to do maintenance to it over the years has been, in essence, a collective "advancement of religion."
But Ginger Stasi, president of the Santa Clara Lions Club, said that she believes that the cross is a marker of a historic location and should remain right where it is in the park, adding that "no one is being forced on their knees to pray there."
City officials said that they will take the complaint seriously and will assess.
(H/T: Mercury News)
--
Follow the author of this story on Twitter and Facebook: