Retired Major League Baseball pitcher Curt Schilling responded Friday to being fired from ESPN for sharing a controversial meme on transgender bathroom laws, telling conservative personality Steven Crowder that "nothing" he said was transphobic.
"I responded to a Facebook post that someone else had made. I responded to it and my response was basically men's rooms were clearly designed for men, who stand up when they go pee and women's rooms were not," Schilling said. "Anyway, that turned out to be 'transphobic.'"
Schilling was fired from EPSN Wednesday after he ignited uproar with a Facebook post about the "basic functionality of men's and women's restrooms." The legendary pitcher told Crowder that the post "wasn't public," but said he stood by his message.
"My point was, what the hell was a urinal made for?" he rhetorically asked. "Listen, men's rooms were made for men to go to the bathroom standing up and women's rooms were not. ... But again, now I became transphobic."
"Here's the problem. First of all, nothing I said was transphobic, number one," Schilling added. "When I ran the video [game] company that went poorly at the end, I had multiple transgender employees who were some of the best people that I worked with. My son, one of my youngest sons was a member of the LGBT club at high school — helps run it."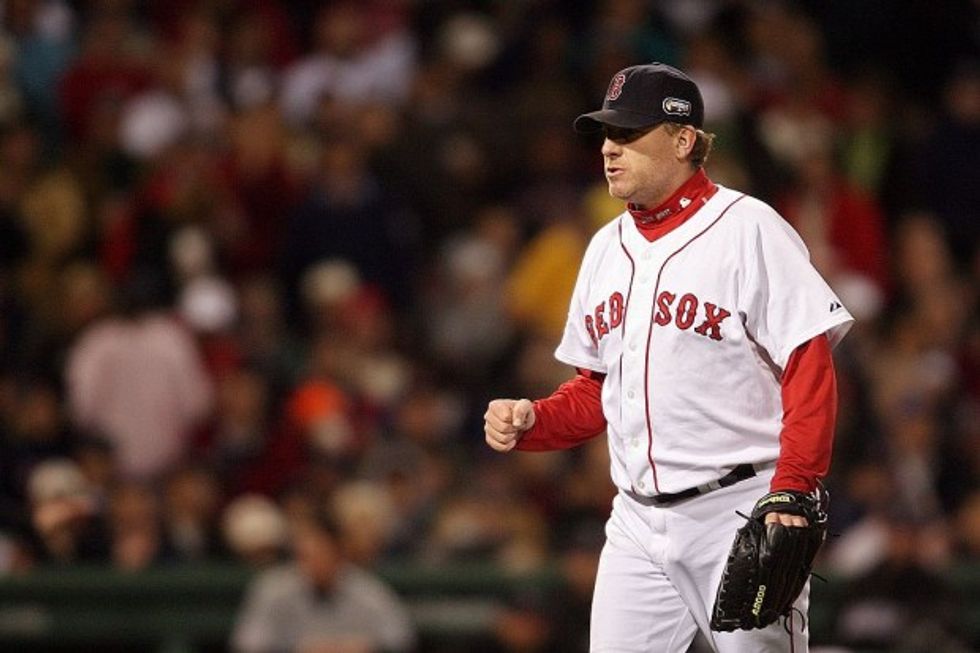 Curt Schilling #38 of the Boston Red Sox pumps his against the Colorado Rockies during Game Two of the 2007 Major League Baseball World Series at Fenway Park on October 25, 2007 in Boston, Massachusetts. (Photo by Nick Laham/Getty Images)
Schilling said he was perplexed by how he thinks a number of individuals have begun operating in the world.
"One of the questions I have got to ask though is when did people believe that the world was supposed to conform around them?" he asked. "Instead of conforming to the world you live in? Or shaping yourself to the world you live in? People now expect the world to shape itself for you? And that's not how it works. Well, that's how they're trying to make it work."
Crowder hopped in, echoing Schilling's remark and adding that the transgender community was an incredibly small sliver of the American population.
"Here's the thing: This is how we have gotten to where we are. We have allowed the vocal minority to shut up everyone else," Schilling said. "And now it drives all of our political agendas."
"Here's the thing: I don't care — if there was a transgender march down my street to have transgender bathrooms, I wouldn't go out and watch it and I wouldn't care that they are having it!" the former Boston Red Sox pitcher said. "I want homeless veterans to have homes. I want orphaned and abused kids to have homes. I want the homeless problem in this country to be solved. There are so many other things that are actually legitimately scary and dangerous, like ISIS."
[sharequote align="center"]"We have allowed the vocal minority to shut up everyone else."[/sharequote]
Toward the end of the 21-minute interview, Schilling made a prediction of "what's going to happen" if bathrooms are not restricted for use by a person's biological sex.
"Somebody is going to get molested in a women's room and it's going to be a child and some scumbag pervert child molester is going to go to jail and the transgender community is going to be in a place they never wanted to be," he said. "Because they are going to have to defend their right to use the bathroom which opened the door up. Pedophiles aren't representative of transgenders and transgenders aren't pedophiles. But there are people that will manipulate this law to their advantage and someone is going to get hurt."
Schilling seemed to suggest a solution would be allowing transgender individuals to use the bathroom of their choosing without alerting anyone to his or her gender identity.
"Why tell us?" he asked. "I don't care! I don't give a s***! If you come into the men's room and you're standing there taking a piss, I don't care! Why do I have to know you're not a real, a born man? I don't care!"
—
Follow the author of this story on Twitter and Facebook: