Progressive favorite Sen. Elizabeth Warren (D-Mass.) is reportedly among the names being considered by Hillary Clinton's campaign as a vice presidential candidate.
Hillary Clinton's highest priority in a vice presidential pick is a winner rather than "personal credibility" or "ideology," the New York Times reported over the weekend. Warren is joined on the list by other candidates aimed at turning out the African American vote, the Hispanic vote or winning swing states, according to the Times.
The possibility of an all-female ticket with Warren could address two constituencies.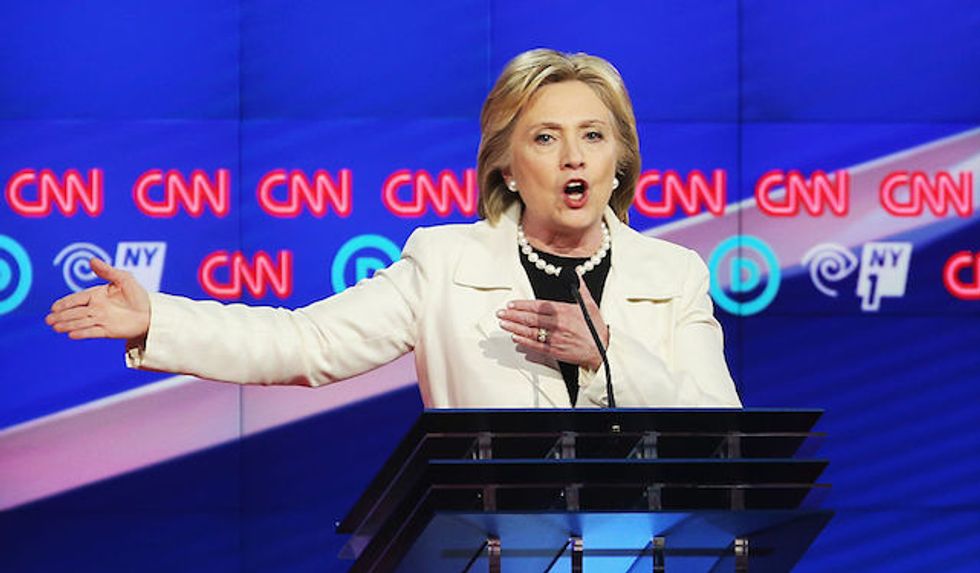 Justin Sullivan/Getty Images
Many progressive groups such as MoveOn.org and Democracy for America were clamoring for Warren to run. When she did not, many of her supporters went to Vermont Sen. Bernie Sanders. With some polls showing a lack of enthusiasm for Clinton among Sanders primary voters, having Warren on the ticket could help fire up the Democratic Party's progressive base.
"Elizabeth Warren would be the most intriguing pick. I could see this pick as a way to close the rift between Hillary and Sanders supporters," Adam Carrington, a professor of politics at Hillsdale College, told TheBlaze.
Further, Carrington added, this could also motivate women voters to turn out, particularly if the all-female ticket is facing billionaire Donald Trump.
"It would also be a great way for the Democratic side to pound their talking points that they've used in the past few elections, particularly since Donald Trump has a 75 percent disapproval among women," Carrington said.
The former secretary of state's list thus far reflect the battleground states that lie ahead in the general election. Ohio Sen. Sherrod Brown and Virginia Sens. Mark Warner and Tim Kaine are all being considered, campaign sources told the Time. Further, the campaign is considering prominent minorities in the party such as former Massachusetts Gov. Deval Patrick, the state's only African-American governor, and U.S. Labor Secretary Thomas Perez, who has been a Hispanic civil rights attorney.
Carrington also thinks Julian Castro, the secretary of the Department of Housing and Urban Development, could be a stronger choice as a young energetic Hispanic candidate, who could help Clinton's problem with the youth vote.
Clinton, who seems to have an insurmountable delegate lead, has provided her campaign with general guidance in conducting a search for the right running mate, the Times reported, citing campaign advisers and more than a dozen Democrats that are close to the campaign. Above all else, Clinton is reportedly seeking a vice presidential candidate who will look strong against the eventual Republican nominee. As the Times reports:
Mrs. Clinton has offered general guidance as her team begins the search: She cares less about ideological and personal compatibility than about picking a winner, someone who can dominate the vice-presidential debate and convince Americans that Mrs. Clinton is their best choice.

She also wants a partner who is unquestionably qualified for the presidency and would help create the strongest contrast with the Republican ticket, which could be dogged by questions about Donald J. Trump's fitness for the presidency or Senator Ted Cruz's unbending conservatism, according to those interviewed. And she wants someone who could be an effective attack dog against either candidate.