After watching the tumultuous 2016 election cycle unfold, Politico founder Jim VandeHei is suggesting a new "Innovation Party" with Facebook founder and CEO Mark Zuckerberg and COO Sheryl Sandberg at the helm.
"Maybe we can convince Michael Bloomberg to help fund the movement with the billions he planned to spend on his own campaign—and then recruit him to run Treasury and advise the president," he wrote. "[W]ho is against innovation, especially when winning campaigns are almost always about the future?"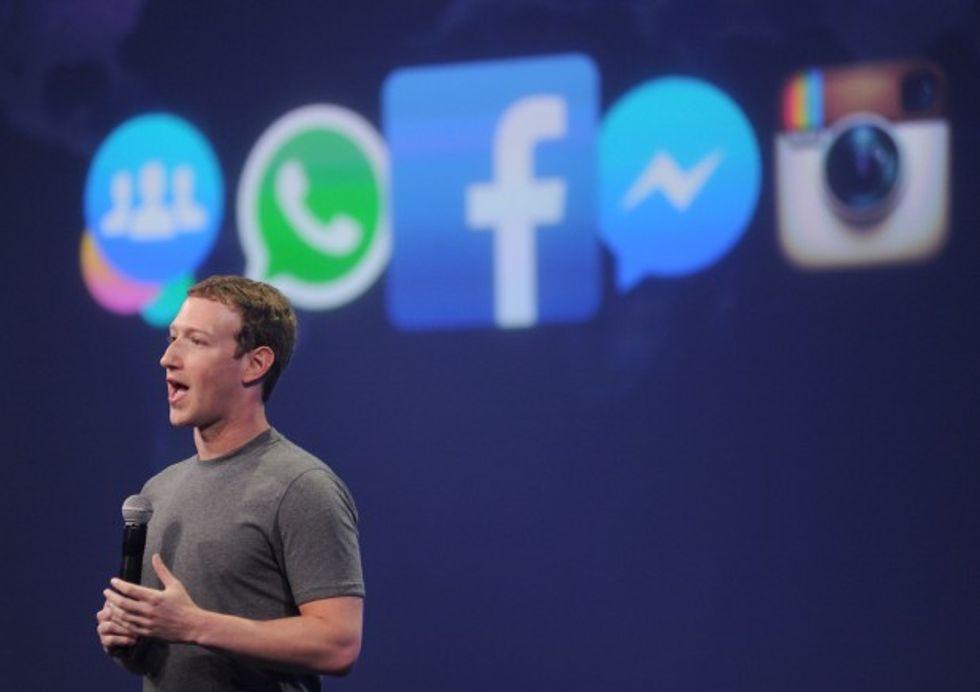 Facebook CEO Mark Zuckerberg speaks at the F8 summit in San Francisco, California, on March 25, 2015. Zuckerberg introduced a new messenger platform at the event. AFP PHOTO/JOSH EDELSON (Photo credit should read Josh Edelson/AFP/Getty Images)
VandeHei, who is from Wisconsin but has spent the past 20 years in Washington, D.C., wrote Monday in a Wall Street Journal editorial that "Establishment America has grown fat, lazy, conventional and deserving of radical disruption" and that the only way to change that is by "stealing a lot of Donald Trump's and Bernie Sanders's tricks," but with a third party candidate.
"Mr. Trump's vulgar approach to politics is a terrific middle finger to the establishment but a terrible political and governing paradigm. Same goes for Sanders-style socialism," he wrote. "But if someone turned the critique, passion and disdain shared by the two movements into a new one, they could change the system in meaningful ways."
"Right now, millions of young people are turned on by a 74-old-year socialist scolding Wall Street; millions of others by a reality-TV star with a 1950s view of women," VandeHei later added.
The Politico leader then shared his template for the winning ticket.
VandeHei wrote that the candidate needs to be "candid" and "transparent" with voters because the American people "aren't dopes" and they "can tolerate uncomfortable truths."
"The ideal candidate would write a very specific agenda in normal, conversational language, not whatever nonsensical language today's political class was taught to speak," he wrote, adding that the candidate needs to be able to engage with voters on social media with "fun and flare."
In addition, VandeHei said the third party candidate should "exploit the fear factor" by choosing a running mate who either has military experience or possesses modern warfare expertise. "People are scared. Terrorism is today's World War and Americans want a theory for dealing with it," he wrote.
He also said the candidate needs "use the Internet revolution for the greater good," which makes sense of the Zuckerberg/Sandberg proposition.
"Innovators could help create a 'National App' to match every kid who needs a mentor with a mentor, every person who wants to volunteer with someone or some group in need; every veteran with people and companies who want to reward his or her service with thanks, help or a job," VandeHei suggested.
VandeHei said the "Innovation Party" candidates would need to "learn from the mistakes" of Trump and Sanders, who would both lose in a general election because "fringe" candidates don't have national appeal and "anger has its limits."
It is important to note, however, that Zuckerberg is 31 years old, making him ineligible for office. The U.S. Constitution requires candidates for president be at least 35 years old.
—
Follow the author of this story on Twitter: