You can add the Koch brothers — billionaires David and Charles Koch — to the growing list of Republicans who say they will not attend their party's convention in Cleveland this July.
Speaking with ABC News' Jonathan Karl, Charles Koch expressed his disappointment with the 2016 Republican candidates and race overall, which "he said derailed into a litany of ad hominem attacks early on," according to an ABC News story published Monday.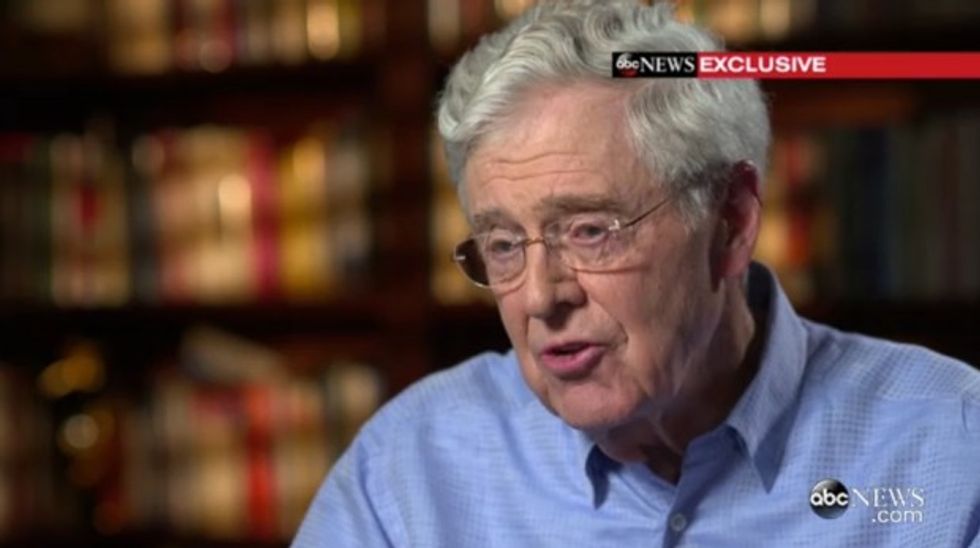 Image source: ABC News
"Why go?" Koch said of his and David's umbrella political organization, Freedom Partners. "We're not interested in politics. We're interested in moving us towards a culture and policies that will enable people to improve their lives."
He isn't the first major Republican figure to publicly announce his intention to bow out of this summer's convention. Early 2016 front-runner former Florida Gov. Jeb Bush announced earlier this month that he would not attend the convention. And just last week, 2008 Republican nominee Sen. John McCain (Ariz.) followed Bush's lead.
However, Koch said that he and his brother are "hopeful" that something good and positive comes from the convention, adding that they've tried to change the political landscape in what has been a very unconventional election cycle.
"We've tried to change it," Koch said. "But we haven't been successful."
Koch also told Karl in his interview that he doesn't believe a GOP "white knight" candidate — such as House Speaker Paul Ryan (R-Wis.) — will make it out of the convention with the party's nomination.
"I don't see how he could win," Koch said in the interview. "If he did, I mean, that would create the impression this whole thing is rigged, which — that's the opposite of the direction we want to go."
—
Follow the author of this story on Twitter and Facebook:
[facebook //www.facebook.com/plugins/like.php?href=