Corey Lewandowski, campaign manager to Republican front-runner Donald Trump, sought to reassure voters Tuesday that the billionaire businessman "will never change."
"When Donald Trump is one-on-one with someone, he may not be having the same type of loud, verbose conversation because it's a private, intimate setting, but the message is the same and Donald Trump will never change," he told CNN host Jake Tapper. "The model of this campaign has been and continues to be, 'Let Mr. Trump be Mr. Trump.'"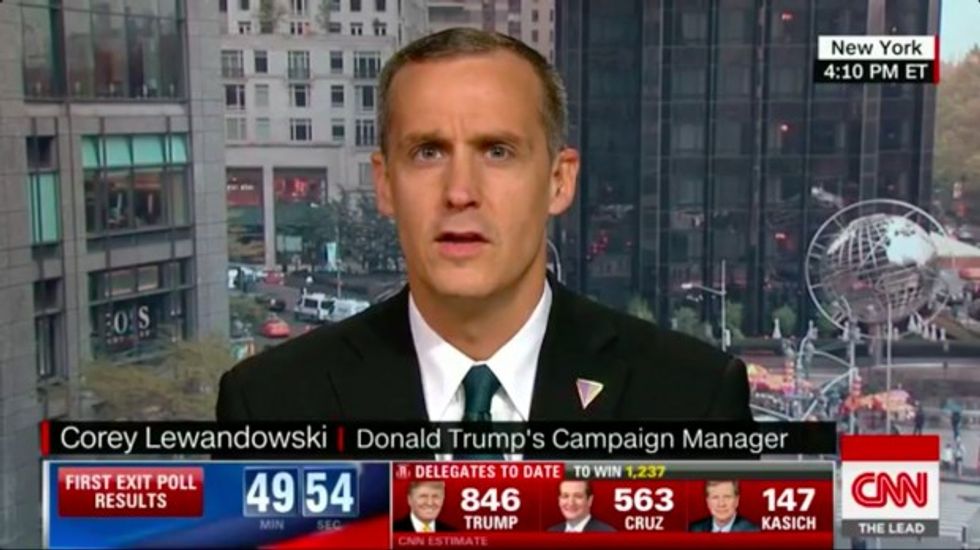 Image source: CNN/Twitter
These comments came after new Trump aide Paul Manafort, who was brought on to help Team Trump shift into general election mode, suggested his candidate has been "playing" a "part" up until this point.
"He gets it. The part that he's been playing is now evolving into the part that you've been expecting. The negatives will come down, the image is going to change," Manafort said in audio obtained by several news sources.
"When he's out on the stage, when he's talking about the kinds of things he's talking about on the stump, he's projecting an image that's for that purpose," he continued. "You'll start to see more depth of the person, the real person. You'll see a real different guy."
Trump has faced considerable criticism throughout this entire presidential cycle, with Republican rivals and pundits alike, questioning everything from his conservative credentials to his personality.
That all seemed to reach a boiling point when earlier this year Trump told Fox News host Greta Van Susteren that he is "very capable of changing to anything I want to change to."
Trump campaign manager Corey Lewandowski: "Donald Trump will never change" https://t.co/6OZtrfIwim #SuperTuesday https://t.co/rLlyPs7fzx

— CNN Politics (@CNNPolitics) April 26, 2016
—
Follow the author of this story on Twitter: