WASHINGTON (TheBlaze/AP) -- Bolstering his grip on the Republican primaries, Donald Trump prepared Wednesday for a general election showdown with Hillary Clinton, accusing the Democratic front-runner of "playing the woman card" in her presidential campaign.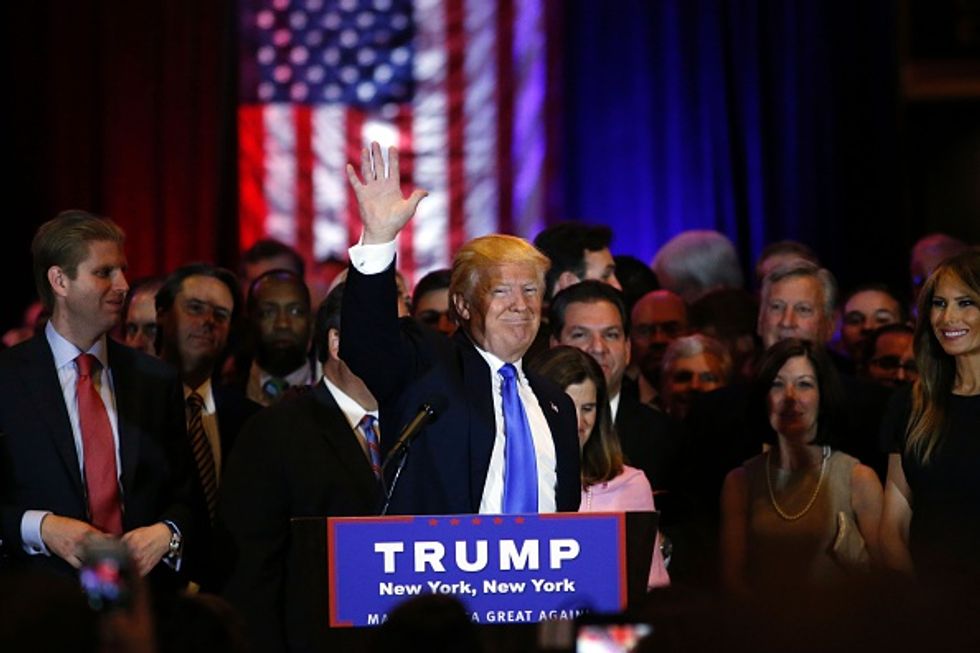 US Republican presidential frontrunner Donald Trump speaks at Trump Tower in New York on April 26,2016 after winning primaries in Pennsylvania, Maryland, Connecticut, Rhode Island and Delaware. (KENA BETANCUR/AFP/Getty Images)
Trump swept five states in Tuesday's Northeast primaries, bringing him tantalizingly close to securing the Republican nomination against Texas Sen. Ted Cruz and Ohio Gov. John Kasich. Clinton, meanwhile, is now 90 percent of the way to her party's nomination after four solid victories of her own.
In addition to his decisive victory, Trump also reportedly secured several unbound delegates in Pennsylvania, potentially inching him closer to securing the nomination. ABC News reports:
Of the 54 available free-agent delegates in the state, 39 of them told ABC News they will support Trump on the first ballot of the Republican convention.

Twenty-three said they will support the Republican front-runner, while 16 additional delegates -- who said they would vote for the winner of their congressional district on the first ballot -- will also back Trump.

Only two delegates said they plan to vote for Cruz on the first ballot. Seven others ran as uncommitted.
Calculating all bound and unbound delegates, CNN puts Trump's total at 988 of 1,237 needed to clinch the GOP nomination. Cruz is in second with 568 and Kasich a distant third with 152.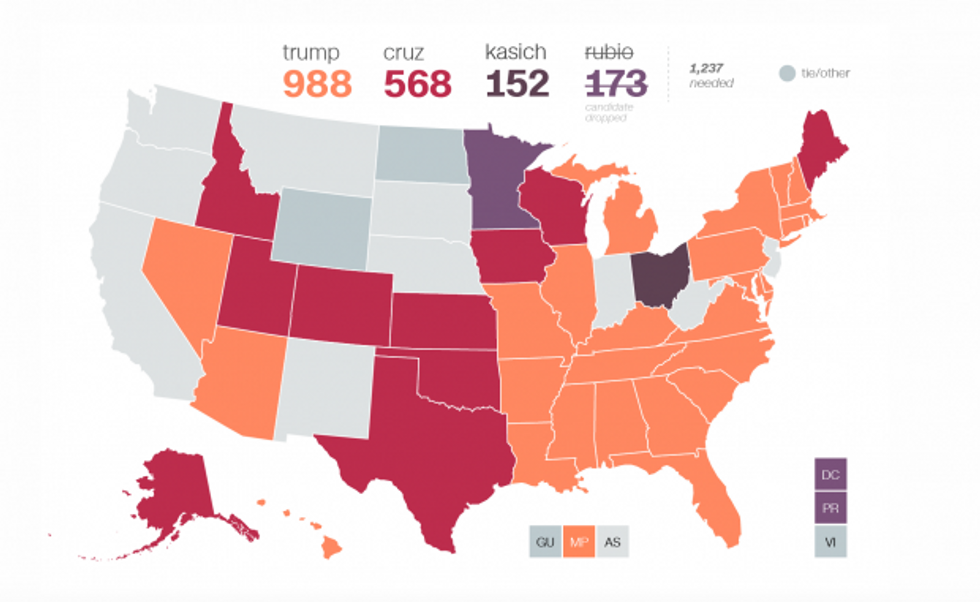 Screengrab via CNN
Clinton said during her Tuesday night rally in Philadelphia that Trump had accused her of playing the "woman card," telling supporters, "if fighting for women's health care and paid family leave and equal pay is playing the 'woman card,' then deal me in."
The Republican race now turns to Indiana, where next week's primary marks one of Cruz's last chances to slow Trump and push the race toward a contested convention. While Trump does need to keep winning in order to stay on his narrow path to the GOP nomination, he declared himself the party's "presumptive nominee" after Tuesday's results rolled in.
"It's over. As far as I'm concerned it's over," he declared.
Trump emerged with more than 50 percent of the Republican votes in Pennsylvania, Connecticut and Maryland, and scored over 60 percent in Delaware and Rhode Island. Similarly, Clinton won convincingly in four of the five contests, scoring 56 percent in Pennsylvania and 63 percent in Maryland - the two biggest contests of the night. Her rival, Bernie Sanders, won the Rhode Island primary with 55 percent of the vote.
Trump delivered a foreign policy speech in Washington and then campaign in Indiana. The address at a downtown hotel is the first in a series of speeches the Republican front-runner is expected to give in the coming weeks, all with the goal of easing Americans' concerns about his readiness for the presidency.
Likewise, Clinton was eager to turn her attention to Trump. While Clinton advisers say they won't underestimate Trump, as many of his vanquished Republican rivals did, her campaign sees opportunities to not only energize Democrats in an effort to keep him out of the White House but also appeal to Republicans turned off by the brash billionaire.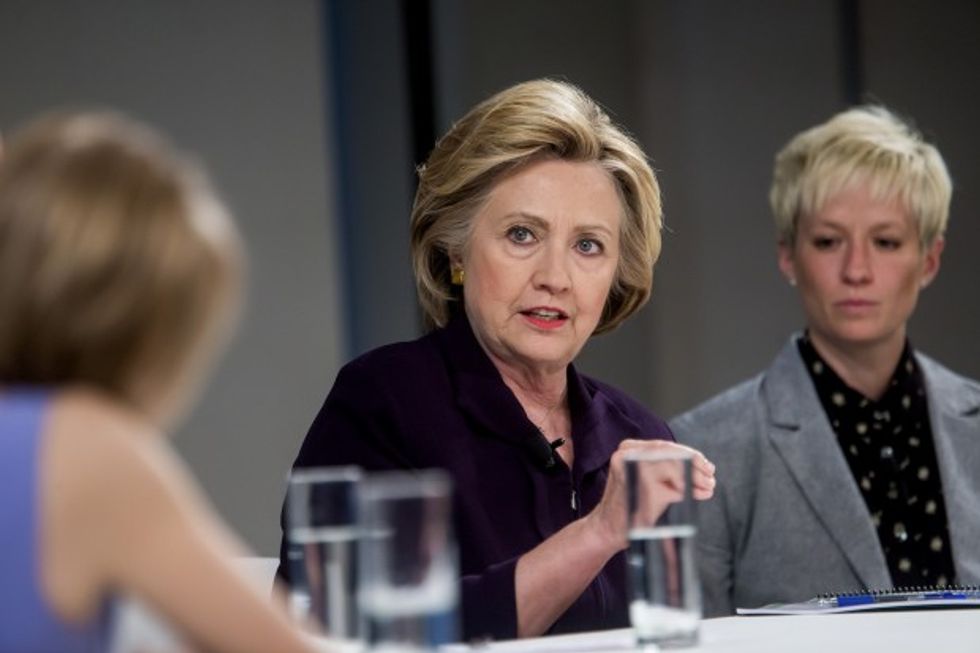 Eric Thayer/Getty Images
"If you are a Democrat, an independent or a thoughtful Republican, you know that their approach is not going to build an America where we increase opportunity or decrease inequality," Clinton said of the GOP candidates.
Trump's victories came in Connecticut, Delaware, Maryland, Pennsylvania and Rhode Island. Clinton ceded only Rhode Island to Vermont Sen. Bernie Sanders.
Sanders, in an interview with The Associated Press, conceded he has a "very narrow path and we're going to have to win some big victories."
In the Republican race, Cruz and Kasich are desperately trying to force a convention fight. The challengers have even taken the rare step of announcing plans to coordinate in upcoming contests to try to minimize Trump's delegate totals.
But that effort did little to stop Trump from a big showing in the Northeast, where he picked up at least 109 of the 118 delegates up for grabs. He now has 954 of the 1,237 delegates he needs to secure the nomination.
Cruz spent Tuesday in Indiana, where Kasich's campaign has withdrawn in an attempt to give the Texas senator a clear path.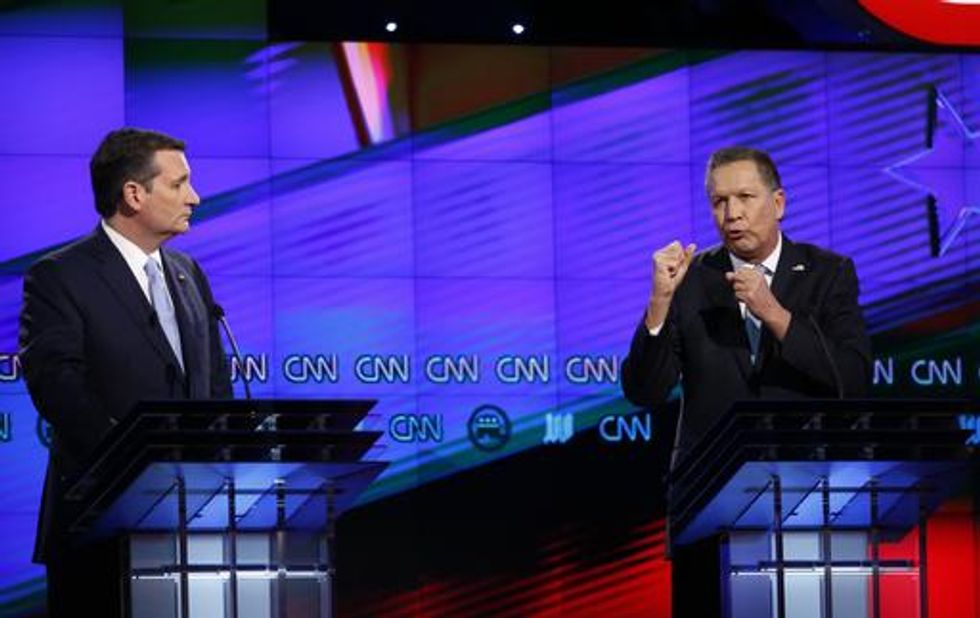 (AP Photo/Wilfredo Lee, File)
"Tonight this campaign moves back to more favorable terrain," Cruz said during an evening rally in Knightstown, Indiana.
Cruz announced Wednesday morning in Indianapolis that he would make a "major announcement" later in the day amid speculation that he may name former rival Carly Fiorina as a running mate.
Asked earlier on Fox & Friends about Cruz potentially naming a running mate, Trump said, "to me it looks ridiculous, he's not going to get the nomination."
Democrats award delegates proportionally, which allowed Clinton to maintain her lead over Sanders even as he rattled off a string of wins in recent contests. According to the AP count, Clinton now has 2,151 delegates while Sanders has 1,338.
That count includes delegates won in primaries and caucuses, as well as superdelegates - party insiders who can back the candidate of their choice, regardless of how their state votes.
Sanders has vowed to stay in the race until voting wraps up in June. He continues to raise millions of dollars and attract big crowds, including Tuesday night in West Virginia, where he urged his supporters to recognize that they are "powerful people if you choose to exercise that power."
---
Associated Press writers Catherine Lucey in Philadelphia, Michael Rubinkam in Hamburg, Pennsylvania, and Ken Thomas, Laurie Kellman, Chad Day, Stephen Ohlemacher, Hope Yen in Washington and Scott Bauer in Indianapolis contributed to this report.