As the presidential cycle begins to pivot toward the general election, so goes the political commentators' analysis of the two delegate leaders, Democratic front-runner Hillary Clinton and Republican front-runner Donald Trump.
According to Daily Beast reporter Betsy Woodruff, "this election is becoming a battle of the sexes," a general election campaign Slate writer Michelle Goldberg says will be between the "first feminist candidate" Clinton and the first "er-misogynist" candidate Trump.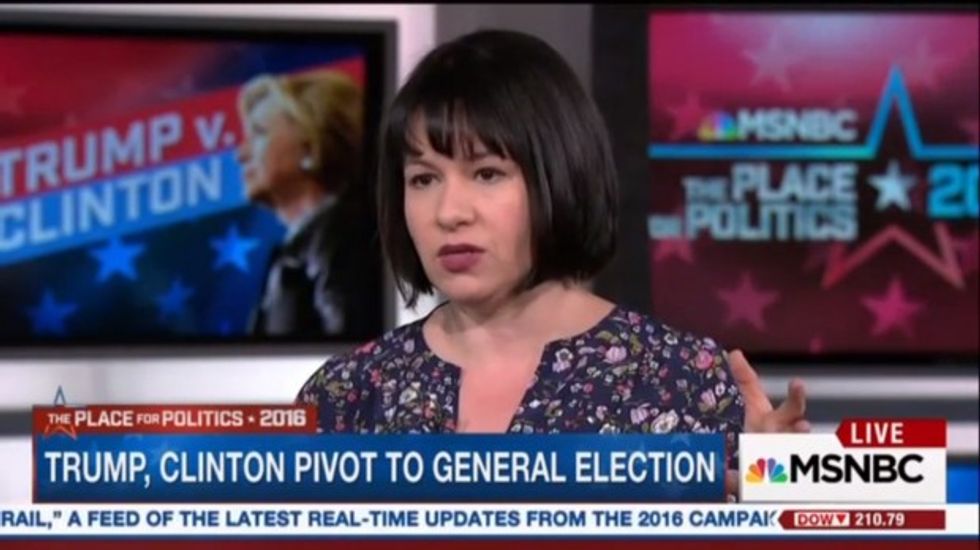 Image source: MSNBC screen grab
"All of that [racism and sexism] being crystallized in this contest between not just the first female presidential candidate, but the first feminist presidential candidate, you know, a hate object for anti-feminists," Goldberg said.
In addition, the MSNBC guest said the campaign will only become more sexist and that men support Trump over fears of a woman becoming president, which would cause them to lose their place in society.
"It's just going to be so vicious and so ugly, when you think about the amount of racism that's been unleashed by Obama being president, and then you think of all of the submerged gender anxieties of men losing their primacy in kind of the American system," she said.
Seeming to agree with Goldberg's analysis, MSNBC host Chris Hayes said attacks from Trump will "allow Hillary Clinton to do is talk about the fact that she's a woman in, I think, the most politically advantageous way she can, which is parroting attacks about her gender."
This comes the day after Trump suggested Clinton is only winning the Democratic presidential contest because she is a woman.
Woodruff, who said Trump "has been very explicit" that he will go after Clinton's sex in the general election, summed up the entire conversation, saying, "We know what this is going to look like, brace yourself for the next six months."
See the exchange:
—
Follow the author of this story on Twitter: