The University of Missouri's Faculty Council Committee on Race Relations released a video series this week that aims to educate students and faculty about racism on campus, Mizzou's student newspaper, the Maneater, reported.
Committee member Craig Roberts, a Mizzou plant sciences professor, said that the target audience of these videos will be white faculty, the lessons will be applicable for the while community as a whole.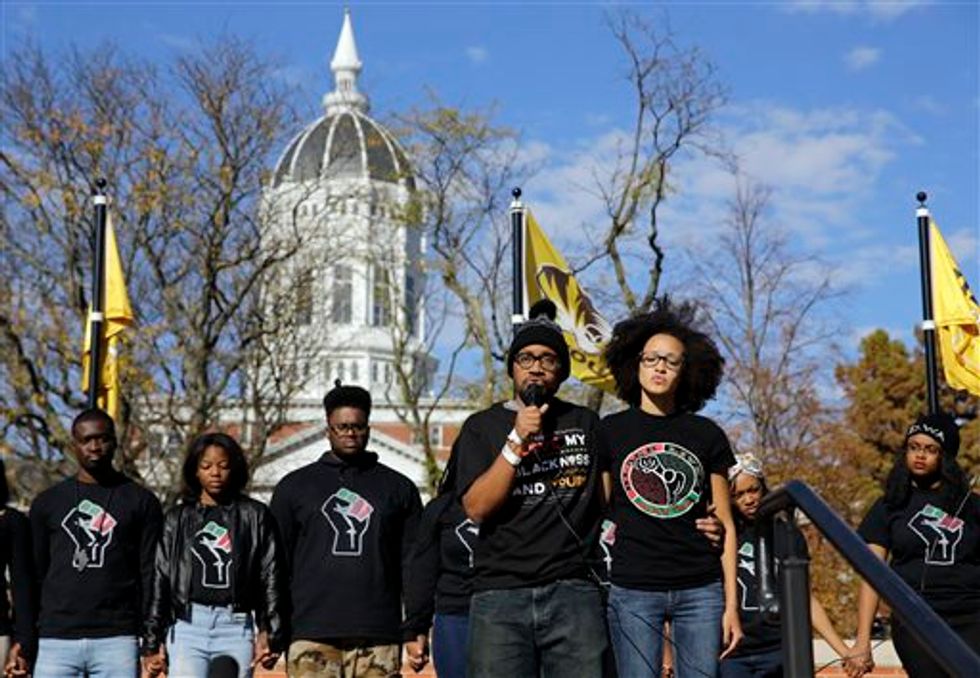 Jonathan Butler, front left, addresses a crowd following the announcement that University of Missouri System President Tim Wolfe would resign Monday, Nov. 9, 2015, at the university in Columbia, Mo. (AP Photo/Jeff Roberson)

Roberts explained in an email to the Maneater that white people, including himself, are not as likely to detect racism because they do not experience it first-hand, and white faculty often downplay the degree to which racism affects the community.
"White people tend to see racism in terms of lynching, physical abuse, bullying and other products of hate," Roberts said. "Racism is more than the overt, blatant, extreme incidents."
The committee, established in May of 2015, consists of twelve members, including nine faculty, one staff member and two students.
One member, graduate student Jonathan Butler, garnered the attention of the national news media last year when he staged a hunger strike in an effort to get former UM System President Tim Wolfe to resign.
According to its website, the committee aims to help make Mizzou a "safe and welcoming place for everyone" by developing "tools and strategies to assist the faculty" in understanding and and working to correct "misunderstandings about race and ethnicity."
The committee has released five videos. In the first video, Roberts regretfully notes that around 1,500 of Mizzou's two thousand full-time faculty members are white. He calls racism "a way of life problem" for the school's community.
"We want to make sure the faculty are aware of and understand different incidents of racism, and their own potential bias or lack thereof," committee member and undergraduate journalism student Corie Wilkins adds.
In another video, Mike Middleton, the man who succeeded Tim Wolfe as the UM System President, compares the current racial climate at Mizzou to what he experienced back in the 1960s, saying that "white supremacy that has permeated our culture."
Watch the first video here: