© 2023 Blaze Media LLC. All rights reserved.
On Saturday, 100-year-old Ida Keeling broke the world record for the 100-yard dash for the  80 years and older age bracket.
Philadelphia hosted the 122nd annual Penn Relays this weekend at Franklin Field. The three-day track and field competition included athletes from all over the state, but one competitor stood out among the rest.
On Saturday, 100-year-old Ida Keeling broke the world record for the 100-yard dash for her age bracket (80 years and older).
"It was wonderful." Keeling told KYW-TV. "It's the best exercise I know."
She trained for the race with the help of her daughter, Shelly Keeling.
"She has a mat. She does squats, push-ups," Shelly told KYW. "She can do a lot of calisthenic movements where she can use her own body weight."
Shelly explained that her mother did not begin running until much later in life — when she was 67 years old. She shared that her mother used running as a means of therapy during a period of intense grief.
"I put her in a 5K race when she was 67 years old. Prior to that she had not run," Shelly said. "Both my brothers had been murdered, so she was sinking very quickly, and I just picked her up one morning and said, 'you're coming with me,' and I bought her an extra pair of sneakers and the rest is history."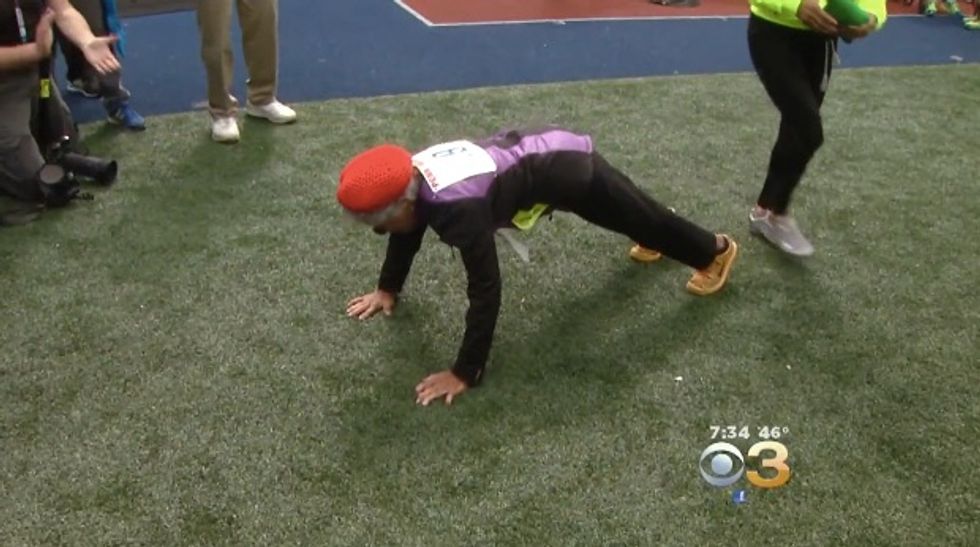 Image source: KYW-TV
The fit and energetic 100-year-old shared her tips Saturday for living a happy, healthy life.
"Eat for nutrition, not for taste," Keeling said. "Do what you need to do, not what you want to do, and make sure you exercise at least once every day."
Shelly remarked on her mother's impressive abilities, especially given her Keeling's age, comparing every year after 100 to dog years.
"I always say they're like dog years," she said. "It's like every year it feels longer than a year, and the amount of your ability that gets compromised can be a lot."
Keeling inspired event attendees with her record-breaking endurance and attitude.
"I thank God every day for my blessings," she said.
Watch:
Want to leave a tip?
We answer to you. Help keep our content free of advertisers and big tech censorship by leaving a tip today.
more stories
Sign up for the Blaze newsletter
By signing up, you agree to our
Privacy Policy
and
Terms of Use
, and agree to receive content that may sometimes include advertisements. You may opt out at any time.