President Barack Obama's Supreme Court nominee, Judge Merrick Garland, has been busy meeting privately with senators in recent weeks. But a watchdog group is pushing for the release of more documents about Garland's background.
Senate Republicans are blocking Garland's nomination, and a confirmation seems unlikely. Republicans contend that the voters in the 2016 election should decide who fills the vacancy that could mean a new 5-4 split that has the potential to tilt the Supreme Court for a generation.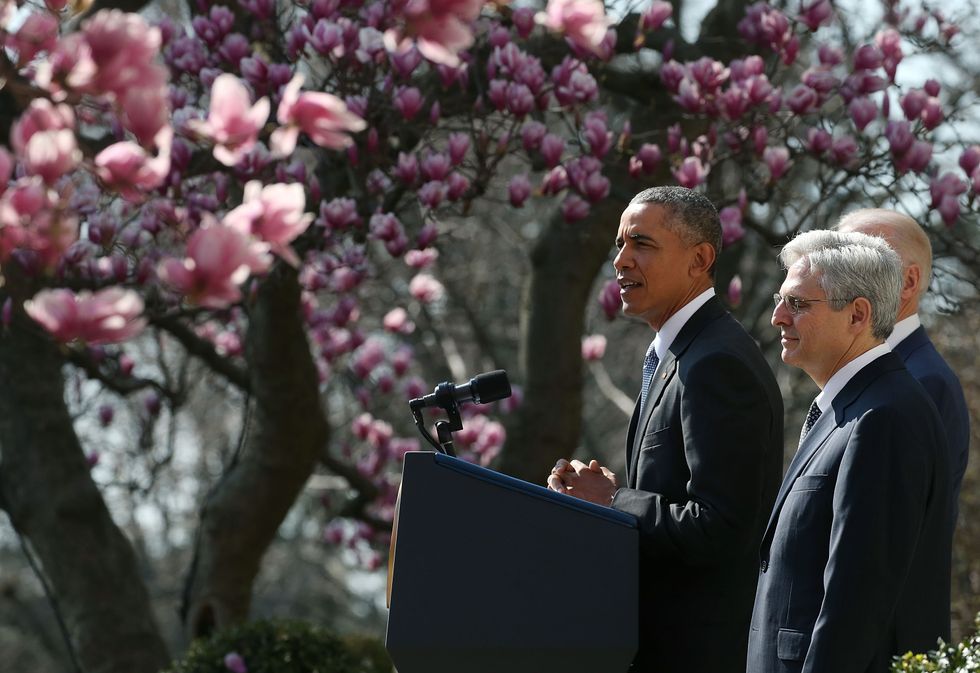 President Barack Obama nominates Judge Merrick Garland, right, to the U.S. Supreme Court, in the Rose Garden at the White House March 16. (Mark Wilson/Getty Images)
Here are three instances where government watchdogs and journalists have sought more information about Garland's background.
No. 1: Garland and the Justice Department
The Foundation for Accountability and Civic Trust, a government watchdog group, has asked Garland to authorize the release of his Office of Professional Responsibility records with the Justice Department.
The OPR investigates allegations of misconduct involving Justice Department attorneys. The OPR will neither confirm nor deny any such records exist without permission from Garland, according to the foundation.
"Because you served in the DOJ for nearly ten years in both litigation and policy roles, American citizens need to know whether any such records exist and to examine existing records in order to evaluate your qualifications to serve as a Supreme Court Justice," Matthew Whitaker, a former U.S. attorney and currently director of the Foundation for Accountability and Civic Trust, wrote. "Without your consent, there is simply no other method for citizens to obtain this information."
No. 2: Garland and Brennan
Garland's personnel file from his days clerking for Justice William Brennan in 1977 and 1987 are also sealed to the public.
The National Law Journal reported that the Library of Congress will not release information about Garland's time clerking for Brennan in 1977 and 1978.
The executors of the papers of the late Brennan are blocking public access to information about Garland in the justice's file. The file relates to law clerks, case histories and correspondence. It won't be opened until July 2017, the 20th anniversary of Brennan's death, the National Law Journal reported.
No. 3: Harvard Info on Harvard ROTC Ban
Serving on the student government at Harvard University in 1973, Garland called for a student referendum on the school's ban of the Reserve Officers' Training Corps on campus. The ban occurred during the Vietnam War.
After the controversial ban was already put in place, Garland asked a student-faculty steering committee to allow the students to vote on the controversial matter.
The same watchdog group, FACT, in March requested Harvard produce documents about Garland.
"Serious and legitimate questions have arisen about Merrick Garland's role in barring ROTC from Harvard's campus," Whitaker wrote in the March letter. "The American people have a right to know about Garland's views toward the military. The only way to shed light into this matter is by releasing the minutes and transcripts of the October 1973 meetings in question. Today, I am calling on both Merrick Garland and Harvard University to stand on the side of transparency and openness by releasing these records to the public. Failure to disclose would leave the American people with the inescapable conclusion that Garland has something to hide and that his views toward the military at Harvard would be damaging to his judicial qualifications."