As tensions between Republican front-runner Donald Trump and rival Ted Cruz seemed to reach a fever pitch Tuesday, Fox News' objectivity was called into question.
During the same press conference in which Cruz condemned Trump for pushing a tabloid conspiracy that his father was connected to Lee Harvey Oswald, the assassin who killed President John F. Kennedy, the Texas senator slammed the Fox News Channel for being the "Donald Trump Network."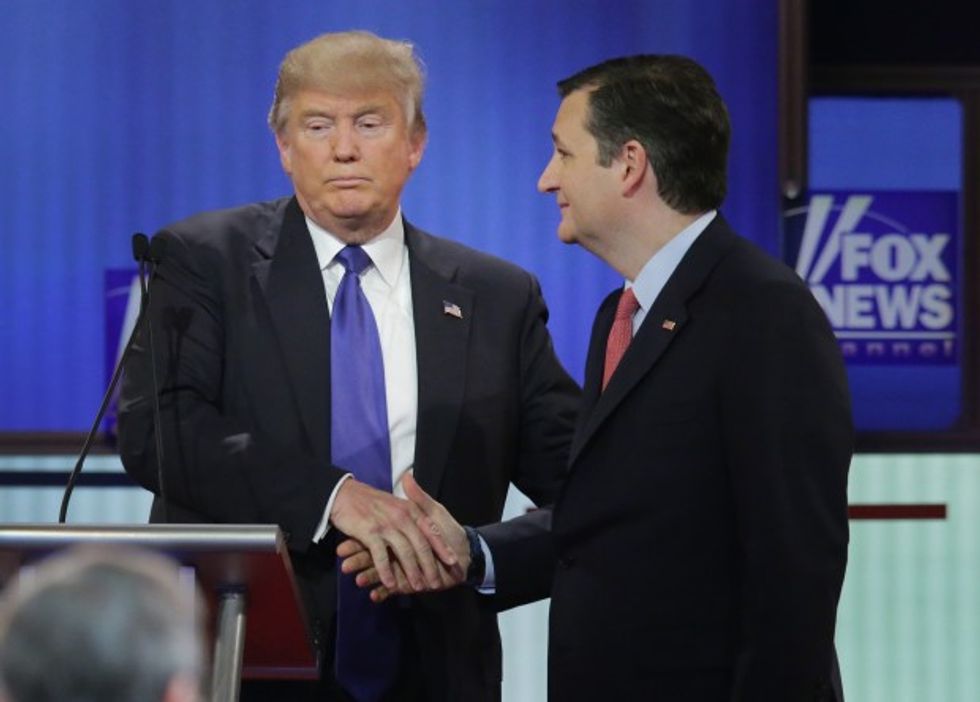 Photo by Chip Somodevilla/Getty Images
"The media is doing everything they can to convince Hoosiers this race is over. So they only report on the polls showing Donald up. You don't report the polls showing me up," Cruz said Tuesday, noting a poll last week that favored him.
Ultimately, though, Trump did succeed in Indiana. But Cruz's suggestion that at least some of Fox News' hosts are friendly to Trump is not without evidence.
During an interview with Trump Tuesday, Fox News host Sean Hannity, who has interviewed Trump more than 40 times on his nightly program, seemed to let the billionaire businessman off the hook for pushing the National Enquirer's uncorroborated claim against Cruz's father.
When Trump brought the conspiracy up, Hannity brushed it off, asking only, "Was that verified ever?" In response, Trump said the American tabloid does not publish a story "unless it can be verified."
It is important to note, however, that Hannity has said he gives "easy" interviews to all Republicans because he wants them to win, adding, "I'm not a journalist. I'm a talk show host."
This comes not long after Hannity went off on Cruz for suggesting only "hardcore Donald Trump supporters" find the delegate system "confusing."
But, during his program Tuesday afternoon, Fox News host Neil Cavuto sought to hush any sort of assertion from Cruz that the network is pro-Trump in its reporting.
Cavuto insisted there is no "cabal going on" between Fox News and the GOP front-runner, adding, "If we are in the tank for Trump, the fact that he refuses to come on any of my shows is a funny way of showing it."
He went on to say he doesn't agree with Cruz's assertion that it is in Fox News' best interest to see Trump secure the nomination ahead of the GOP convention this summer because a contested convention would keep more eyes on the network for a longer period of time.
"[That's] the last thing we would want is this decided right now," he said.
In response to Cruz claiming the network provides one-sided coverage of the New York real estate mogul, Fox News released a simple four-word statement.
"Senator Cruz is wrong," a spokesperson for the network said.
Editor's note: This story has been updated for clarity.
—
Follow the author of this story on Twitter: