Despite becoming the presumptive Republican nominee Tuesday night, businessman Donald Trump has a long road ahead of him.
According to a new CNN/ORC poll released Wednesday, Trump is trailing the likely Democratic nominee, former secretary of state Hillary Clinton, by double digits. The poll, which surveyed 890 registered voters and was completed just prior to Trump's Indiana victory, found that Trump is trailing Clinton by 13 points, 54 percent to 41 percent.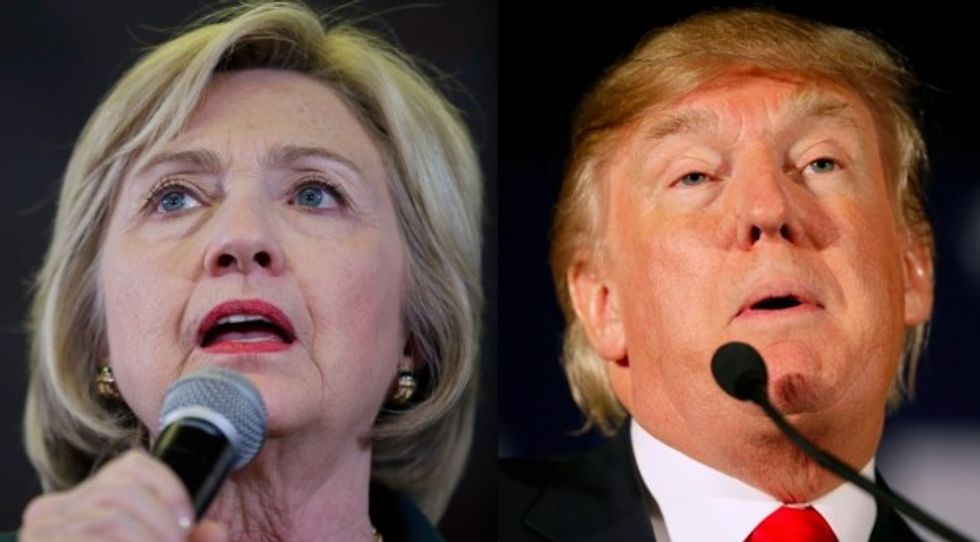 AP Photos/Charlie Neibergall
The lead is Clinton's largest over Trump since last July.
Clinton also is more trusted by voters, according to the survey. Among important issues like the economy, terrorism, immigration, foreign policy, health care, education and others, voters said Clinton would handle every issue better than Trump, with the one exception being the economy. Still, only 50 percent of those surveyed said Trump would handle the economy well, compared to 45 percent who said the same of Clinton.
Overall, Clinton is a more favorable candidate than Trump, the survey found. According to the poll, Clinton has a favorability rating of 48 percent, while Trump was seen as favorable by only 39 percent of respondents. Trump was also found to be more unfavorable. Fifty-seven percent said they find the New York mogul unfavorable, while 49 percent said the same of Clinton.
Still, the poll found that Trump is not even the best remaining candidate for the Republican Party. While Trump would handily lose to Clinton in a November general election, the poll found that Ohio Gov. John Kasich would not. In fact, the survey found that Kasich would defeat Clinton by a seven-point margin, 51 percent to 44 percent.
Kasich is also seen as a much more favorable candidate than Trump. According to the survey, only 30 percent of registered voters polled said they find the Ohio governor unfavorable — that's a 27-point different between him and the presumptive GOP nominee.
—
Follow the author of this story on Twitter and Facebook:
[facebook //www.facebook.com/plugins/like.php?href=