BIRMINGHAM, Ala. (TheBlaze/AP) -- As officials across the South wrestle with what to do about public monuments that reflect a racist heritage, an Alabama county wants to cover up two courthouse murals that some call offensive.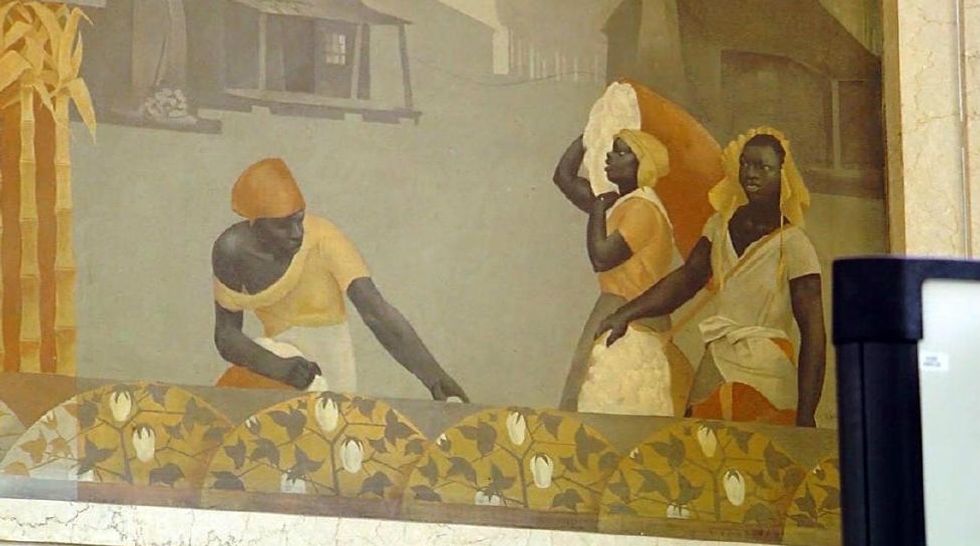 Image source: WBMA-TV
The Jefferson County Commission on Thursday endorsed a recommendation to put retractable curtains over murals in the Birmingham courthouse that depict black people picking cotton and doing other manual labor against a backdrop of white people in more prominent positions. The commission didn't take a formal vote, and it's not clear when that will happen.
The murals "Old South" and "New South" were installed in the 1930s. Those calling for their removal have said they romanticize slavery. Historians have said they have historical value.
The discussion comes amid renewed scrutiny of Confederate flags and other Old South symbols.
"We were contacted by the NAACP... about concerns of removing the murals, or there may be repercussions or marches," Jefferson County Commissioner Sandra Little Brown told WBMA-TV.
But Yolanda Woods, who lives in Birmingham and frequently walks past the murals, says she sees nothing wrong with leaving the murals as they are.
"Is it offensive? No, I just think it depicts history," Woods said.
Brown added: "It is our history and I can look at that and say thank you Jesus, we've come a long way."
–