President Barack Obama released his annual National Day of Prayer proclamation on Wednesday, showering accolades upon the role that prayer plays in inspiring good works, while also doubling down on his commitment to defend religious liberty around the globe.
"In times of steady calm and extraordinary change alike, Americans of all walks of life have long turned to prayer to seek refuge, demonstrate gratitude, and discover peace," Obama wrote. "Sustaining us through great uncertainty and moments of sorrow, prayer allows us an outlet for introspection, and for expressing our hopes, desires, and fears. It offers strength in the face of hardship, and redemption when we falter."
The commander-in-chief went on to say that America was "founded on the idea of religious freedom" and that Americans, as a result, have the right to chose how they pray and whether or not they want to invoke the Almighty.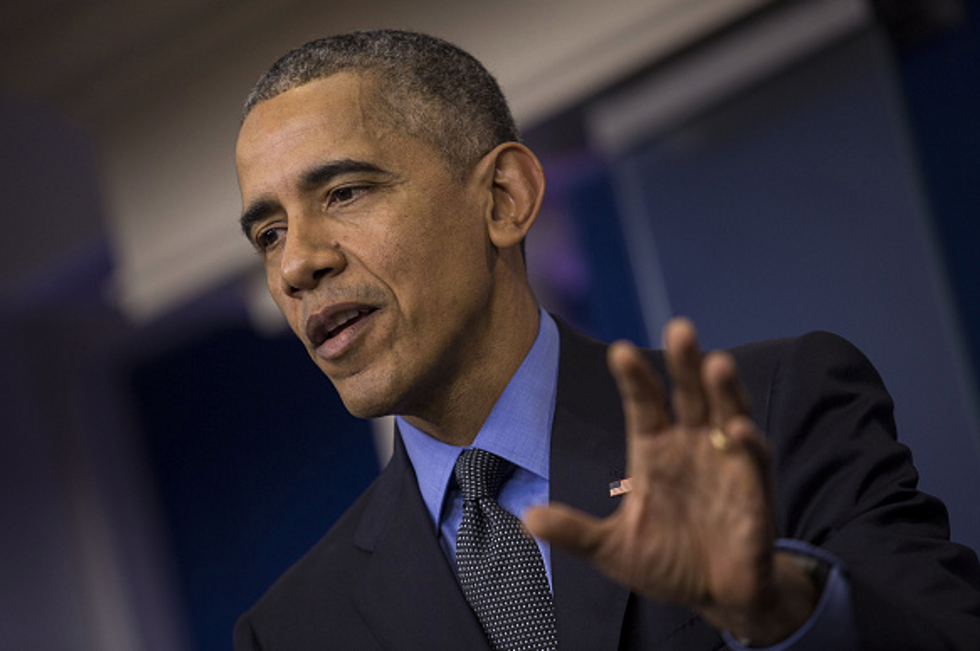 President Barack Obama (Drew Angerer/Bloomberg via Getty Images)
Obama also praised individuals who have relied upon prayer to "spread kindness and to make our world a better place," proclaiming that people of faith work across the world to help the poor and the sick and to protect the innocent from violence. Prayer, he said, inspires these acts.
"The threats of poverty, violence, and war around the world are all too real. Our faith and our earnest prayers can be cures for the fear we feel as we confront these realities," he said. "Helping us resist despair, paralysis, or cynicism, prayer offers a powerful alternative to pessimism."
Obama continued, "Through prayer, we often gain the insight to learn from our mistakes, the motivation to always be better, and the courage to stand up for what is right, even when it is not popular."
The president said that the United States will keep working to help those around the world who suffer due to their religious beliefs, pledging to continue to make America a place in which citizens can enjoy their religious freedoms.
"Let us resolve to guide our children and grandchildren to embrace freedom for all, to see God in everyone, and to remember that no matter what differences they may have, they, just like we, will always be united by their common humanity," he said, concluding by inviting citizens to "give thanks, in accordance with their own faiths and consciences, for our many freedoms and blessings."
Read Obama's entire proclamation here.
The National Day of Prayer is an annual event that is intended "to mobilize prayer in America and to encourage personal repentance and righteousness in the culture."
This year marks the 65th observance of the American prayer initiative, which was created in 1952 by a joint resolution in the U.S. Congress and signed into law by President Harry S. Truman. Read the entire history of the National Day of Prayer here.
Obama's proclamation comes as others around the world are also praying for America. As TheBlaze previously reported, Warwick Marsh, founder of the Australian Heart Ministries and an organizer of Australia's National Day of Prayer and Fasting, said that a global prayer campaign for the U.S. began on Saturday will extend through Thursday.
"Right now, the U.S.A. is in a spiritual battle for its very survival as a nation under God," Marsh said in a statement, according to Charisma News. "Secular forces have taken prayer out of school and progressively waged war against family, faith and religious freedom. It is time for Australia and the people of the world to join with our brothers and sisters in Christ in the U.S.A. in this battle for their nation."
--
Follow the author of this story on Twitter and Facebook: