Speaking on The Glenn Beck Radio Program Friday, longtime Republican strategist Mary Matalin explained to show host Glenn Beck why she decided to officially leave the Republican Party.
Matalin made headlines Thursday after she revealed in an interview with Bloomberg TV that she was leaving the GOP and joining the Libertarian Party on the heels of businessman Donald Trump becoming the GOP's presumptive 2016 nominee.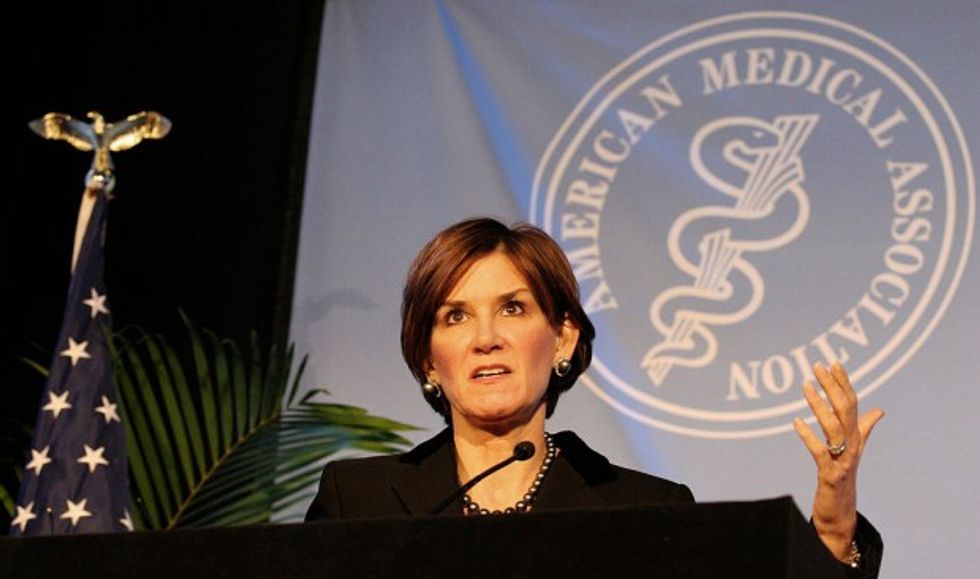 Mary Matalin (Nicholas Kamm/AFP/Getty Image)
"Everyone keeps saying that Trump hijacked the party," Matalin said. "How about we left the keys in the car with the motor running? It's not a Jeffersonian, Madisonian representative republic — that's not what the party represents anymore."
"I didn't leave it, it left me," she added. "When we had a standard-bearer with impeccable credentials in Ted Cruz and he's loathed by the party leaders and he's called a 'wacko bird' by the party leaders, where does that leave us? They left us!"
Matalin went on to explain that all "revolutions are evolutions" and the Republican Party has been a long, slow "devolution."
"To me, it's complete and utter irrefutable logic — not some epiphany," Matalin said of her decision to leave the GOP after so many decades of being a Republican icon.
Aside from being a longtime Republican strategist who's worked with a multitude of Republican presidents, Matalin is known for being married to a political polar opposite: longtime Democratic strategist James Carville.
Take our poll below:
—
Follow the author of this story on Twitter and Facebook:
[facebook //www.facebook.com/plugins/like.php?href=