Republican presidential candidate Donald Trump engaged in some political back-peddling Sunday morning during an interview on ABC's "This Week" with George Stephanopoulos.
When asked whether he would raise or lower taxes on the wealthy, Trump gave a response that Stephanopoulos said contradicted previous statements he has made on the policy issue.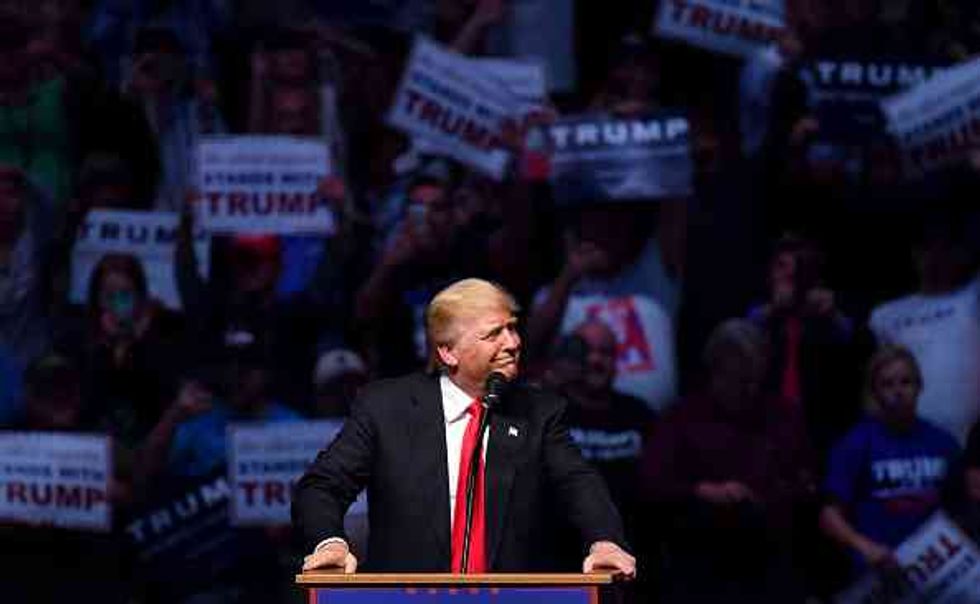 Ricky Carioti/The Washington Post via Getty Images

"They will go up a little bit, and they may go up — " Trump said, before the ABC host interrupted him, saying, "But in your plan they're going down."
"In my plan they're going down," Trump clarified, "But by the time it's negotiated they'll go up."
Trump added, "I don't mind paying more tax – I'll be honest with you."
"Will someone like me or Donald Trump pay more under your tax plan?" Stephanopoulos pressed.
"I have a feeling we might pay some more," the candidate conceded, "But I'll tell you the middle class is gonna pay a lot less."
Stephanopoulos then asked Trump about minimum wage.
"All through the primaries, you were against an increase. Now you say you're looking at it," the host noted. "So what's your bottom line position?"
"Well I am looking at it, and I haven't decided in terms of numbers, but I think people have to get more," Trump said.
Stephanopoulos pointed out that candidate's response was a shift from what he asserted in the primary.
"Sure it's a change. I'm allowed to change," Trump replied. "You need flexibility, George."
Donald Trump on taxes and the minimum wage: Then and now https://t.co/v6ykrLcDe2

— This Week (@This Week) 1462729112.0
Trump said that his "real minimum wage" plan will entail bringing companies "back into this country."
"And they're going to make a lot more than 15 dollars, even — they're going to make a lot more than that," he asserted.
Thursday at a Virginia rally Trump said "conservatives hate me for suggesting I would dare tax somebody." The statement came after the candidate promised he would punish companies that move overseas with high tariffs when they try to ship products back into the United States.
Back in September, Trump said that no business, small or large, would pay more than 15 percent of their business income under his tax plan.
Trump's plan stated that it would cut corporate tax rates to keep employers from outsourcing jobs; eliminate loopholes for high-earners and take millions of lower wage earners off the federal tax roles entirely.
Trump said he fights "like hell" to avoid paying more taxes, but he'd pay more under his own plan, which would maintain revenue by reducing most deductions for wealthy people.
But that no longer seems to be the case. On Thursday, the presumptive GOP nominee told CNBC in an interview that tax breaks for the wealthy are not his top priority: "I am not necessarily a huge fan of that," he said. "I am so much more into the middle class who have just been absolutely forgotten in our country."
Watch:
.@realDonaldTrump talks proposed tax plan and raising the minimum wage. https://t.co/TgoLVjlEFA #ThisWeekhttps://t.co/Pd2dYdjc9A

— This Week (@ThisWeekABC) May 8, 2016