This week NBC's "Saturday Night Live" was back with a politically charged set. The show kicked off with the classic skit, "Church Chat," featuring everybody's favorite moralist, the Church Lady.
"You know, it's interesting times in America, right?" Enid Strict, the "Church Chat" host played by Dana Carvey, began. "And now we've landed on the exciting presidential match-up between a godless liberal Democratic and Hillary Clinton."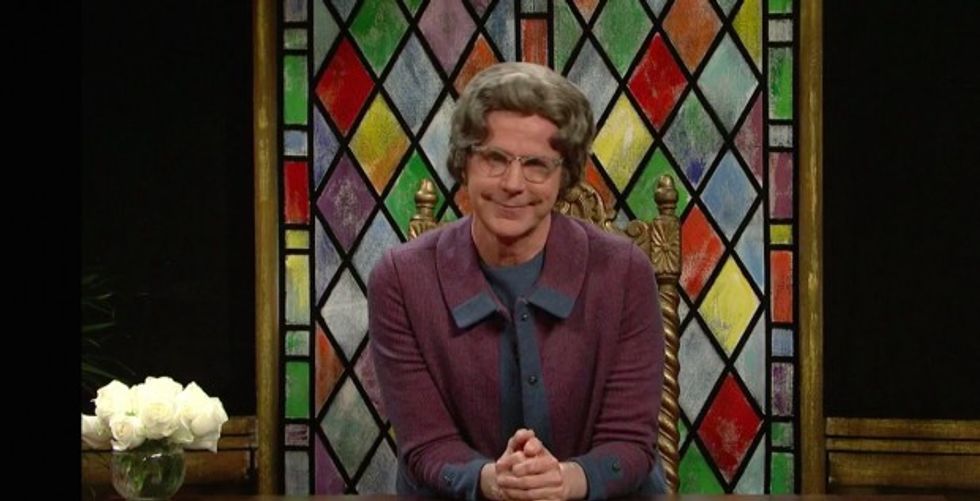 Image source: "Saturday Night Live"
After discussing the latest cultural buzz like the Met Gala and Beyonce's controversial new video album, "Lemonade," the Church Lady shifted back to the presidential race, welcoming onto the stage former Republican candidate, Sen. Ted Cruz (Taran Killam).
"Please welcome, Satan," Church Lady said, referring to a comment made by John Boehner in which the speaker of the House called Cruz "Lucifer in the flesh."
After Cruz made an unsuccessful attempt to downplay Boehner's insult, Church lady asked the Texas senator why he thought the presidential race didn't work out for him.
"Well, Church Lady, I suppose the American people weren't ready for a candidate with strong, Christian values," Cruz explained. "Someone like me, who follows the righteous path and lives his faith every blessed moment."
Even the pious Church Lady found his answer to be "a little preachy," pointing to Cruz's perceived self-righteousness.
"We like ourselves, don't we?" the "Church Chat" host asked. "Look at that face. We love ourselves ... . There's that happy, superior face. 'Cause we love Jesus more than anybody."
But when Cruz claimed that everything that happened in the race was "part of God's plan," Church Lady had her doubts.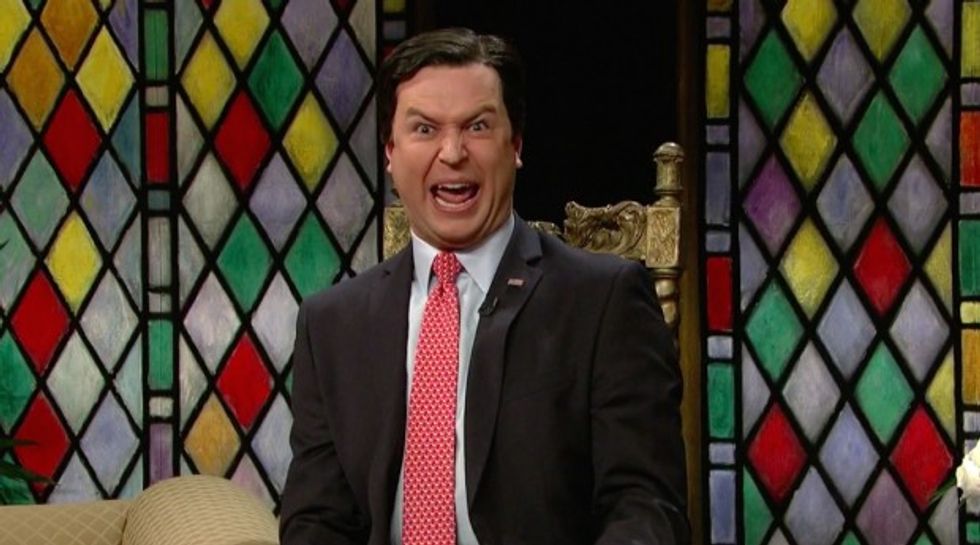 Image source: "Saturday Night Live"
"Was it? Was it God's plan for you to get humiliated by an orange mannequin?" she asked.
Cruz then discussed his future plans, which include "going evil for a while," since he's been told to "go to Hell" so many times.
After a disturbing exit featuring Cruz laughing demonically, Church Lady welcomed her next guest, Donald Trump (Darrell Hammond), who touted his questionable biblical literacy.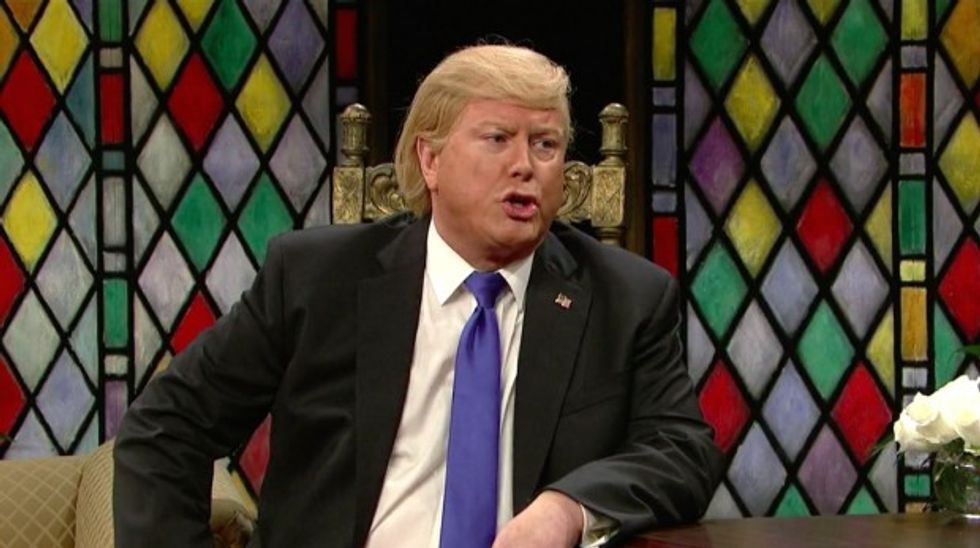 Image source: "Saturday Night Live"
Trump claimed that he attends church often, "even when it's not Church day," and that he loves all the books in the Bible. He even shared of his favorite biblical passages, including "Corinthians, Part Two," "Two Genesis Too Furious," "Love thy neighbor like thyself, and like a good neighbor, State Farm is there."
Trump even added his own version of the key biblical imperative to "always keep the Sabbath YUGE."
Then "Satan" returned to torment the GOP candidate, but the plan backfired. Cruz-turned-Lucifer proved to be no match for Trump's endless canon of insults.
Watch:
"SNL" also featured appearances by Hillary Clinton as the Barbie doll that no girl wants to play with and Heidi Cruz (Brie Larson) as the embarrassed wife who can't remember her own husband's name two years after the 2016 presidential race.