Hours after telling Glenn Beck he wouldn't rule out un-suspending his presidential campaign if he wins Tuesday's Nebraska primary, Texas Sen. Ted Cruz (R) denied talk of a potential third party run.
"I have no interest in a third party run," he told reporters Tuesday in a press conference from Capitol Hill.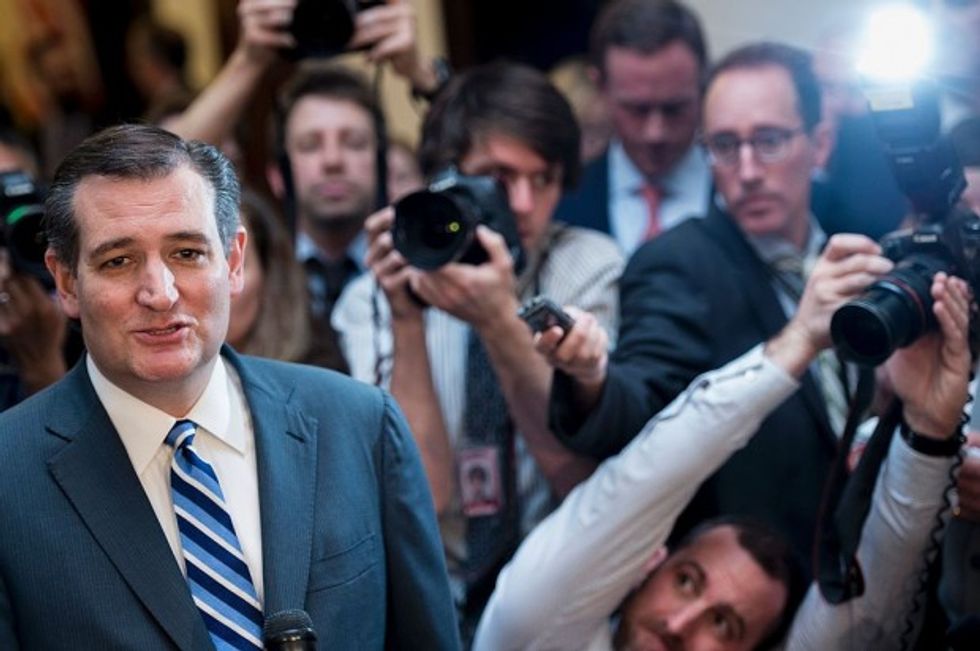 Senator Ted Cruz (R-TX) speaks to reporters while returning to his office after a failed bid to be the Republican nominee for US President on Capitol Hill May 10, 2016 in Washington, DC. (BRENDAN SMIALOWSKI/AFP/Getty Images)
However, Cruz did double down on his comments to Beck that he would re-enter the race if he wins Tuesday night in Nebraska, but acknowledged how unlikely that outcome would be. He said he sees no path for his campaign, unless "circumstances change."
"Listen, we have suspended the campaign. We've suspended the campaign because I can see no viable path to victory," he said. "But let's be clear, we're not going to win Nebraska today."
Cruz, who returned to the Senate Tuesday, said his "greatest disappointment" was that he was not able to secure the GOP nomination for his supporters.
Cruz's DC Senate staff welcomes him back right after finishing hallways press conference--> pic.twitter.com/AOAosjx7XR

— Vaughn Hillyard (@VaughnHillyard) May 10, 2016
Now that he's back on Capitol Hill, Cruz said he will continue to fight for conservative principles — even to the dismay of his Republican counterparts.
"If fighting for the American people makes me an outsider in the Senate, then I will happily remain an outsider," he said. "Congress — both parties, both houses — far too often hasn't been listening to the American people."
Cruz, who ended his campaign last week after a crushing loss in the Indiana primary, didn't pledge support to presumptive GOP nominee Donald Trump, instead saying he "trusts the people" and there is "plenty of time" for voters to decide if they want to back the billionaire businessman.
—
Follow the author of this story on Twitter: