Police are still looking for five boys wanted in connection with a hate crime that targeted a Jewish school bus in Brooklyn, New York.
The incident occurred Sunday evening in Brooklyn's Crown Heights neighborhood when witnesses reported seeing a group of male youths deliberately set fire to a bus used by a Brooklyn Yeshiva, according to CrownHeights.info. An 11-year-old was charged Monday with criminal mischief and arson.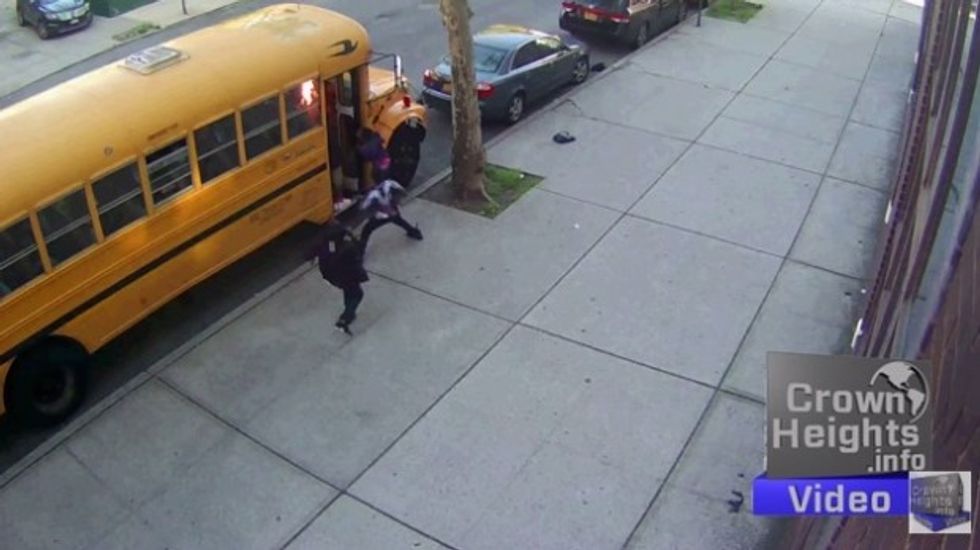 Image source: CrownHeights.info
The young suspects, whose ages range from 10 to 15 years, loaded the open school bus with cardboard and set the boxes on fire at around 6 p.m. Sunday, police told CrownHeights.info. The bus quickly lit up in flames.
"The age of these kids, they're young children," Shomrim neighborhood watch spokesman Binyomin Lifshitz told WCBS-TV. "Where are they getting this from? What's teaching them to do such things?"
The bus driver had just dropped off a group of students at the Bnos Orthodox Jewish School for Girls on Brooklyn Avenue.
Though there were no markings on the bus to indicate that it shuttled Jewish students, the location led police to rule the incident a hate crime.
"I've been around here 33 years, never ever have we had any type of incidents like that toward one another," longtime resident Randolph Witherspoon told WCBS.
Police have requested the public's help in identifying and finding the five other boys.