UK Prime Minister David Cameron was seemingly caught on a hot mic candidly telling the Queen that leaders from "possibly the two most corrupt countries in the world" are scheduled to visit Britain.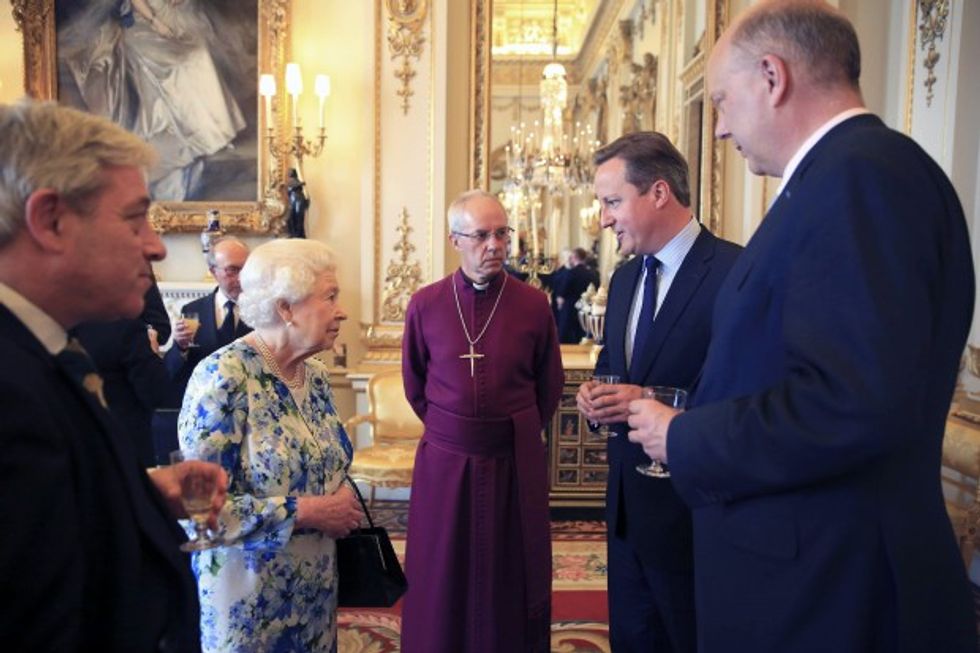 Britain's Queen Elizabeth, second left, speaks with Prime Minister David Cameron, second right, as leader of the House of Commons Chris Grayling, right, and Archbishop of Canterbury Justin Welby, center, watch during a reception in Buckingham Palace to mark the The Queen's 90th birthday, in London, Tuesday, May 10, 2016. (Paul Hackett/Pool Photo via AP)
"Actually, we've got the leaders of some fantastically corrupt countries coming to Britain," he said. "Nigeria and Afghanistan, possibly two of the most corrupt countries in the world."
The Queen doesn't appear to respond to Cameron's comments. Archbishop of Canterbury Justin Welby reportedly interjected, "But this particular president is actually not corrupt."
Watch the moment below:
David Cameron overheard calling Nigeria and Afghanistan 'fantastically corrupt countries' https://t.co/GlWopXnX4mhttps://t.co/hXqjfb3P2q

— ITV News (@itvnews) May 10, 2016
While it wasn't entirely clear if Cameron realized he was being recorded, it would be out of the ordinary for a world leader to publicly disparage other nations ahead of a state visit.
But it's not as if Cameron doesn't have a point.
As the Huffington Post noted, Transparency International ranks Afghanistan as the third most corrupt country in the world and Nigeria as the 32nd most corrupt nation.
---