© 2023 Blaze Media LLC. All rights reserved.
Video of a State Dept. Official 'Lying' to Reporter James Rosen Mysteriously Deleted — Here's the Government's Response
"That's not true."
Fox News' chief Washington correspondent James Rosen reported that a video of a 2013 State Department press briefing regarding the Iranian nuclear agreement had been altered to omit his exchange with the department spokesperson during an appearance on "Special Report" with Bret Baier on Monday.
The video's alteration comes as the Obama Administration faces allegations that it knowingly deceived the American public about details of the deal with Iran.
"Late today, we discovered that the State Department's video of its December 2, 2013, press briefing, at which I confronted spokesperson Jen Psaki about the false statement made by her predecessor, Victoria Nuland - the one you saw in my story tonight - has itself, with the use of a white flash, been deleted from both the State Department's official website and from its YouTube channel," Rosen said. "In that exchange, Psaki effectively admitted that the administration had lied to me because the diplomacy needed 'privacy.'"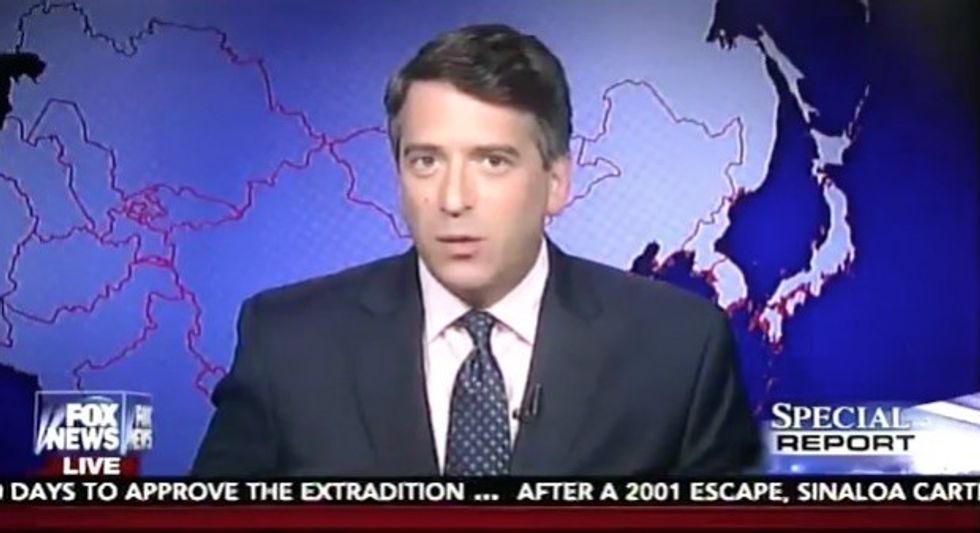 Image source: YouTube
During the 2013 exchange in question, Rosen asked Psaki about Nuland's statement that there were "no" secret talks going on with Iran.
"Is it the policy of the State Department, where the preservation or the secrecy of secret negotiations is concerned, to lie in order to achieve that goal?" Rosen asked.
Psaki replied, "James, I think there are times where diplomacy needs privacy in order to progress. This is a good example of that."
When asked about the deletion by Rosen, the State Department replied that they cannot explain the omission and they are working to restore the footage.
In an interview with the New York Times last week, President Obama's Deputy National Security Adviser Ben Rhodes said that talks with Iran started around 2011. However, the administration has pointed to the election of Iranian President Hassan Rouhani in 2013, whom they characterized as a moderate, as the reason for the beginning of the talks in 2013.
In an article published on Medium on Monday, Rhodes wrote "we never made any secret of our interest in pursuing a nuclear deal with Iran."
"The fact that there were discreet channels of communication established with Iran in 2012 is something that we confirmed publicly," he added.
Rosen alleged "that's not true," arguing that the "talks were under way for eight months" at the time of the now-deleted exchange.
Want to leave a tip?
We answer to you. Help keep our content free of advertisers and big tech censorship by leaving a tip today.
more stories
Sign up for the Blaze newsletter
By signing up, you agree to our
Privacy Policy
and
Terms of Use
, and agree to receive content that may sometimes include advertisements. You may opt out at any time.