"Jack Jack" Coley is 2 years old, isn't very sociable and backs off when other people are around — even his grandparents. And total strangers? Forget it.
Jackson has autism and is nonverbal.
"It varies from fearful to shy," his mother Amanda told NBC's "Today." "With some people, he will cry or other people he will back away from and ignore. Children his age he ignores. He likes to watch them play, but he will not interact with them."
But when the Coleys took a trip from their North Carolina home to Walt Disney World last fall, something magical happened.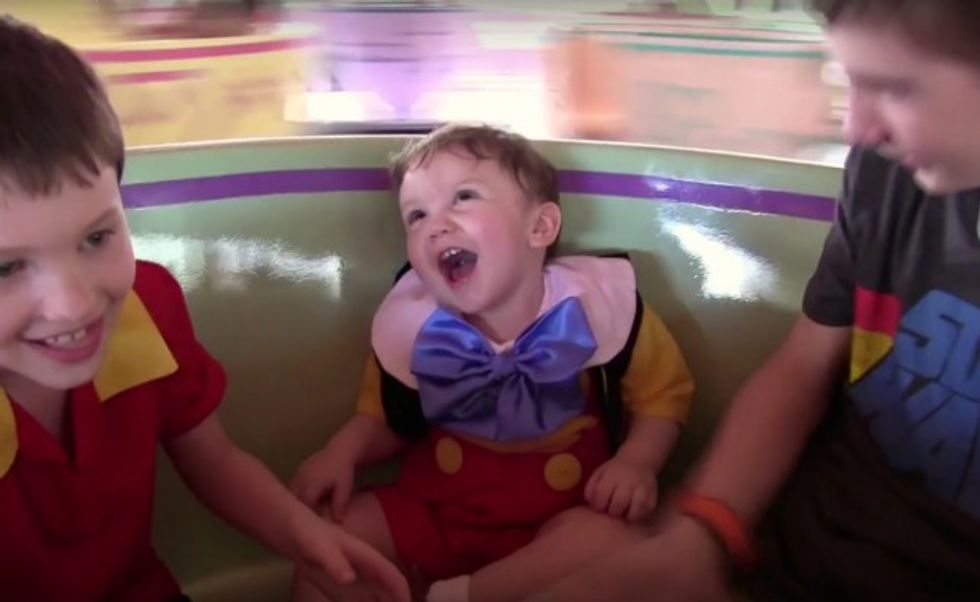 Image source: YouTube
Jackson's older brother Ethan took him to meet costumed Disney characters, but Jackson was having none of it. "They would pull him in for a quick hug, and he'd pull away," his mom told "Today."
But then Jackson met Snow White.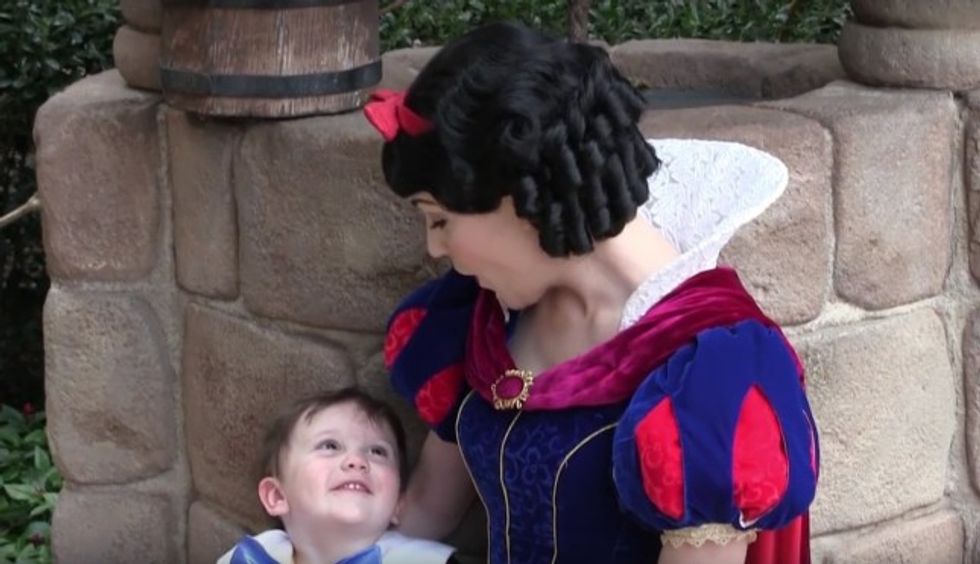 Image source: YouTube
"To our surprise, he didn't get up and leave," Amanda told "Today." "He just suddenly melted and was perfectly content."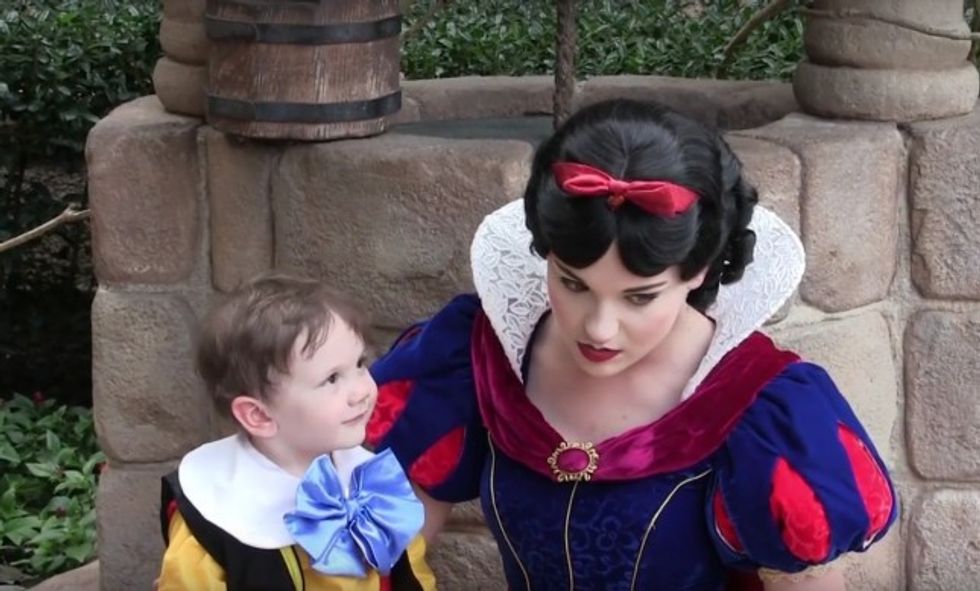 Image source: YouTube
Video of the touching moment shows Jackson staring up at a smiling Snow White, leaning in close to her at they sit —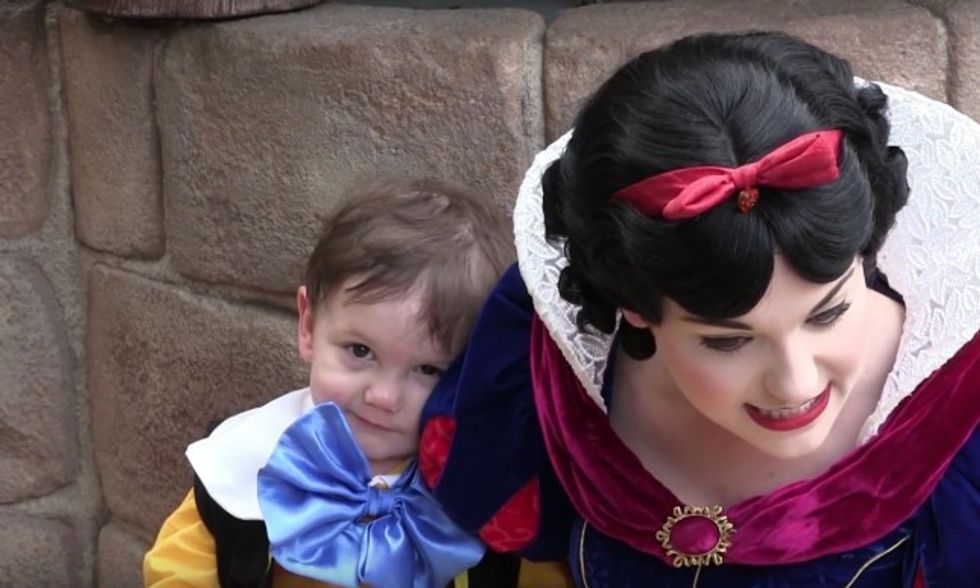 Image source: YouTube
— and then putting his head on her lap.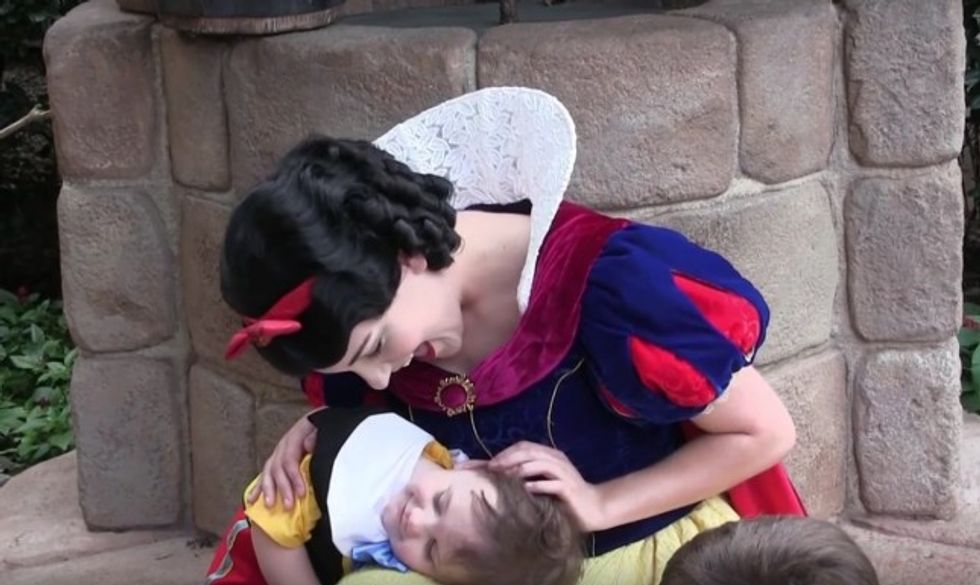 Image source: YouTube
"It still brings tears to my eyes because I remember how special the moment was, since he doesn't do those things with other people," his mom said, later adding that she "saw affection and I saw just happiness and that look that he was so at ease, that he wasn't nervous or scared. ... He's not ever like that."
Jackson's mom told the show that her son's interaction with Snow White could mean he'll follow in the footsteps of his other brother Landon, who was nonverbal until age 4 and is now very social and loves to talk.
"It was almost that little breakthrough that he won't always be so scared of other people," Amanda said. "That he will sit there and let somebody else love on him."
She added that other parents of children with autism should be encouraged.
"Take them places and try things," Amanda told Today. "We had no idea how Jack Jack would react to Snow White the way he did. You truly never know what's going to touch them and bring a reaction out of them that you're not used to seeing."
What's more, she said Jackson loves to watch the video and will climb into her lap and point at the computer and indicate "more" in sign language.
Mom loves the clip as well, noting in the video comments: "I must have cried 1,000 tears watching his interaction with her. He was in love."
Check it out: