Her name was Océane, she was 19 years old, and she worked in a retirement home. And more than 1,000 people watched her kill herself on the live-streaming Periscope app.
After sharing details about her life with viewers, the young French woman threw herself in front of a train at Égly station, about 25 miles from Paris, on the C line of the regional train construct known as the R.E.R., Tuesday at 4:29 p.m., the New York Times reported.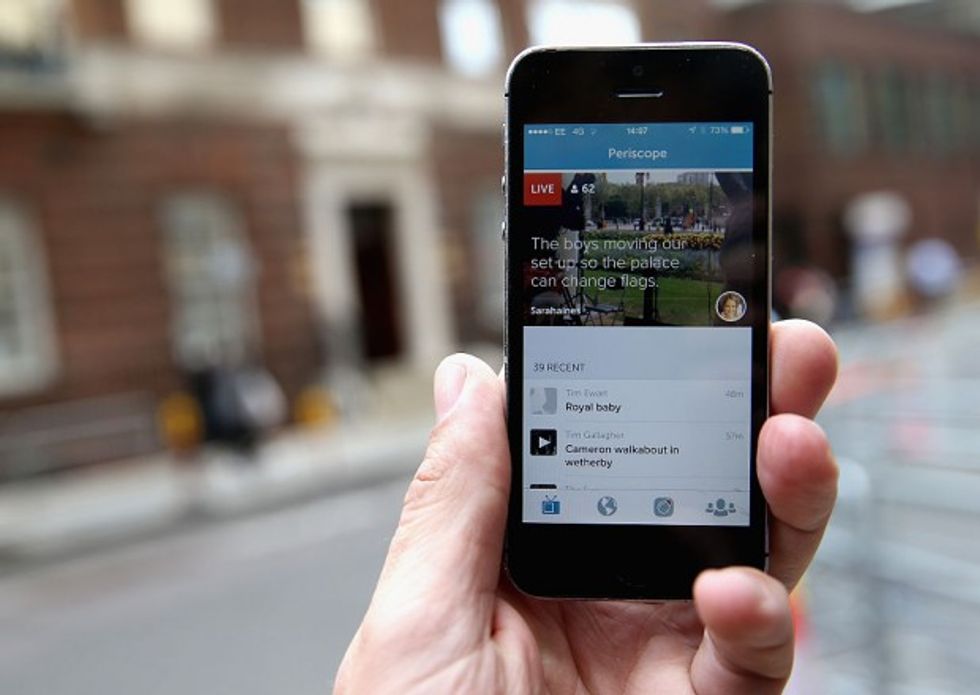 Photo by Chris Jackson/Getty Images
In the recording, she can be heard saying, "The video I am doing right now is not made to create buzz, but rather to make people react, to open minds, and that's it."
When asked by one video watcher if she is planning to commit suicide, she reportedly said, "No, I am not going to kill myself," but continued, "I have reached the point where nothing pleases me," and, "Nothing can make me want to get up in the morning."
But, because the hundreds of people who witnessed the horrific scene were only seeing it from their phone screens, no one was their to try to convince her otherwise. The video has reportedly been removed from Periscope, but the moments leading up to Océane's suicide have been uploaded to YouTube.
French police said Wednesday they have opened an investigation into the teenager's death. Local prosecutor Éric Lallement, who did not confirm the woman's identity, said she sent a text message to a friend of her ex-boyfriend, claiming the former boyfriend raped and abused her.
In the text, "she declares she is ending her life because of the evil that he did to her," Lallement said. The investigators are currently trying to recover the Periscope clips and, when they spoke to Océane's relatives, they said she was physiologically fragile and was having trouble with her ex-boyfriend.
According to the Times, moments after the live-stream went dark, emergency responders can be heard saying, "I am under the train with the victim; I need to move the victim." The train was visible in the final moments of the video.
This is just the latest in a series of live-streamed deaths. Last month, two teenagers assaulted a drunken 24-year-old man at a bar in Bordeaux, France. One of the two teenagers recorded the ordeal on Periscope. And, last month, an Ohio woman was charged with live-streaming the alleged rape of a 17-year-old girl.
"I have never seen a case such as this where you would actually live-stream a sexual assault," Franklin County, Ohio, prosecutor Ron O'Brien said of the event.
But Thomas Husson, a Paris-based analyst at the tech research organization Forrester Research, said it would only be a matter of time before live-streaming apps would be use to broadcast tragic and brutal events.
"It's both the good and bad part of these technologies: They allow people to enter other people's private lives," he said. "It would be very difficult to prevent such events from happening. We now live in a dictatorship of real time."
Regulators are now trying to get a hold on the horrific scenes unfolding on social media tools like Periscope, Facebook and Snapchat, noting how often the Islamic State uses social media to share their violent message.
"These companies will inevitably have to comply with new rules," Husson said. "But that's a political question. At the end of the day, it's about potential new regulation over how people can use these technologies."
—
Follow the author of this story on Twitter: