The Obama administration will direct public schools across the country on Friday to permit transgender students to use the bathroom that matches their gender identity.
"A school may provide separate facilities on the basis of sex, but must allow transgender students access to such facilities consistent with their gender identity," said a letter, obtained by TheBlaze, being sent to schools.
"A school may not require transgender students to use facilities inconsistent with their gender identity or to use individual-user facilities when other students are not required to do so," it added.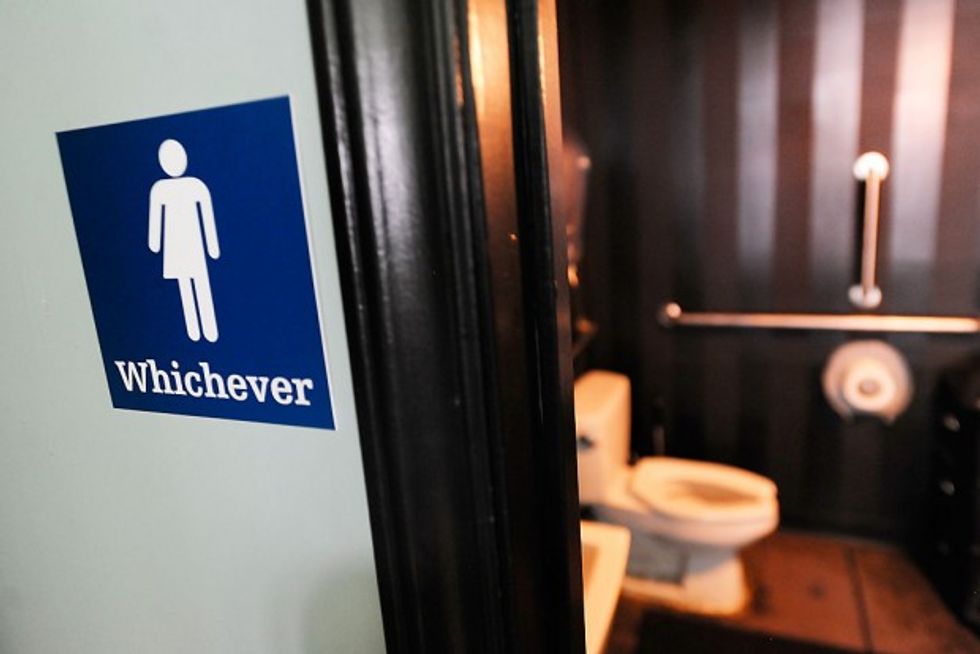 A gender neutral sign is posted outside a bathrooms at Oval Park Grill on May 11, 2016 in Durham, North Carolina. (Photo by Sara D. Davis/Getty Images)
The letter, sent to schools by the Department of Justice and Department of Education, was first reported by The New York Times.
The Times noted that while the letter doesn't have the force of law, it implicitly threatens schools that may wish to refuse with the potential of losing federal funds or becoming the subject of lawsuits.
"As a condition of receiving Federal funds, a school agrees that it will not exclude, separate, deny benefits to, or otherwise treat differently on the basis of sex any person in its educational programs or activities unless expressly authorized to do so under Title IX or its implementing regulations," the letter stated. "The Departments treat a student's gender identity as the student's sex for purposes of Title IX and its implementing regulations."
"The Departments interpret Title IX to require that when a student or the student's parent or guardian, as appropriate, notifies the school administration that the student will assert a gender identity that differs from previous representations or records, the school will begin treating the student consistent with the student's gender identity," it added. "Under Title IX, there is no medical diagnosis or treatment requirement that students must meet as a prerequisite to being treated consistent with their gender identity."
The letter to schools comes as North Carolina faces a showdown with the Obama administration over its controversial bathroom law. The Department of Justice announced it is suing, claiming it violates civil rights.
—
Follow the author of this story on Twitter and Facebook: