The State Department continued to remain unsure Friday why video of a reporter grilling an agency spokesperson was edited out of a 2013 briefing video.
"Have you guys come to a determination of how exactly this happened?" Associated Press reporter Matt Lee asked at the daily briefing.
"No, we haven't, Matt," spokesman John Kirby said.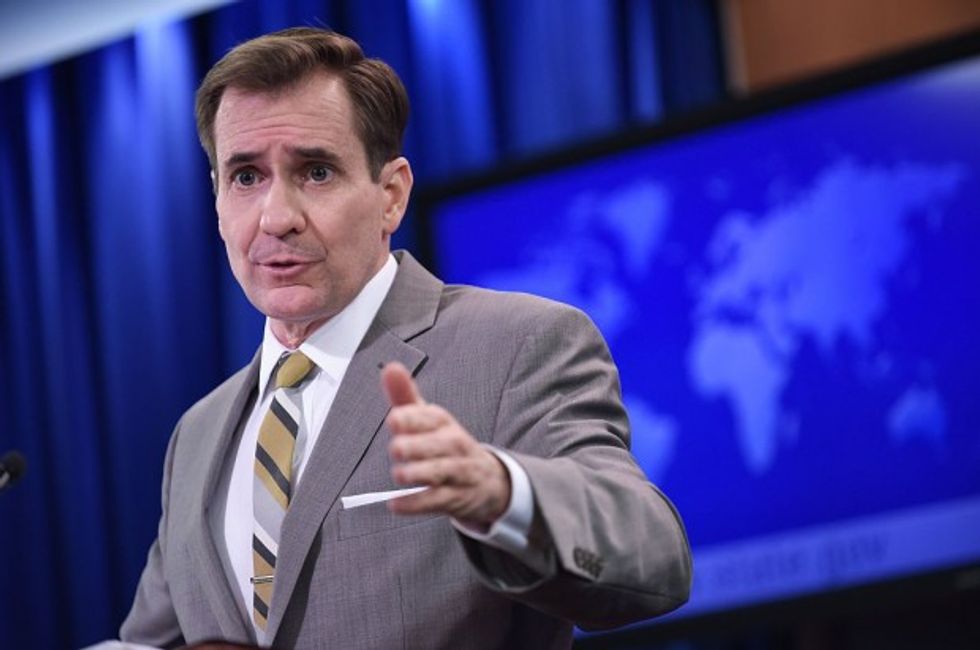 State Department Spokesman John Kirby speaks during the daily briefing at the State Department on January 6, 2015 in Washington, D.C. (MANDEL NGAN/AFP/Getty Images)
"But I can tell you, and I say this as not just the spokesman for the department, but the assistant secretary of state for public affairs, that I'm very concerned by this," he continued. "And I have every intention of making sure that we look into it thoroughly and try to get answers as best we can about what happened here."
Kirby added that the department has "an obligation to be transparent" and said he took the duty "very seriously."
"So we are still looking at it," he said. "I don't have an answer for you as to what exactly happened."
Asked when the investigation into the matter would likely concluded, Kirby said he had no idea.
The State Department said earlier this week that a "glitch" had resulted in a clip of Fox News reporter James Rosen's questioning on the Iran deal disappearing from video of a 2013 press conference.
Rosen said Wednesday the he "couldn't believe it" when he heard the video had been edited out and added that he found it "stunning" the department thought it "could get away with this deletion."
Rosen also speculated that he believed the State Department was "hoping" controversy surrounding the deletion "will go away."
—
Follow the author of this story on Twitter and Facebook: