Disturbing video shows a man relentlessly beating a woman on a city street in broad daylight while onlookers stand by and do nothing.
It happened Thursday in Philadelphia, where one witness told WTXF-TV that he didn't want to get involved.
"I didn't want to jump in and be a hero and just get hurt you know," the man, who didn't want to be identified, said.
The witness went on to describe the brutal scene.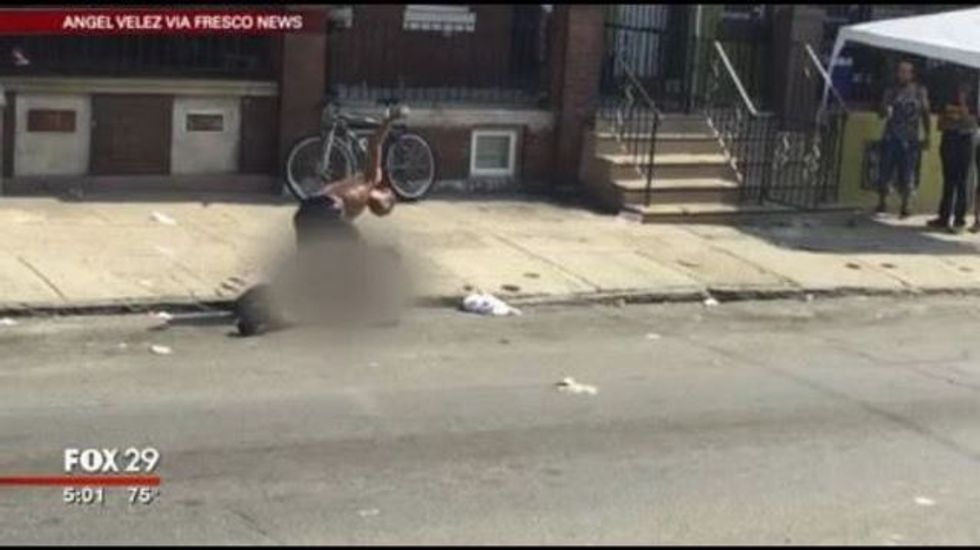 Image source: WTXF-TV
"The guy was actually on top of the girl — just beating on her," he said.
"I did hear a commotion earlier," he continued. "I didn't pay no mind and then I came out and the guy was on top of the girl."
When he was asked if anyone even tried to help the victim, the man said no.
"No one, just bystanders smiling, laughing. Just standing around like a normal day, like nothing was even happening," the man told WTXF.
(Content warning: Video is disturbing)
The witness said the beating went on for as long as 20-30 minutes. Someone eventually did call police.
Officers said they caught up with the man in the video, who told them the woman was assaulting him, but police said the man will face charges.
However, it was not immediately clear what charges he will face.
The woman, whose identity was not released, was in the hospital recovering, WTXF reported.
–
Follow the author of this story on Twitter and Facebook: