A street artist in Lithuania has plastered the black outside wall of a barbecue joint with a colorful portrait of presumptive Republican nominee Donald Trump locking lips with Russian President Vladimir Putin.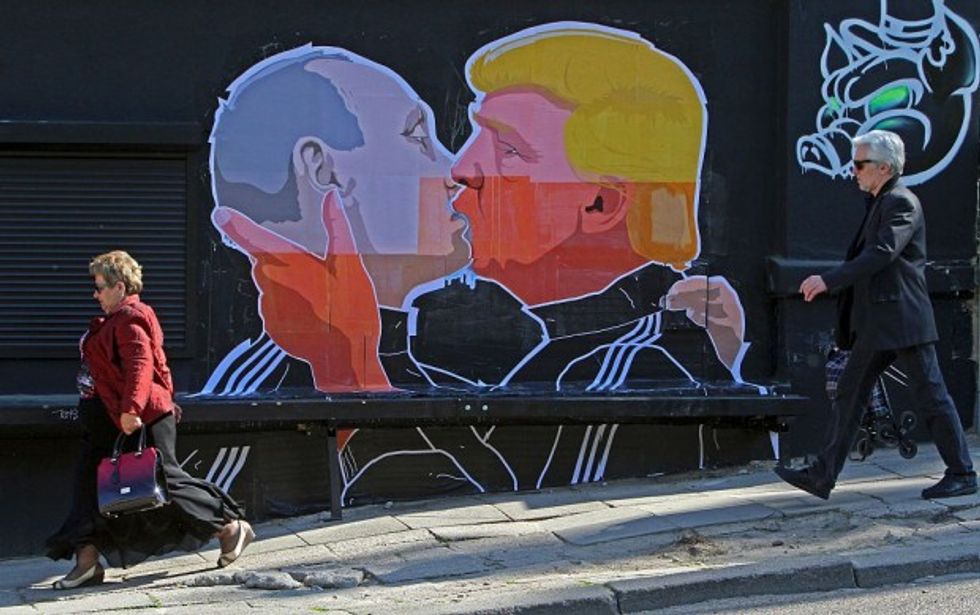 Photo by PETRAS MALUKAS/AFP/Getty Images
Restaurant owner Dominykas Ceckauskas said Saturday that both Trump and Putin have huge egos "and they seem to get along pretty well," adding that the painting is "an ironic view of what can be expected."
Mindaugas Bonanu, a local artist, created the wheat paste image for the restaurant in the capital Vilnius on Friday. The mural is on the outside of the Keule Ruke restaurant, which is Lithuanian for "Smoking Pig." Along with the provocative poster is the text, "Make Everything Great Again,"  a knock on the billionaire businessman's infamous campaign slogan, "Make America Great Again."
Ceckauskas described the art as a nod to the iconic 1979 photograph of Soviet leader Leonid Brezhnev kissing East German ally Erich Honecker on the mouth, which was a customary greeting between Socialist leaders at the time. The image was later painted on the Berlin Wall.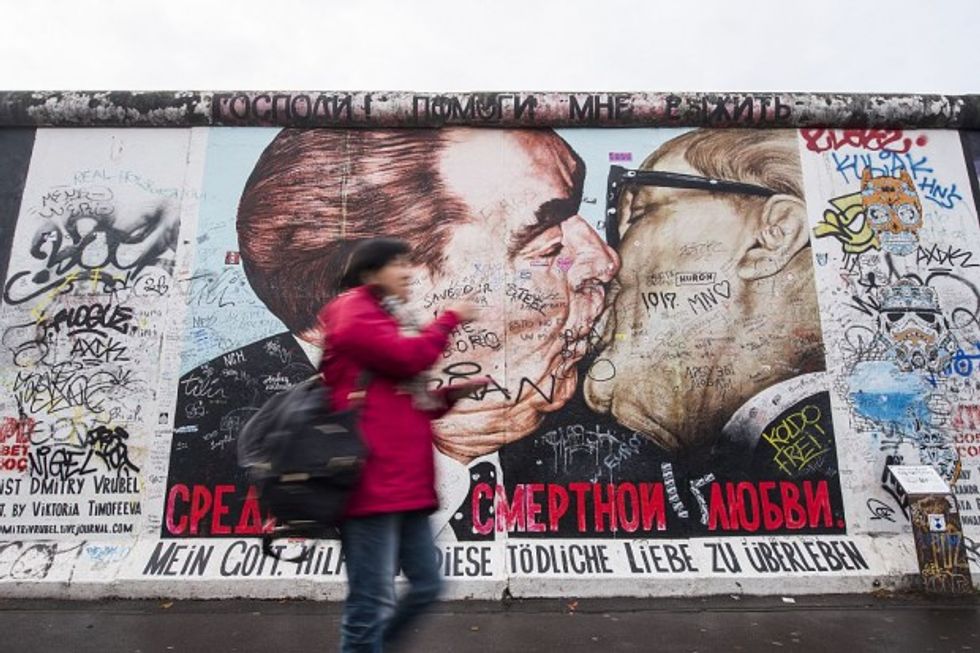 Photo by JOHN MACDOUGALL/AFP/Getty Images
The new poster hints at what some fear are Trump's very generous views toward Putin.
"It seems we have a new Cold War, and America may have a president who seeks friendship with Russia," Ceckauskus told the Agence France-Presse. "We see many similarities between these two 'heroes' [Putin and Trump]. They both have huge egos, and it's amusing to see they are getting along well."
Tensions between the U.S. and Russia have existed for years, but Trump and Putin have signaled they might be able to get along well.
In the past, Trump has referred to Putin as a "powerful leader," to which the authoritarian Russian president called him "tremendous" and "talented without a doubt." Additionally, Trump has called NATO "very obsolete." Lithuania is a member on NATO, but Russia is not.
—
Follow the author of this story on Twitter: