Liberty University conferred more than 19,000 degrees Saturday morning, and it happened in front of a star-studded audience — a surprise to most of the students there.
Saturday morning, as thousands of students lined up for Pomp and Circumstance and thousands more found their seats in the university's large football stadium, some familiar faces were in the crowd: actors Vince Vaughn and Mel Gibson, Duck Dynasty star Willie Robertson, producer Randall Wallace and NFL running back Rashad Jennings, a Liberty University graduate.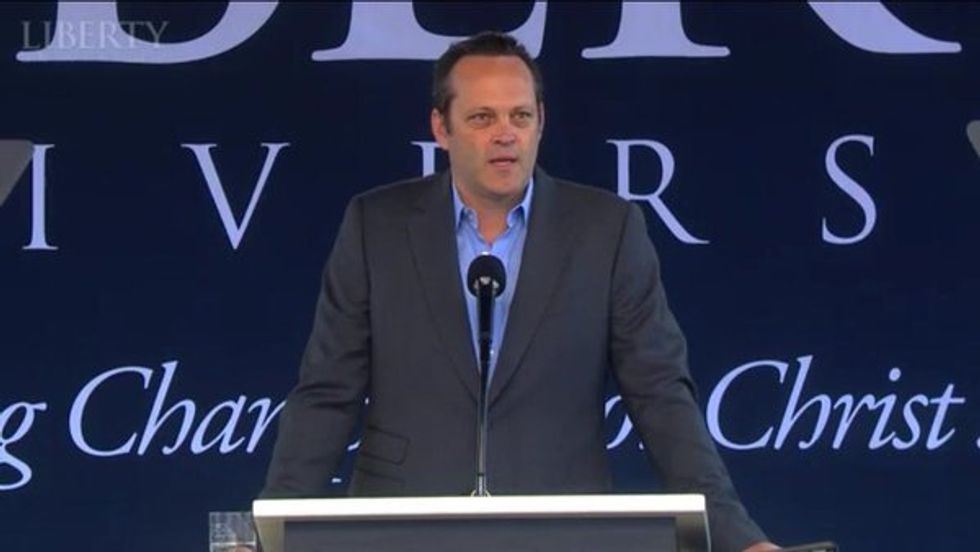 Image source: Liberty University screen grab
Jennings was the commencement ceremony's keynote speaker, but the other stars greeted the students, too.
Gibson and Wallace spoke briefly to the students, saying they were there working on the upcoming film "Hacksaw Ridge," which is directed by Gibson and tells the story of Lynchburg native Pfc. Desmond T. Doss, the first "conscientious objector" to receive the Congressional Medal of Honor, according to The News & Advance, a local Lynchburg newspaper.
"When I came here the first time to Lynchburg, I didn't know about Desmond Doss," Gibson told the large crowd. "I've lived with Desmond's story for about almost two years now, and I've gained a tremendous admiration for this man. He was one of the most heroic figures in American history."
Gibson went on to say Doss earned the medal multiple times over for the numerous moments of heroism he exhibited during World War II, noting that the veteran entered the line of fire several times to rescue his fellow soldiers.
Doss, a Seventh-day Adventist, refused to carry a weapon into combat, but that did not deter him from saving as many as 75 men during the Battle of Okinawa.
Later, Wallace, a Lynchburg native, told reporters that Doss's story shocked him because, though he grew up in the area, he had never heard his story.
"For him to have such courage based on convictions that weren't about a belief that war was something Christians should avoid, but that he had made a promise to God he was determined to keep, that made this story different from any other I'd ever heard," Wallace told reporters.
Wallace was first tapped to direct the upcoming film, but instead wrote a draft for the script before signing on to direct "Heaven is for Real" in 2014. At that point, he suggested Gibson for the director's spot.
Vaughn also plays a role in the new movie.
When he spoke to students, the actor joked about going down Liberty University's Snowflex, an artificial ski slope open year-round at the college, and stopping by the fast food chain Cookout for a burger the night before graduation.
"We topped [the night] off with a Cookout burger, which was exciting as well," Vaughn joked.
Overall, the students enjoyed the surprise — and many took to Twitter to comment on it.
still processing what just happened. mel gibson and vince vaughn showed up at my college graduation.

— Margaux Gill (@margauxgill) May 14, 2016
this is normal... jk WHAT Vince Vaughn is in town?!?? #LUgrad pic.twitter.com/m6v6ZHFgGA

— jake holland (@jakeholla) May 14, 2016
Vince Vaughn, Mel Gibson, Willie Robertson, and Rashad Jennings at Liberty University's graduation!!!! pic.twitter.com/DYWWiwmptS

— Jami Castellucci (@jami_lucci) May 14, 2016
WOW!!! What a commencement ceremony...first Willie Roberts and now MEL Gibson!!! #LUGrad pic.twitter.com/bPEAtty9XF

— Veronica (@RonkaL5209) May 14, 2016
WILLIE ROBERTSON at @LibertyU Commencement! #ProudLUAlum pic.twitter.com/TX6kkU1wbq

— Katie Spiro (@KatieSpiro) May 14, 2016
Hearing one of my favorite #NYGiants @RashadJennings speak at my alma mater @LibertyU. Bring it home this year alum pic.twitter.com/XkuCg3kt18

— David Jack (@thedavidjack) May 14, 2016
—
Follow the author of this story on Twitter: